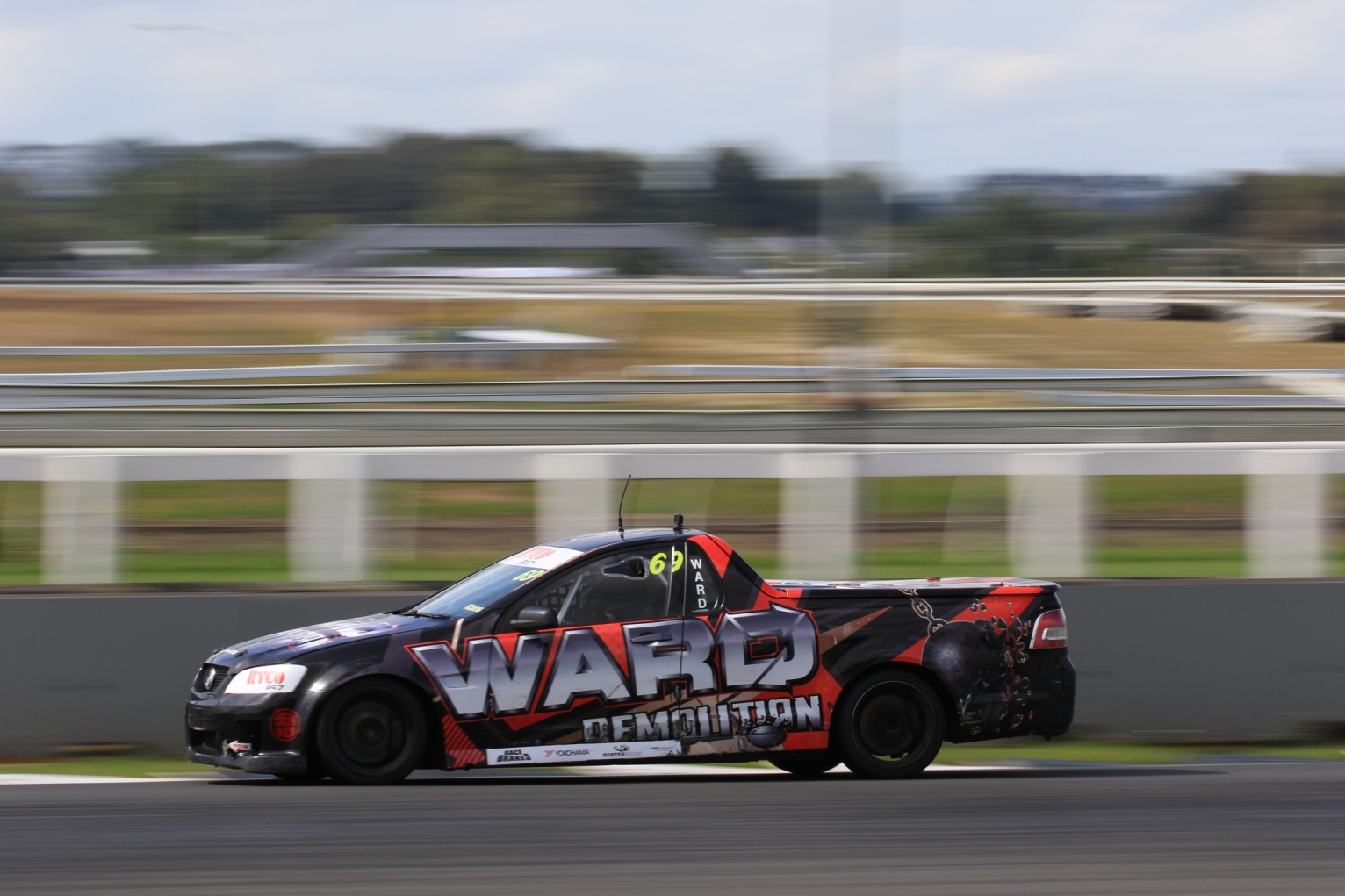 Peter Ward makes it two round wins in a row
It was a day when the class of Peter Ward shone through with another well-deserved win in the RYCO 24•7 V8 Utes racing series. Yet across Saturday's three races, a number of other drivers found their mojo.
In Race One, Shane Dias was on pole. But it all came unraveled on the formation lap as the axle he'd installed overnight broke and he limped back to the pits and out of the points. That left Peter Ward on the front row. As the race began, the demolition man asserted his authority, yet close behind a newcomer was making his presence felt. Nick Ross – driving cousin Nick's Holden ute for the first time in the series – was in 2nd, while Brad Kroef was showing ability well above his years in 3rd place.
Then on lap 6 Ross's Holden suffered a front suspension failure, allowing Brad Kroef to move up to 2nd while David 'Shaggy' Lowe assumed 3rd. That's how positions remained at the finish, giving Shaggy his first ever podium.
The reverse grid Race Two was a different story. Shane Dias started last, Nick Ross first. But by the second lap, Shane had overtaken the majority of the field and stormed to 2nd, with Shaggy Lowe clinging onto 3rd. That was, until Peter Ward, who'd started well back, started making his move.
By lap 4, Peter Ward had snatched 3rd from Shaggy Lowe, while up ahead Shane overtook Nick Ross for the lead. Next, it was Greg Kroef who got around Shaggy coming into the main straight, son Brad Kroef was next. Meanwhile, Shane Dias was all alone up front, but posting a 1.16.854 fastest lap showed he wasn't feeling complacent. Shane continued to reel off clean, quick laps on his way to the chequered flag.
With so many podium changes through the day, Race Three later in the afternoon would be the decider for the round. Peter Ward was on pole, but there were several hard chargers behind him capable of stealing his crown.
Shane Dias was one of them. After starting from 7th, it took just a couple of laps for Shane Dias to slice through the midfield and pass Brad Kroef for 2nd place, leaving Peter Ward next on his radar. Yet despite lapping solidly up to a half a second per lap quicker, Shane couldn't get close enough to the experienced Peter Ward.
So for Race Three, Peter Ward took the win, Shane Dias was 2nd and Nick Ross claimed a well-deserved 3rd.
In the post-race interview, Peter Ward admitted to Shane Dias how he was feeling the pressure. "Seeing you in my rearview mirror going sideways, I thought I'd better get my **** together. " Get it together he did for a commanding Round Two win in the RYCO 24•7 V8 Utes racing championship.