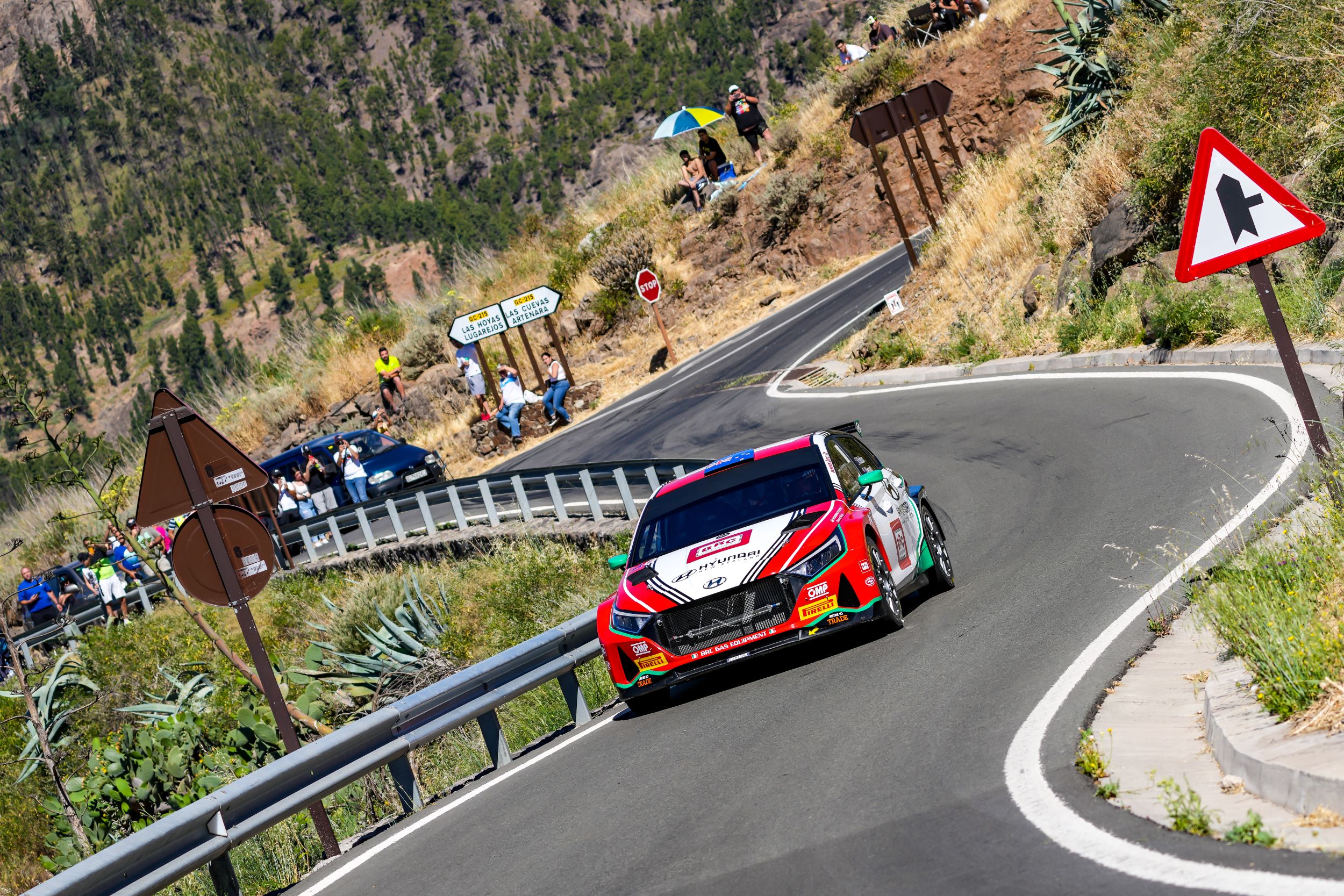 Paddon to tackle tarmac of Canary Island rally
This weekend, New Zealanders Hayden Paddon and John Kennard compete in Rally Islas Canarias, which is the second round of the 2023 FIA European Rally Championship (ERC).
While Rally Islas Canarias was not originally on their schedule, Paddon and Italian team BRC agreed that it was a good option to keep trying to earn points at the earlier rounds of the eight-round championship. ERC regulations state that drivers count their best seven scores from a possible eight.
After winning the opening ERC event in Portugal in March, Paddon says they collectively decided to keep their options open to dropping a round later in the season and work to gain points at every possible round.
The timing of Rally Islas Canarias, which runs 5 and 6 May, is just a week before the International Rally of Whangarei, 12-14 May, and ERC round three takes place in Poland the following weekend, 19-20 May, meaning a set of long-haul flights for Paddon and Kennard.
Paddon says: "It's added to an already busy stretch this season, but we thought it was important to keep our points going towards the championship. One of our main focuses this year is to try and win the European Rally Championship title which would be a big achievement for us. Both teams – PRG in New Zealand and BRC Europe – will be busy too, making this happen. Getting to drive the two Hyundai i20 N Rally 2 cars means plenty of seat time and good opportunities to refine and develop the cars' performance on both sides of the world."
Paddon says he's looking forward to rallying in the Canary Islands. "It's the first tarmac round of the ERC so our first tarmac ERC event in the Hyundai i20 N Rally 2 car. We ran the car as a full-event tarmac test at Rally Regione Piemonte in northern Italy a couple of weeks ago, finishing fifth, which was a big help to get used to the car on tarmac."
Paddon and Kennard participated in the official test this week as part of Rally Islas Canarias with Paddon saying it went well and the team did an amazing job, making good improvements with the car throughout the day.
He describes the stages as very technical, fast and smooth like a racetrack.
"The local European drivers are very fast here but obviously we're going to put our best foot forward and aim to be around the podium. You know, when you put your helmet on, you get pretty competitive and want to be near the front!"
Based in the town of Las Palmas, the rally comprises 13 special stages totalling 190.06km on asphalt roads which climb and descend frequently. A notable feature of the sealed stages is the abrasive surface, constructed partly from volcanic lava, which means grip levels are high and remain constant if it rains, although tyre wear can increase in dry conditions. Former winners include Didier Auriol, Piero Liatti and Carlos Sainz, who claimed five consecutive victories in the 1980s.
On Wednesday, European time, they participate in reconnaissance where they'll be looking to refine their pacenotes. Recce continues Thursday morning before the qualifying stage for FIA and ERC1 priority drivers. Qualifying results determine the order in which drivers can choose their road position for Fridays start list.
Paddon is seeded number one on the entry list, ahead of Norwegian Mads Ostberg.
"From the Canary Islands, we're back on the plane for Rally Whangarei the following weekend, and the weekend after that we're back in Europe for ERC Rally Poland back on gravel. We're definitely looking forward to coming back to New Zealand for Rally Whangarei; it's always one of my favourite rallies."
Paddon and Hyundai New Zealand Rally appreciate the support of Hyundai New Zealand, Mitre 10 Trade, Z Energy, Makita, Open Country, Bars Bugs, Pirelli, OMP/Racer Products, Winmax Brake Pads, South Canterbury Road Safety, Ben Nevis Station, Bailey Caravans, Repco NZ, Highlands Motorsport Park, MITO, ETCO, Jacanna Freight, Pak N' Save, Machinery House, Bartercard, Mike Greer Homes, Provident Insurance, Zealandia Systems, Carters Tyres and Signbiz.
Keep up with news on Hayden Paddon and the Hyundai New Zealand Rally team via the Facebook page https://www.facebook.com/paddonrallysport.