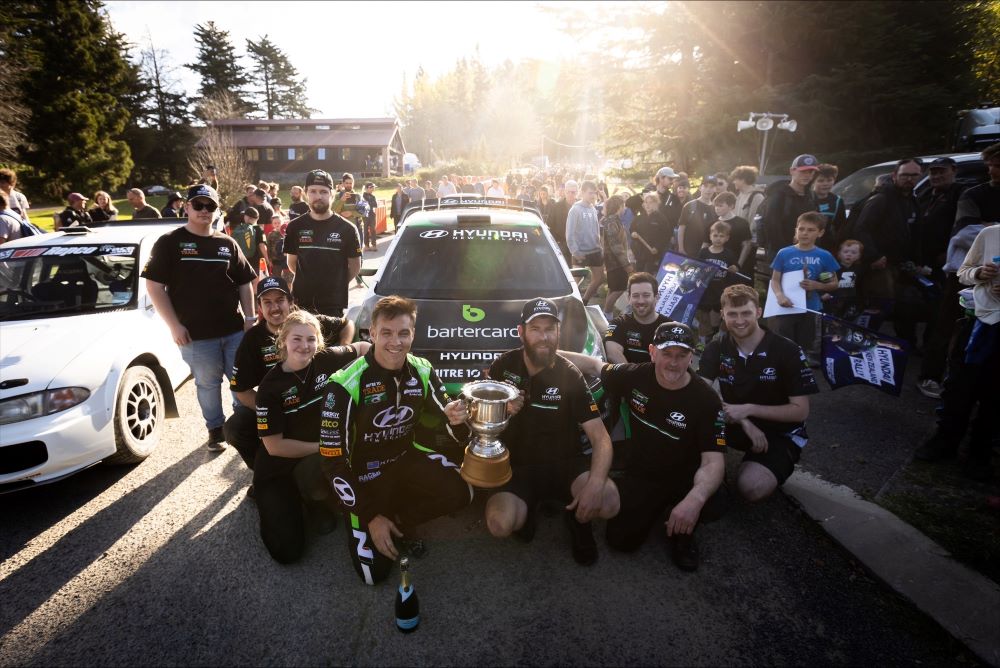 Paddon betters own record at Ashley Forest Rallysprint
Cromwell's Hayden Paddon achieved another of his 2023 objectives by setting a new course record of 52.00 seconds and winning the annual Ashley Forest Rallysprint run near Rangiora on 17 September. Paddon is the first competitor to win this event for the fourth time.
Having recently secured the FIA European Rally Championship title, Paddon decided to tackle this year's Ashley Forest Rallysprint with both his Hyundai vehicles: the Hyundai i20 AP4++ rally car in which he won this event in 2019 with a time of 52.77 seconds as well as the fully electric Hyundai Kona being developed by his team at Paddon Racing Group, a vehicle in which he won this event in 2022 with a time of 55.54 seconds.
Paddon was determined to better his own record by using his AP4 rally car in full hillclimb mode.
Setting progressively faster times with each of Saturday's three runs, Paddon held the top two slots on the timesheets throughout the day. On Sunday, there was one final qualifying run for all competitors before the elimination runs for the top 32, top 16, top 8, etc took place. Paddon continued to top the time charts right through to the final run for the fastest two competitors.
In the end, Paddon's record time of 52 seconds on the 1.7 km Ashley Forest hill was simply too much for Blenheim's Neil Webb who finished a fine second in his Mitsubishi Mirage and third-placed Ari Pettigrew, from Cromwell, in his Holden Barina AP4 rally car.
"We achieved what we came here to do," says Paddon. "The first objective was to beat the record, which meant we would be likely in the final run-off. If we won that then we achieved the second objective of winning the event for the fourth time.
"The conditions were generally favourable and, despite the wind, it was quite sheltered in the trees. The wind helped with the dust which made it fair for everyone competing.
"We've done a lot more engine and aero development with the i20 car so while it was a race to see which of our cars was faster, it was easier to focus on one for setting a record time."
Run on Mt Gray Road near Rangiora by the Ratec Motorsport club, the Ashley Forest Rallysprint has an impressive history dating back to 1979 with previous winners including Paddon's idol Possum Bourne.
Next up for Paddon and the Paddon Racing Group team is the Daybreaker Rally in Manawatu, the penultimate round of the Brian Green Property Group New Zealand Rally Championship, which Paddon leads by five points in the overall standings.
Paddon and Hyundai New Zealand Rally appreciate the support of Hyundai New Zealand, Mitre 10 Trade, Z Energy, Makita, Open Country, Bars Bugs, Pirelli, OMP/Racer Products, Winmax Brake Pads, South Canterbury Road Safety, Ben Nevis Station, Bailey Caravans, Repco NZ, Highlands Motorsport Park, MITO, ETCO, Jacanna Freight, Pak N' Save, Machinery House, Bartercard, Mike Greer Homes, Provident Insurance, Zealandia Systems, Carters Tyres and Signbiz.
Keep up with news on Hayden Paddon and the Hyundai New Zealand Rally team via the Facebook page https://www.facebook.com/paddonracinggroup.