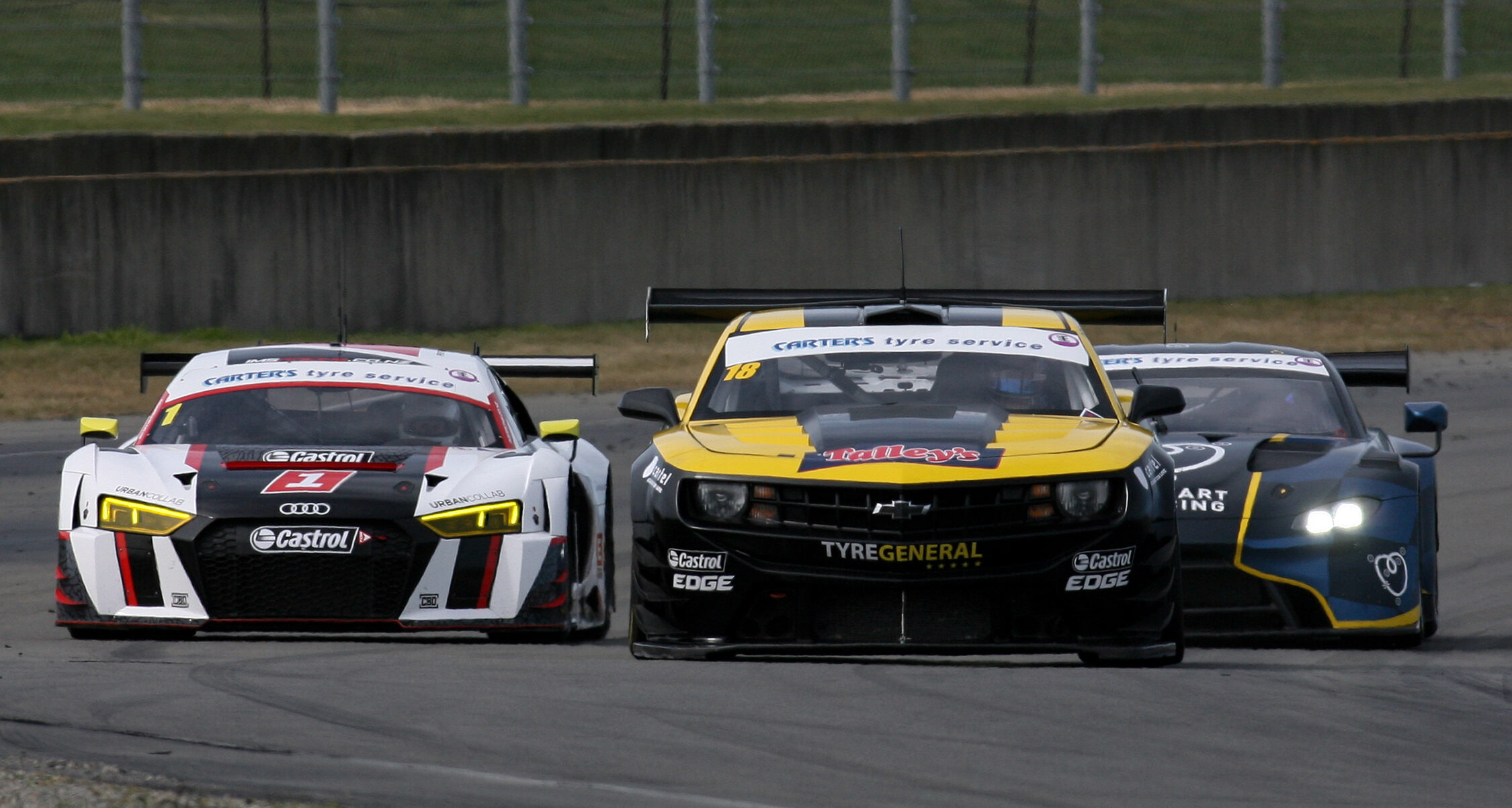 NZ's best descend on Highlands for Three Hour NZ Endurance title contest
A wealth of talent and machinery will be at Highlands Motorsport Park in Cromwell this Saturday as teams fight it out for the overall and Class titles at the 2020 Three Hour New Zealand Endurance Championship. Over thirty entries will take to the grid after qualifying in either the recently held Golden Homes North Island or the Carter's Tyres South Island Endurance Series'.
Heading the pack and the team to beat are current NZ champions Neil Foster and Jonny Reid (Audi R8 GT3). The combination has proven to be tough to beat but look like they will face their fiercest competition yet. Spare-heading the attack will be Alex Reberas/Darren Kelly (Aston Martin Vantage AMR GT3) who convincingly won the South Island overall title and came close to also winning the North Island Series'. It was the McLaren 650s GT of Glenn Smith and John DeVeth that won the North Island Series, now giving them confidence to beat both the Aston crew and the pack of Audi entries.
Four Audi R8 will be on track with Red Bull Junior Driver Liam Lawson pairing with Southland's Scott O'Donnell, Andrew Fawcett and Sam Fillmore, who finished second in the North Island Series and Christina Orr-West/Brendon Leitch who finished second overall in the South Island Series.
Lawson, home after competing in the FIA Formula 3 Championship, makes his first GT3 appearance and will be very quick on a circuit he loves and has won races at in the Toyota Racing Series.
Dwayne Carter teams up with V8 Supercars champion Greg Murphy (Mercedes GT3) and will be hunting for a podium along with the Chev Camaro GT3 of John McIntyre/Simon Gilbertson. Both are quick enough to take their chances for an overall win. The Chev Camaro has proved its speed in the three South Island rounds but reliability let them down on each occasion.
Five Class titles are also up for grabs with the overall top contenders also fighting for Class E (GT3). Anthony Leighs and Paul Kelly (Porsche Cup) are back to defend their Class D (GT Type) title from last season. They were also successful in the South Island series winning their class.
Class C (>3501cc) is hard to pick an overall favourite with seven strong entries. Scott and Craig McDermid recently won their class in the South Island series but will be up against the likes of Lance Hughes/Simon Evans (Holden Commodore), Grant Silvester/Dean Perkins (Ford Falcon), Matt Dovey/Jono Lester (Audi RS5) and Darryl Barrett/Hamish Frew (V8 Supertourer Falcon).
It's a TCR battle in Class B (2001-3500cc) with ex WRC driver Hayden Paddon joining with NZ One-Hour Class B Endurance champion Jordan Michels (Hyundai i30N TCR). The combination proved very quick recently at Timaru but were let down by fuel pump issues. Also, in contention are two more Hyundai TCRs' with Gene Rollinson pairing with Craig Innes and Jayden Ransley with Rhys Gould. Don't discount Rowan Shepherd/Lochlainn Fitzgerald-Symes (Audi TCR RS3 LMS) who won the Class B South Island title and will look to break the Hyundai dominance.
Noel Simons//David Berry (Honda Integra VTi) recently won the Class A (0-2000cc) South Island title and will be up against Darryl Phillips/Terence Phillips (Honda Civic) and Oliver Heycoop/Brock Cooley (Toyota Corolla).
Qualifying takes place Saturday morning with 180 minutes of racing to get underway at 1:00 pm. Live TV action will broadcast from Sky Sport 5 from 10:30am.