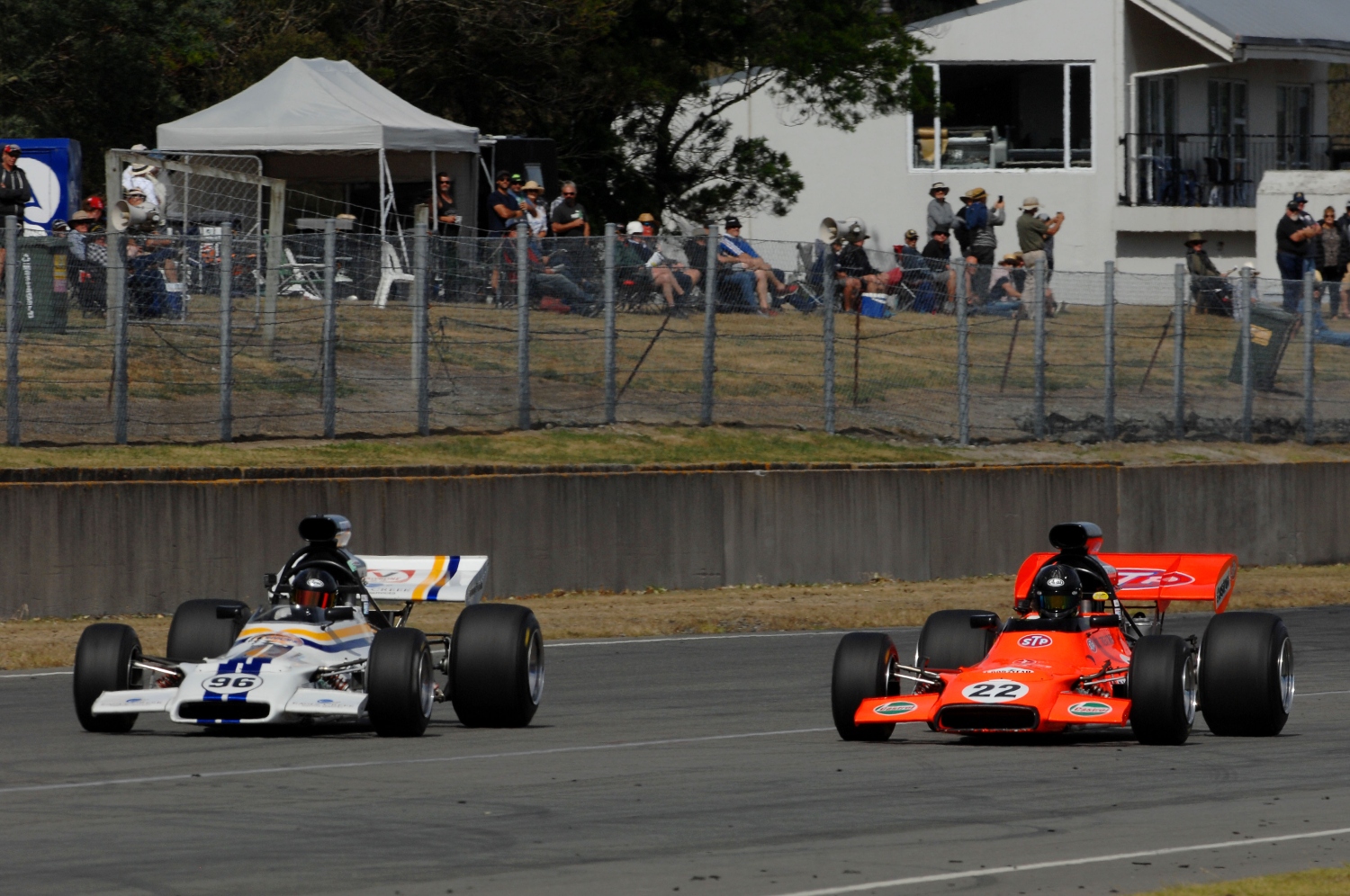 NZ F5000 series emerges from beneath COVID-19 cloud in good shape
No-one is prepared to 'crack the bubbly open just yet,' however if the size of the field assembled for the final round of the SAS Autoparts MSC NZ F5000 Tasman Cup Revival Series at Hampton Downs this weekend is anything to go by, the series looks set to finally emerge from beneath the COVID-19 cloud it has been forced to operate under this season. stronger than it was 12 months ago.
"That's right," says keen racer and New Zealand Formula 5000 committee member Glenn Richards. "This time last year we were down to just 12 confirmed entries at our final round. And to be fair everyone at that stage was fairly spooked by the whole COVID-19 and Lockdown thing and most people involved would have been pretty happy, I would imagine, when the meeting was at first postponed then eventually called off completely.
"This year, though, we're back at the same meeting, with 17, including a record-equalling four classic Class A McLarens and at least two new owners and/or drivers, so yes I think that things are definitely on the up."
It is not just the SAS Autoparts MSC NZ F5000 Series that appears to be emerging from a COVID-19-enforcd hibernation in better shape than before either. Paul Fahey Legends of Speed organiser Chris Watson of HRC Events – who is giving his one-off Australian-conceived McLaren M18-based Gardos F5000 car a rare outing at the meeting – reports an entry across all classes of 285, making it one of the biggest at the Hampton Downs circuit this summer.
As has been the case now for the past two seasons now, favourite to qualify quickest and win races this weekend is Christchurch ace Michael Collins, 25, who this season has been driving Queenstown-based car owners Alistair Hey and Vicki Jones' ex Graham McRae/Dexter Dunlop Leda GM1 001.
Also joining her younger brother on the gird again his weekend will be 28-year-old Anna Collins driving tthe other Hey/Jones-owned Graham McRae-desiged Leda LT27 (the car her brother Michael used to win the SAS Autoparts MSC Series title last season).
Like Michael, Anna has a solid background at a national level both in karts and Formula Fords and has adapted quickly to the larger and more powerful stock block 302 cu in V8-powered Leda LT27 Formula 5000 car.
Joining the southern siblings on the SAS Autoparts MSC series grid this weekend is a mix of returning regulars and fresh-faced newcomers.
Amongst the former will be Grant Martin (Talon MR1/A), Glenn Richards and Shayne Windelburn (both Lola T400) as well as the category's father/son pairing of David (Talon MR1) and Codie (Lola T332) Banks (all Auckland) plus Blenheim series stalwart Russell Greer in his ex-Graeme Lawrence Lola T332, former SAS Autoparts MSC Series champion Brett Willis from Rotorua in his new Lola T332, former NZ Formula Ford champion Kevin Ingram in his ex-Ian Clements Lola T332 and fellow Feilding driver Tim Rush in his McLaren M22.
There is still plenty to play for in the Class A category for earlier F5000 cars, too, with Tony Roberts in his high-wing McLaren M10A still embroiled in a battle royal with season-long rivals Frank Karl and Toby Annabell (both McLaren M10Bs).
Which makes 14 cars, with the '15th man' being Chris Watson himself……making his long awaited debut in the SAS Autoparts MSC series in his one-off McLaren M18-based Gardos OR2.
"We actually finished our rebuild work on it several years ago now, and I've run it in the Formula Libre class at Hampton Downs before, but because it is a genuine Formula 5000 car I've always intended to run it in our series and decided – well before the whole COVID-19 thing blew up – that last year was going to be the year. As it turned out we had to call that one off so back into the shed it went again until a few weeks ago and here we are!" said Watson this week.
His Gardos car is based on a McLaren M18 raced in Australia in period by Don O'Sullivan. It was initially upgraded to M22-spec before O'Sullivan's enterprising mechanic, Western Australian Jamie Gard, used the bulkheads and suspension as the basis of a very different chisel-nose/side radiator car he called the Gardos OR2.
The car's best result was a 6th place finish in the 1979 Australian Grand Prix at Perth's Wanneroo Park (now Barbagallo Raceway) in the hands of Barry Singleton. Three years earlier, with Keith Poole at the wheel, it also finished second in the Australian Hill Climb Championship.
The other two fresh faces in the SAS Autoparts MSC Series pits this weekend will belong to Bruce Kett from Waitoki (north-west of Auckland) who has just bought the ex-Frank Arciero/Jerry Grant Lola T332 HU46 off New Plymouth man Ian Riley, and Terry Honey from Waiuku who has recently acquired the McLaren M10B (400-08) originally raced in South Africa by Kipp Ackerman.
Honey and local McLaren specialist Duncan Fox gave the car an initial shakedown run late last month but it will actually be driven this weekend by Ken Smith protégé Tom Alexander.
The SAS Autoparts MSC NZ F5000 Tasman Cup Revival Serries is organised and run with the support of sponsors SAS Autoparts, MSC, NZ Express Transport, Bonney's Specialised Bulk Transport, Mobil Lubricants, Pacifica, Avon Tyres, Webdesign and Exide Batteries.