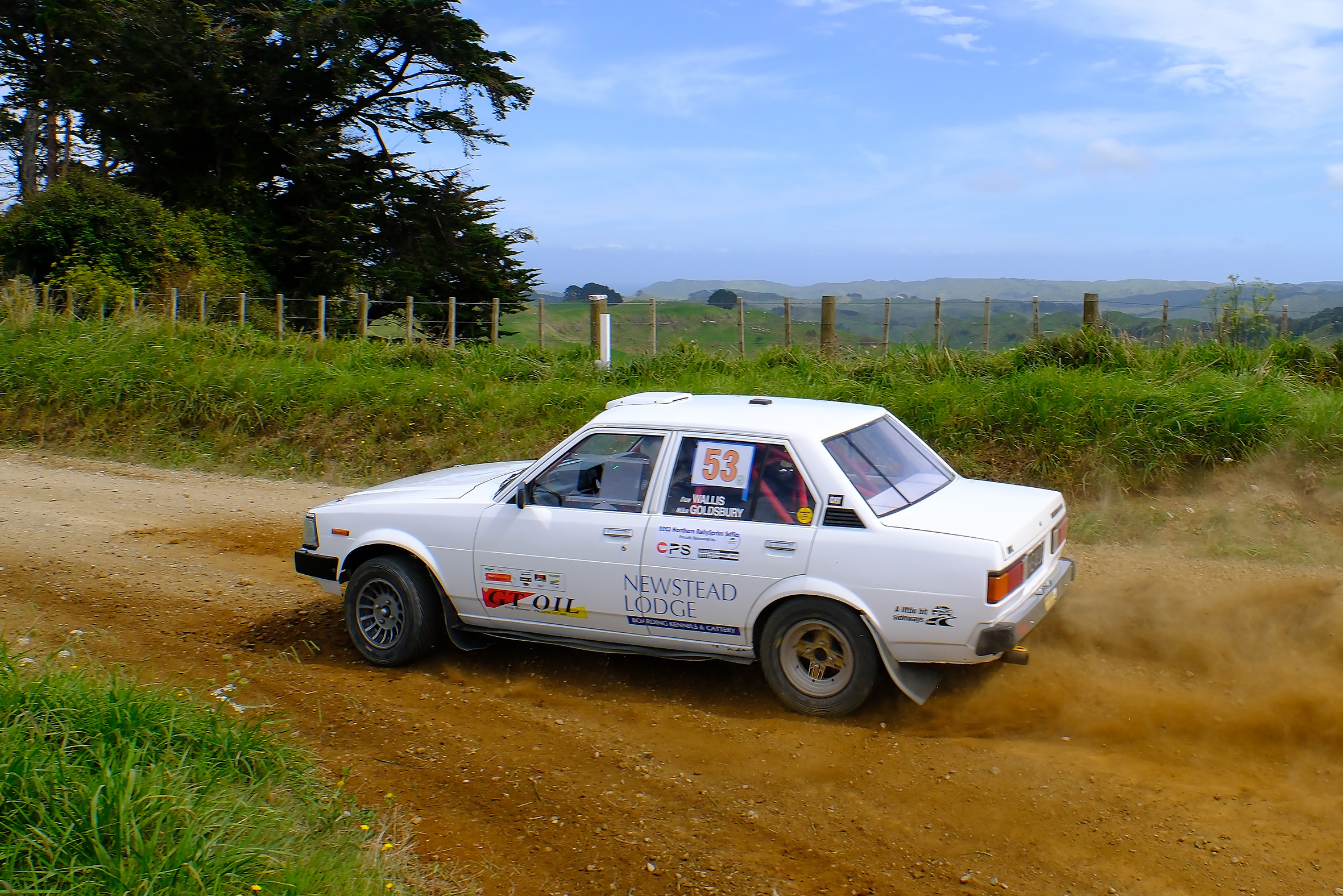 North Island Rally Series Heads to the Tarmac for second round
North Island Rally Series crews are preparing for round two, a return to the testing tarmac stages around Stratford on Sunday 25th June. The SBT group Taranaki Tarmac Rally will be a big change from the gravel stage Bothwell loop of Round 1.
Looking forward to once again mixing it with the 4wd cars is Hamilton rally driver Mike Goldsbury, whose scintillating performance at the opening round of the Winmax Brake Pads North Island Rally Series has seen him awarded 'Drive of the Day'.
Goldsbury finished the Bothwell Loop Rally, run in conjunction with Pukekohe Car Club's annual northern region rallysprint event, in 4th position overall.
Goldsbury and codriver Andy Watkins were delighted with the result, only beaten to the podium by a trio of modern turbo 4wd vehicles.
Their 1981 Toyota Corolla DX also finished outright first 2wd, but for much of the event was mixing it with state-of-the-art R5 and AP4 machinery.
Goldsbury admits that a change in mindset helped secure the significant result.
"While I'm familiar with the Bothwell course, I was unfazed when the promoting club elected to run in the opposite direction to usual. Typically, I would run worn tyres for the first stage but (the vastly experienced) Charlie Evans suggested I needed to go hard right from the very start. We strapped on new rubber front & rear, and the times speak for themselves."
The pair scored 3rd fastest time on the opening stage, and never dropped below 4th overall in the cumulative standings for the rest of the day.
Goldsbury is philosophical about his chances at the Taranaki event.
"Our poor Corolla is tapped out at 160 km/hr so we may struggle to match the more higher-powered cars. I'm looking to fit a higher ratio differential, but we'll just have to concentrate on carrying our momentum through the corners to make up for the lack of grunt."
NIRS organisers have also announced a replacement event for the Hawkes Bay rally, cancelled after the province was devastated by Cyclone Gabrielle.
"We're very fortunate to have Motorsport Bay of Plenty offer to run a round of the Winmax Brake Pads NIRS," says series coordinator Marty Roestenburg. "This still allows our competitors to contest five events as we originally offered."
The MBoP round will be based at Whakatane and is scheduled for Sunday 15th October.