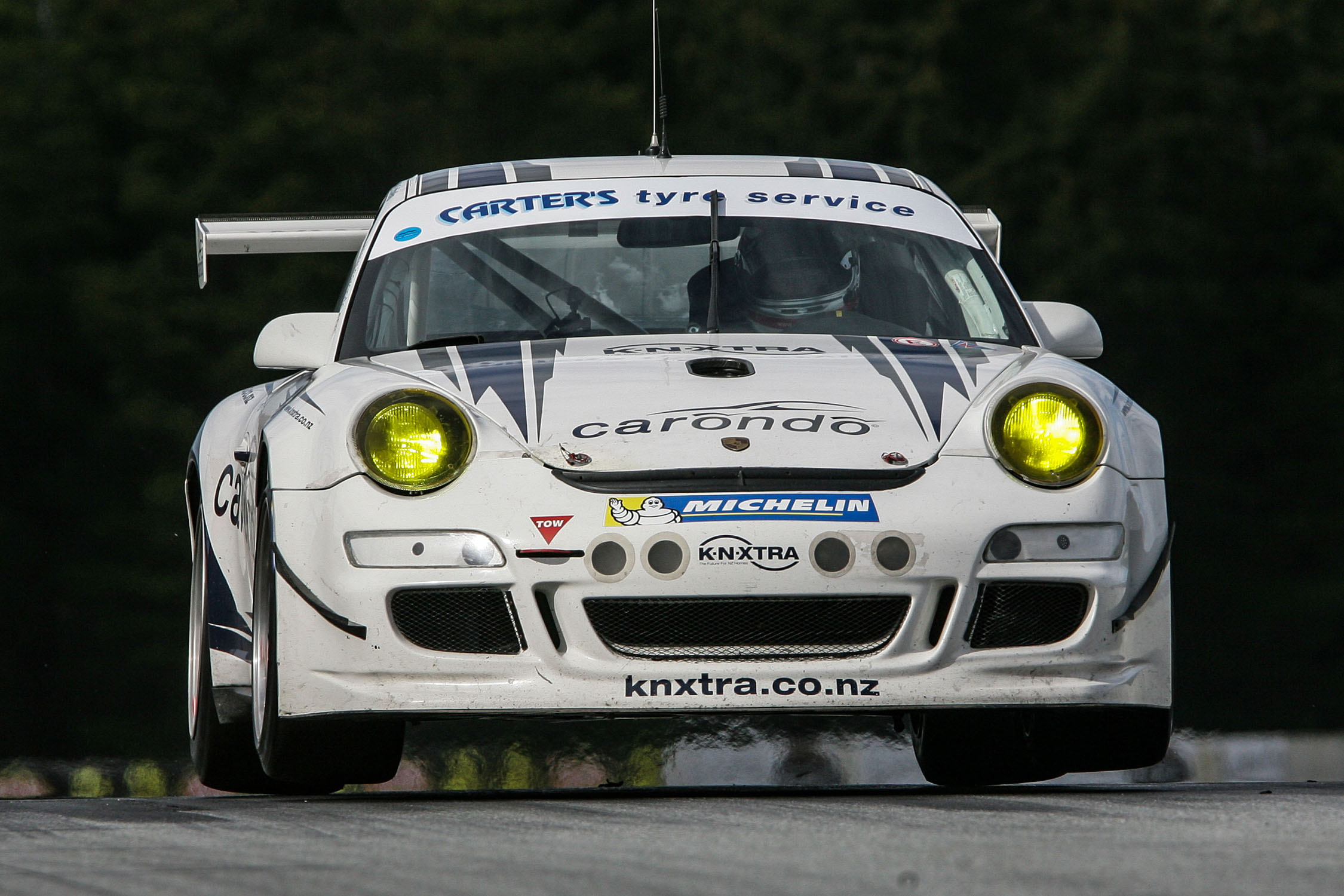 New rivals set to target Collins/Ross Mustang in South Island One Hour Endurance race this weekend
Winners of the opening One Hour Carter's Tyres South Island Endurance race will face more competition this Saturday at the second round of the 2020 series.  Sam Collins and Nick Ross (Ford Mustang) made it look easy at Teretonga Park in Invercargill three weeks ago, leading for almost every lap.  An increase of competitors for the second round at the Mike Pero Motorsport Park in Christchurch will see 42 cars take to the track hunting for overall and four separate Class titles.
This time Marco Schelp (Porsche Cup S) and Angus McFarlane/Angus Bushell (Porsche GT3 Cup) will join the field looking to finish on the podium as well as competing for Class D (GT3 type) honours at their home circuit.  Also, in the mix is Dunedin's Martin Dippie (Porsche 991 GT3 Cup), who finished second overall at Teretonga and won Class D from Ben Derrick/Garry Derrick (Porsche 991 GT3) and Russell McKenzie (Porsche 991 GT3 Cup).  Joining the field will be Lindsay O'Donnell in the McLaren GT4 570.
Collins and Ross are favourites for Class C (>3501cc) honours but will be kept on their toes by Bruce Davidson (Chev Corvette) and Murray Beeby/Karl Beeby (Nissan R32 GTR).  Such is the competition in this series where you must finish each round to gather enough points for overall and Class titles.
For the second consecutive year Invercargill's Jordan Michels (Honda Civic TCR FK7) leads Class B (2001-3500cc) and is proving difficult to beat.  The Class is one of the most popular with a number of TCR cars competing including two Audi RS3 TCRs of Debbie and Dennis Chapman and the VW Golf GTi TCR of Mike Driver/Phil Hood.
Class A (0-200cc) is again proving the most popular with 15 entrants, ten of those competing in Hondas'.  Three Honda Civics took the Class podium at Teretonga with the win going to Andrew Kitching/Andrew Bartlett, second place to Andrew Gibson/Paul Booth and third to Bradley Rule.
Saturday's round at Ruapuna will be in contrast to the opening race with a longer more technical circuit to compete on.  Qualifying takes place on Saturday with a 60-minute race late morning.  With COVID-19 restrictions back to Level 1, the Canterbury Car Club has opened its gates to spectators free of charge.  Racing will also be live-streamed thanks to The Heart of Racing.
The third and final round will take place at the Timaru International Raceway on Christchurch 17 October.