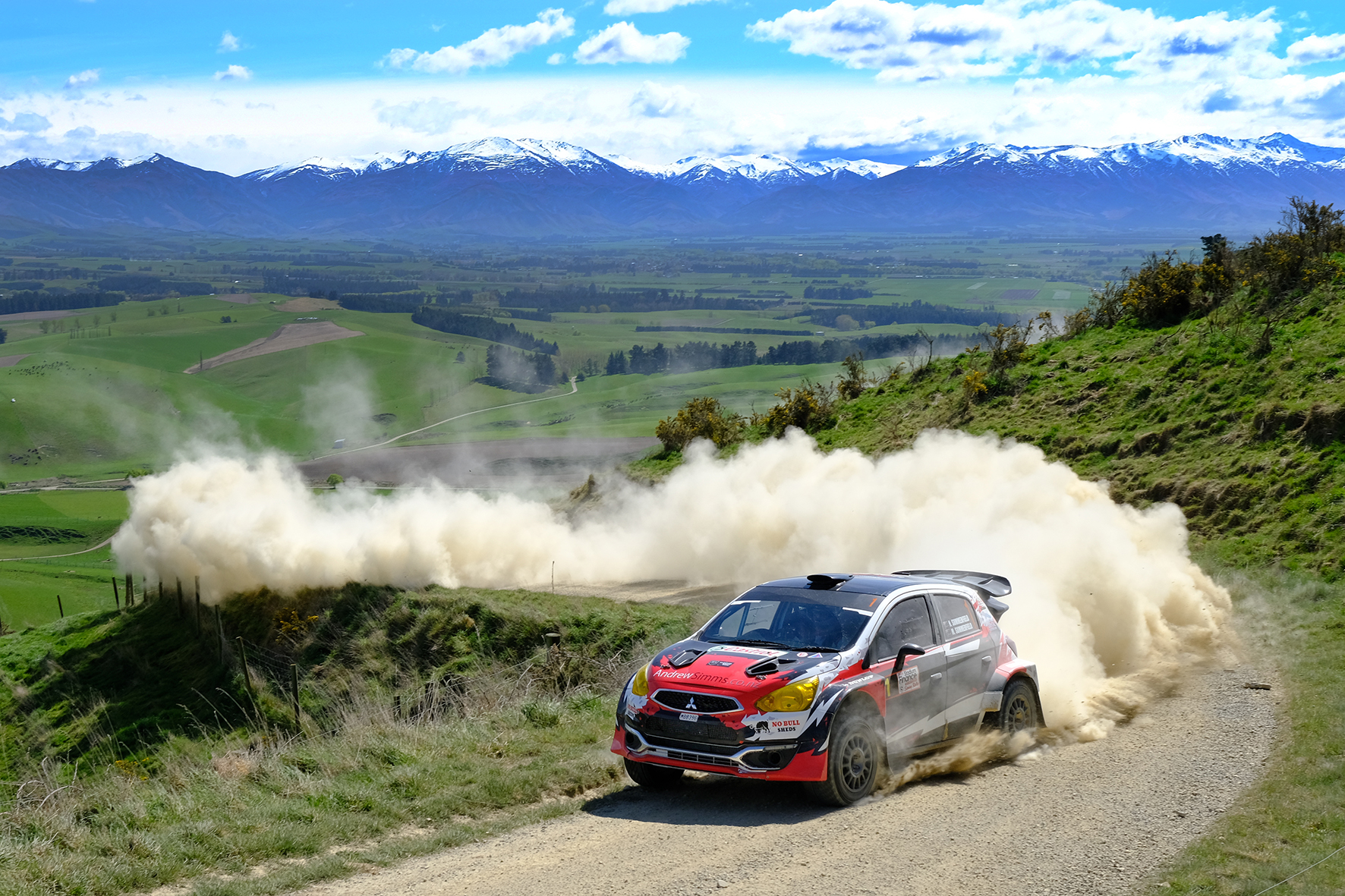 Matt Summerfield takes victory at South Canterbury Rally
A second successive victory for Matt Summerfield in as many outings with his new Mitsubishi Mirage AP4 rally car shows good form heading into his home rally in four weeks time.
The Rangiora based top seed was fastest on all but one stage of the Spring Rally in South Canterbury to win by almost a minute.
On the heels of victory at the Catlins Rally, Summerfield led a 59-strong field away from Levels Raceway, Timaru for eight special stages totalling 130kms.
Apart from dropping a few seconds to young Robbie Stokes (Ford Fiesta AP4) on the opening stage, the Summerfields won every other convincingly to finish 59.2-seconds ahead of Stokes, with Josh Marston third (Holden Barina AP4) a slim 1.8s further back.
"Stage one was getting the rust out of the system, put my ears back on and learn to listen again, so got through that and didn't look back really," said Summerfield at the finish.
Heading into the Spring Rally with a new car and as the top seeds, Matt and Nicole Summerfield knew there would be a number of new lessons along the way.
"Good to get the win, coming into the rally it was unknown how the speed was going to be on the first noted rally of the year.
"Good being out the front. There was a lot of gravel on the road so we probably escaped a little bit of dust, so from that point of view it was pretty good for us.
"And learning about being number one [on the road] was quite key. Where to put the car, hunting for some smooth lines, smooth tracks. Worked on it. It was good to do our own thing and get back on some notes.
The brother and sister combination are using events allowing pacenotes as preparation for when competition in the New Zealand rally championship returns next year.
Victory in the first pacenote rally of the year after an absence of nearly 12-months between 'calls' is a good start.
"It was really about getting back into the rhythm of the notes. Today we used a mixture of this years and last years notes, and last years was a little bit better and I think that's just because we'd done rallies before this one.
"We found out that the notes need to be a bit better, preparation wise, and to get back in the rhythm between me and Nicole in the car, which from stage four, five was noticeable, pretty cool."
The roads in the South Canterbury rally were particularly fast, and that also showed the new AP4 rally car isn't disadvantaged with a smaller capacity engine.
"Stages today were very, very fast. In stage 7 I was waiting for the note and it's 'oh another 250 crest, and 250 after that, very fast. Pretty hard on the engine.
"It's good that we're in a 1600[cc] and still up there with the 2-litres and 1800's. It shows that the cars pretty fast in a straight line as well."
The next outing is the Canterbury Rally over Labour Weekend which is based out of the Summerfield's home town, and uses a mixture of forestry and public roads.