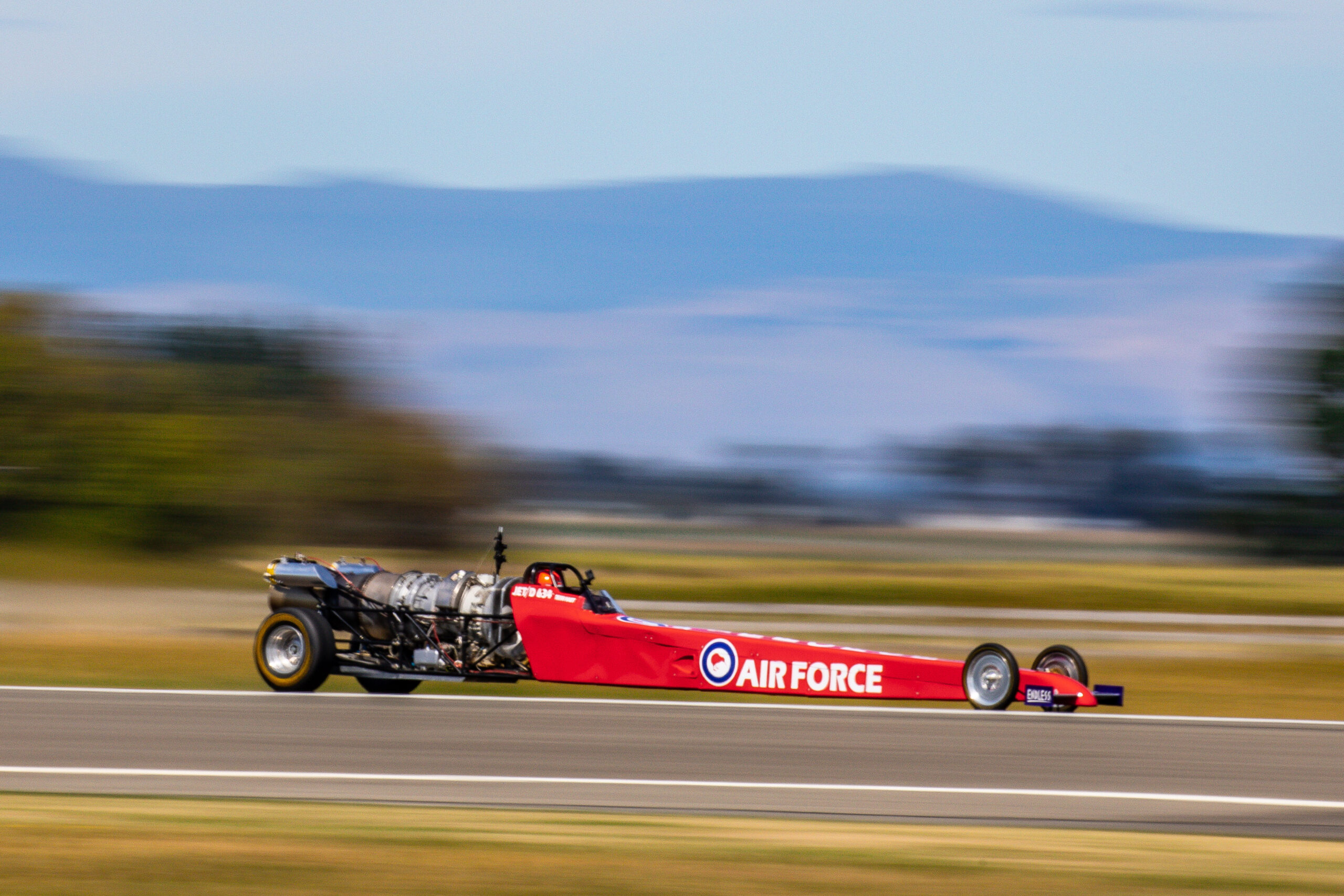 New land speed record set at RNZAF Base Ohakea
The New Zealand land speed record has been reset today after a record-breaking run at RNZAF Base Ohakea. Sergeant Dean Hart broke both the 'flying mile' and 'flying kilometre' records in his home-built turbine propelled drag car. As a result of beating the 'flying mile' record, Hart will be awarded the Castrol Trophy, held by Owen Evans since 1996.
To set the record, the car had to complete a run in both directions within an hour to take account of any wind. The times were then averaged to get the record speed. Hart's first run was clocked at 213.258mph over the flying mile and 324.646kph for the flying kilometre, both falling just short of the previous records. With all systems clear and driver confidence heightened, the second run in the opposite direction clocked in at 251.046mph and 402.280kph. The combined runs averaged out to 232.152mph for the flying mile and 363.463kph for the flying kilometre.
The significantly faster second run was enough to set averages which eclipsed both of the previous records. The new records stand at 232.152mph for the flying mile and 363.463kph for the flying kilometre. The previous flying mile record was 216.385mph set by Owen Evans in 1996 whilst the flying kilometre was set by Eddie Freeman in 2012, at Ohakea, with a speed of 355.485kph. The top speed reached during Hart's run was 458kph.
Hart, an avionics technician by trade, has been working on the project for 12-years. The chassis comes from an American top fuel dragster and is powered by a turbine engine out of a BAC Strikemaster, flown by the RNZAF between 1972-1991. The engine produces about 3400 pounds of thrust.
Whilst breaking the record, the team believes there was more speed to be found. Upon the completion of the second run, a small oil leak was discovered and after receiving confirmation that had record has been set it was decided they would not go through with any of the further planned attempts.
Hart also revealed after the run that "the engine actually has an afterburner on it which gives an additional 50% thrust which we didn't use."
When asked if Hart would attempt to go even faster, he quipped "nope! That's me done for land speed record attempts."