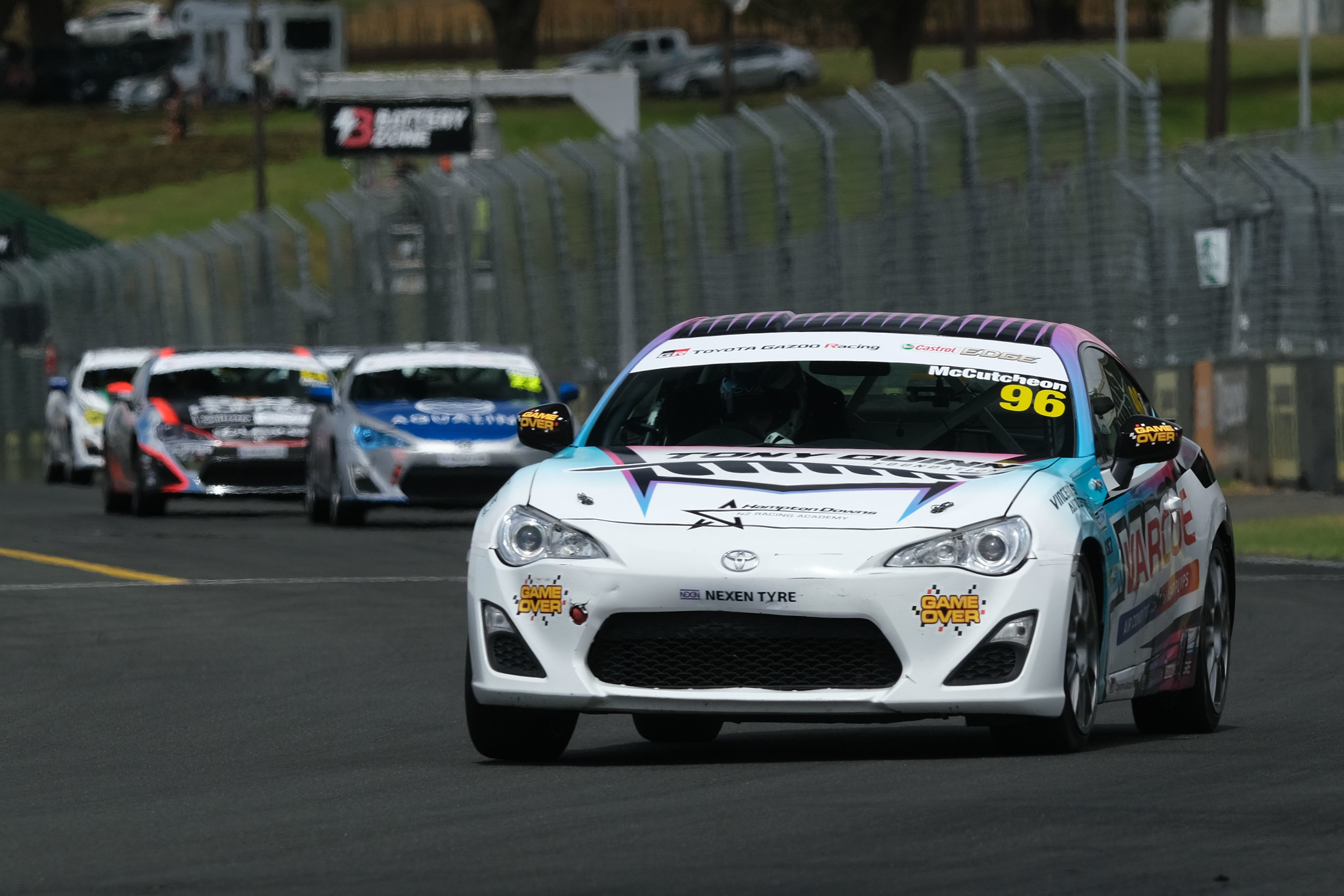 McCutcheon races away from drama for first Toyota 86 win
Rookie Matthew McCutcheon added to the 2022 list of winners in the Toyota 86 Championship with a comfortable win in the second race at Pukekohe Park today.
McCutcheon took the lead early on and any chance the pack had of catching him evaporated in a wild traffic jam early in the race that gave him a two second advantage and the momentum to take a popular first win. Marco Giltrap held on for second for Giltrap Racing while Brock Gilchrist emerged from tenth on the grid to take a fighting third.
Winning was a big moment for young McCutcheon and nothing could wipe the smile off the face of the youngster afterwards. "It feels amazing to win and great to get the monkey off my back," he said.
"It's really cool for the team and it's a real confidence booster as the last few races have been challenging. I knew I had to go hard when the chasing back behind slowed with that bunching moment but Action Motorsport gave me a rocket ship today and the car was great. It was pretty straightforward but I knew I had to build a lead as the group behind were definitely in a hurry to catch me up after that."
Having finished ninth and tenth in the first race it was Fynn Osborne on the pole position slot with McCutcheon alongside with the reverse top ten format. Team mates Ronan Murphy and reverse grid specialist John Penny lined up on row two. As the lights went out McCutcheon got alongside Osborne but it was Fynn who emerged from the first corners in the lead. McCutcheon held second ahead of Murphy and Penny.
The status quo evaporated on the second lap when Osborne made a mistake at turn two and McCutcheon pounced immediately to take the lead. This caused a concertina effect going into the complex. There was plenty of hard braking and some contact as the mess unravelled itself and it was Marco Giltrap who emerged in second ahead of Hugo Allan, Murphy, Brock Gilchrist, race one winner Justin Allen and the rest.
All of this gave McCutcheon the chance to make a break and that's exactly what he did quickly building an advantage of two second and he increased this to over three seconds in the next couple of laps. Behind him, Giltrap had his hands full with Allan, Gilchrist and Allen all in hot pursuit. They battled hard for the remaining laps but it was Giltrap who prevailed to take second, with Gilchrist a fighting third from tenth on the grid.
They were followed by Simon Evans, John Penny who had lost a few places in the earlier rumble and Dion Pitt. Further back championship contender Rowan Shepherd was having a nightmare race having been a victim of the lap two chaos. That dropped him down the order to 14th and though he gained a couple of places back on his recovery, contact with Christina Orr-West left his ABS disabled and severely compromised his ability to attack. His race reached a low point late on when he locked up heading into the complex.
Whilst his championship challenge took a bit of a knock, there was better news in the race for Simon Evans who bagged points for fifth place after passing Justin Allen in the second half. Allen fought hard but couldn't find a way back past and had to be satisfied with sixth.
John Penny recorded another solid top ten result with sixth ahead of Pitt, a flying Todd Prujean who recorded his best result of the championship with ninth. Orr-West rounded out the top ten for Dayle ITM Racing.