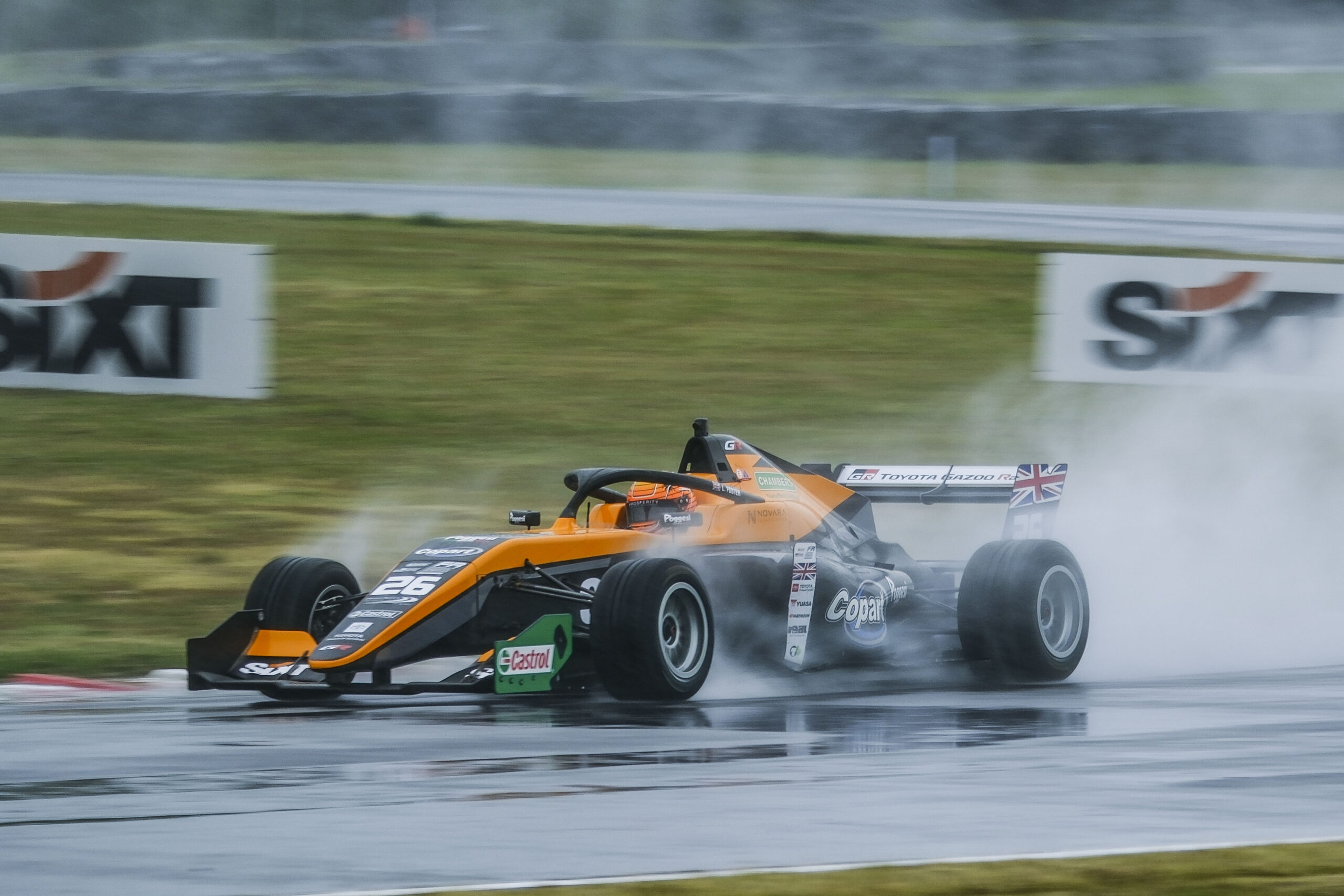 Louis Foster claims CTFROC opener at Manfeild
Louis Foster's stunning debut weekend in the 2023 Castrol Toyota Formula Regional Oceania Championship continued with a dominant victory in the first race at Manfeild – Circuit Chris Amon.
The current Indy Pro 2000 Champion put lack of circuit time, lack of car time, lack of recent wet weather experience, lack of recent standing start experience, lack of Safety Car restarts and a lack of sleep all behind him to romp away to a famous victory in wet conditions.
"It was a good race, I knew from lap one or two that we had a decent amount of pace," said the Giles Motorsport driver afterwards.
"I was just trying to get past cleanly which I managed to do. I then tried to build a good gap and just kept my head down and kept going, especially after the two Safety Car periods.
"I had three moments where it was a bit sketchy but I learned from those. I've always enjoyed the wet though and I've always managed to get good results in wet races."
Behind the debut winner, Charlie Wurz gave his best but ultimately crossed the line in second and adding insult to injury was given a 10 second post-race time penalty for a Safety Car restart infringement after the first incident, dropping him behind third-place finisher Callum Hedge to ninth in the final results and tightening the battle at the top of the points table.
At the start Wurz from pole position and Ryder Quinn – in only his second ever wet race – made the best starts but Foster took to the outside of the first turn and was able to find enough grip to go back around Quinn and retain his second position as they splashed into the infield section.
Behind them Callum Hedge had made a blistering start and was up to fourth, which became third after a fantastic move around the outside of Quinn on the final corner on lap one. Billy Frazer was another to make a great getaway in the tricky conditions and he had moved comfortably into the top ten by the end of the lap.
As they crossed the line it was Wurz, Foster, Hedge, Quinn, Abel, Sceats, Penrose, Frazer and Shehan. Foster was quickly into his stride and within another lap was all over the back of the championship leader, darting left and right as he tried to pass. A brave move through the inside forced him to back out and Wurz retained the lead – while at the same moment Liam Sceats made a small error with a major consequence, touching Jacob Abel under braking for the first corner, losing his front wing and ending his race in the gravel.
That brought out the first Safety Car and at the restart the fight at the front was renewed briefly before Foster went around the outside of Wurz at turn 1 and immediately began to race away, completing the restart lap with a lead of over a second. Hedge couldn't quite take the fight to the leaders and kept a watching brief a few car lengths back, while the battle for the lower top ten places intensified.
Foster looked home and dry – at least as far as the race win was concerned – when Ireland's Adam Fitzgerald went off track for a second time in the race but on this occasion also got beached in Manfeild's gravel trap – wiping away Foster's advantage and forcing him to do it all again with four laps to go.
As the lights went out, Foster nailed his restart perfectly and immediately began to rebuild his lead. Behind him Hedge got close to Wurz just not close enough to attempt a pass and a flying Jacob Abel made it by Ryder Quinn and quickly moved towards Hedge.
As the laps ticked down the positions stabilised and attention turned to a very racey David Morales who made a great pass on James Penrose to move into fifth. Further back Josh Mason was another to make strong progress after starting from the back of the grid due to causing the red flag in qualifying. Some quality passes saw him move up to an eventual sixth place.
Ryder Quinn ruined his race with a late off, losing a top ten spot and Bill Frazer was another to throw away a good result with a trip off the track late on. At the flag it was the astonishing Foster who came home three seconds to the good from Wurz, Hedge, Abel, Morales, Penrose, Mason, Ryan Shehan and Chloe Chambers.
By finishing eighth after Wurz's penalty, Chambers will start the second race on pole position with it being a grid formed on a reverse of the top eight finishers in Race 1. She will become the first lady to start from pole position in almost two decades of New Zealand's premier single seater championship.
Sunday will bring that race, as well as qualifying for the feature and the big race itself, which will be for another one of New Zealand iconic motorsport prizes, the Dan Higgins Trophy.