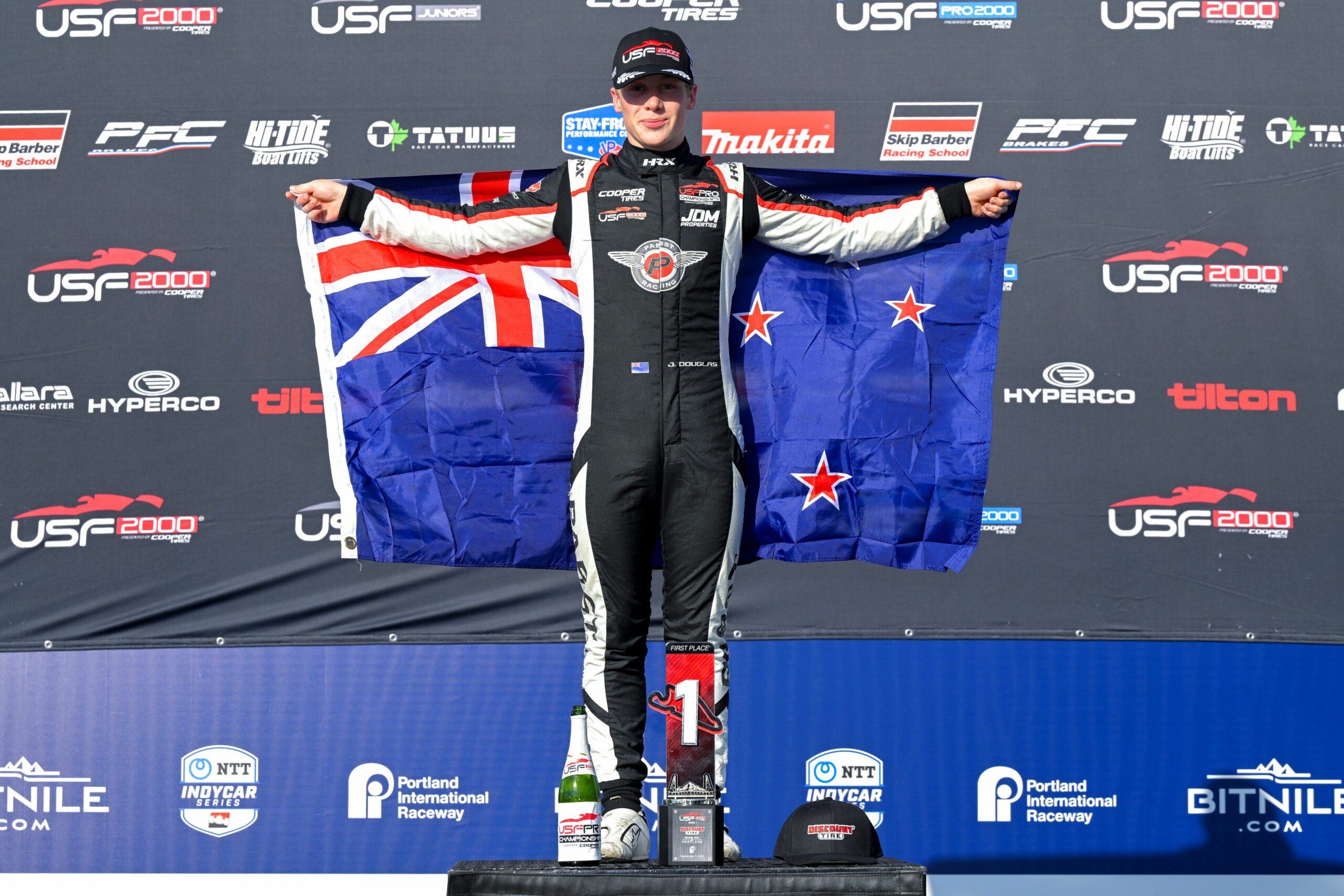 Jacob Douglas set for USF Pro 2000 test at Indianapolis
The reward for a successful end to the 2023 USF2000 season for Jacob Douglas has come in the form of a USF Pro 2000 test for Pabst Racing later this month. The test will take place at Indianapolis Motor Speedway on October 22.
USF Pro 2000 is the next step on the Road to Indy pathway, one tier below Indy NXT and two below IndyCar.
"I'm excited to get behind the wheel of the USF Pro car and show what I've learned from USF2000," said Douglas. "I think Indy Pro will suit my driving style, and if we do move up, with high downforce and the bigger cars similar to the FT50s and FT60s I've driven in New Zealand."
It gives Douglas the opportunity to showcase what he has learnt through two seasons in USF2000, which peaked in September when he claimed round honours in Portland.
"It all came together in the last round," he says. "The Portland round was where we managed to put everything we've learned together, and we took two wins and a second.
"I'm really glad we got that result for the team, and it showed we are capable of it and these past two years that we've been good enough to do it."
The final round success concluded a busy season for the Kiwi teenager, who won the pre-season YACademy Winter Series and finished 2023 with a record of seven victories, eleven podiums and five pole positions.
A mid-season switch to Pabst Racing immediately brought a favourable result for Douglas, who finished second at Road America on debut for the team.
"As a team, you're always looking to have the best drivers in your cars," says Pabst Racing founder Augie Pabst. "When discussions started with him, I felt that for various reasons beyond his control, Jacob had yet to truly display his talent in USF2000.
"I was confident he could do that in one of our cars. He proved me right. So, he brought another talented driver to our team.
"Anytime a driver goes to a new team, there's a period of 'getting to know each other'. I think that was very short-lived, and he quickly got with it and showed that with a P2 at Road America.
"The triple pole and double win at Portland was no surprise to us. We were thrilled to see Jacob had thoroughly jelled with the team and had the pace and confidence to make his mark on the final event of the season. That's the best way to go into the off-season!
"We're looking forward to Jacob's Pro 2000 test later this month."
Following the test, Douglas will return home to New Zealand with the aim of securing a place on the grid in the Castrol Toyota Formula Regional Oceania Championship.