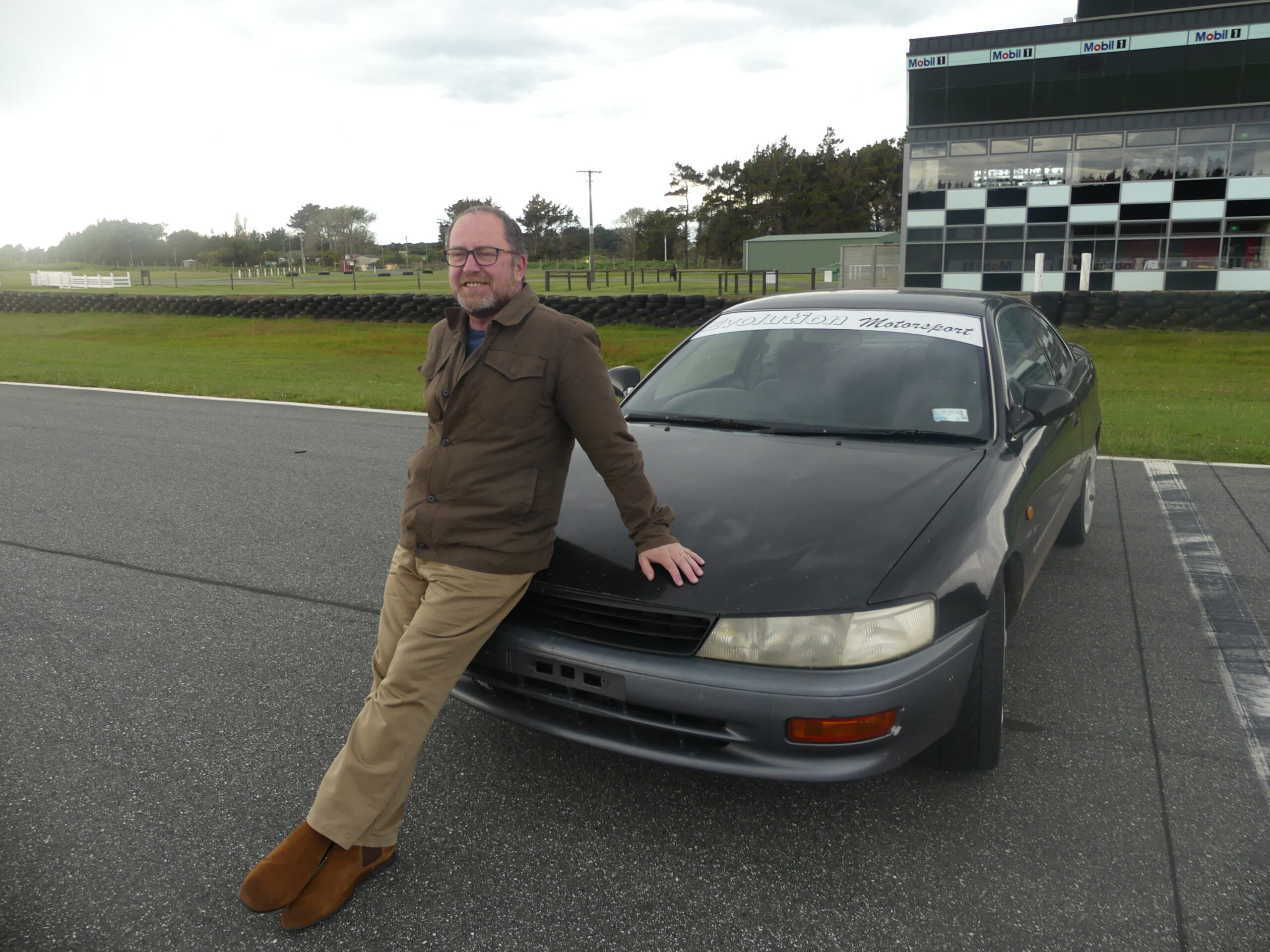 Invercargill City Councillor tackles ClubSport
Invercargill City Councillor, Darren Ludlow, will take the wheel to compete in a motorkhana event at this Sunday's round of the Evolution Motorsport Clubsport Championship hosted by the Southland Sports Car Club at Teretonga Park.
Ludlow will tackle the motorkhana event in an Evolution Motorsport Toyota Levin, a car that is available for anyone to try their hand at motorkhana, an entry-level motorsport involving courses around cones that anyone 12 years of age and over can participate in. You do not need a driver's licence and you can use any car of WOF standard or alternatively use the Toyota Levin or a Ford Ka that is available for use.
The club invited Ludlow to contest the event as part of an initiative to invite well-known Southlanders to test their skills and the City Councillor did not hesitate. "I leapt at the opportunity," said Ludlow as he had his first sighting of the Toyota today.
"I love cars and I love driving. Many years ago I took the chance to have a driving experience with the Canterbury Motor Racing School and I have sat in the passenger seat of many fast cars around Teretonga Park. I want to do this to test my handling skills. I'm looking forward to the challenge of a front wheel drive as I'm old school rear wheel drive mostly."
"It's all very well with age and experience but I can also see the value of the sport as a parent of a young one sitting his licence. It is great for young drivers to learn about car handling as it is not all about speed."
Asked about his goal for the event Ludlow replies, "in my mind I know what I want to achieve, the question is whether I can. We will see! It is about everything you know in the back of your head and in front of your ego. The value is that I will walk away realising what I didn't know and that is not a negative. Hopefully my doing this will inspire someone else to put their skills to the test."
Anyone else keen to compete this Sunday can contact the Southland Sports Car Club's Clubsport Co-ordinator Malcolm Mitchell at 021 666 956 or malcolm.mitchell67@gmail.com)
Entry fee for a motorkhana is $25 and if you wish to use the Evolution Motorsport Toyota that is just an extra $20 per time. The club also invites anyone interested in viewing a Clubsport event to come out to Teretonga Park on Sunday with the action kicking off at 9.00am.