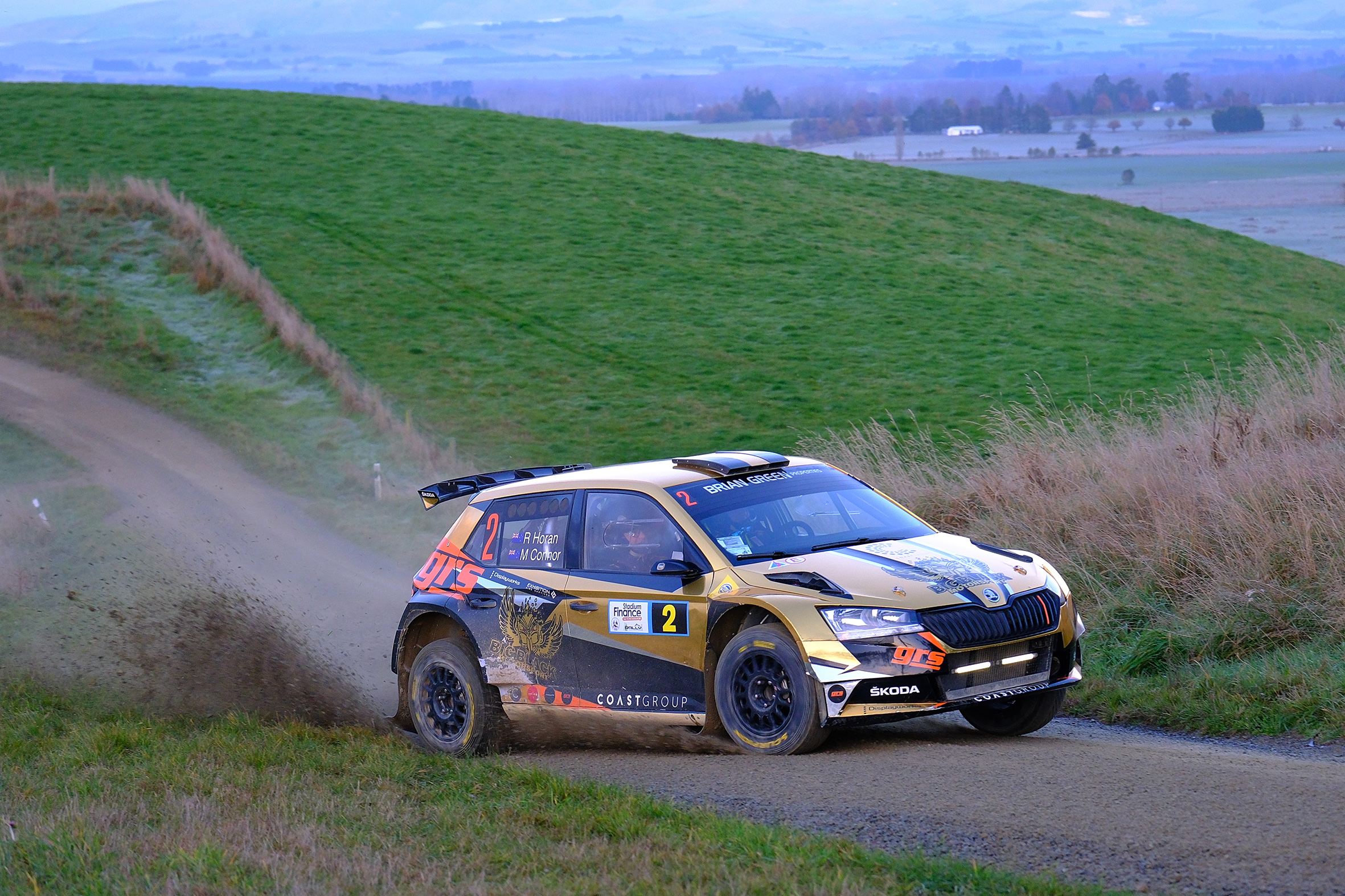 Horan triumphs in dramatic Rally South Canterbury
Raana Horan has taken a second career win in the Brian Green Property Group New Zealand Rally Championship after a dramatic ending to the third round at South Canterbury.
Horan inherited the lead in his Generator Rental Services Skoda Fabia Rally 2 when rally leader and title hopeful Ben Hunt slid off the road on the penultimate stage.
With a comfortable lead and the chance to take the lead of the championship in the offing, Hunt made a rare mistake in his Skoda New Zealand Fabaia Rally 2.
It meant Horan claimed victory by 54.9 seconds over Ari Pettigrew. Pettigrew endured a mixed day himself, an early off-road excursion and a broken axle putting him out of contention to win before fighting back for a valuable podium finish in his Manukau Auto Centre Holden Barina AP4.
Josh Marston (RDL Holden Barina AP4) completed the podium after a solid drive.
Tim Smith produced arguably the drive of the rally to take outright fifth in his Subaru Impreza H6 and a comfortable victory in the Rally Challenge 4WD class.
Smith headed off Paul Cross (Subaru Impreza) and Zeal Jones (Subaru Impreza) in the class.
Dylan Thomson's head-to-head 2WD battle with Jackson Clendon ended early when the latter suffered a mechanical failure on the opening stage. Thomson enjoyed a drama-free day to be first overall 2WD in his Ford Fiesta Rally 4 and took out the NZRC 2WD class as well.
Charlie Evans (Honda Civic) and Jordan Grant (Suzuki Swift) completed the NZRC 2WD podium.
John Silcock bounced back from a disappointing Rally Whangarei to win the Historic 2WD class in his Mazda RX7 to take control of the championship. Stewart Reid (Mazda RX7) edged Tim McIver (Ford Escort) in the battle for second.
JP van der Meys took a rewarding class win in the Open 2WD in his Ford Fiesta. He kept his nose clean to benefit when class leader Glenn Alcorn crashed on stage six.
Peter Farrell (Mazda RX7) and Murray Percival (Ford Escort) completed the top three.
Brett Maddren won the Rally Challenge 2WD class in his Toyota Starlet after championship favourite Jonty Brenssell was forced to retire with a broken axle earlier in the day.
Jared Parker finished second in the class in his Toyota Corolla.
The championship takes a two-month break before a return to the Daybreaker event in the Manawatu in September.