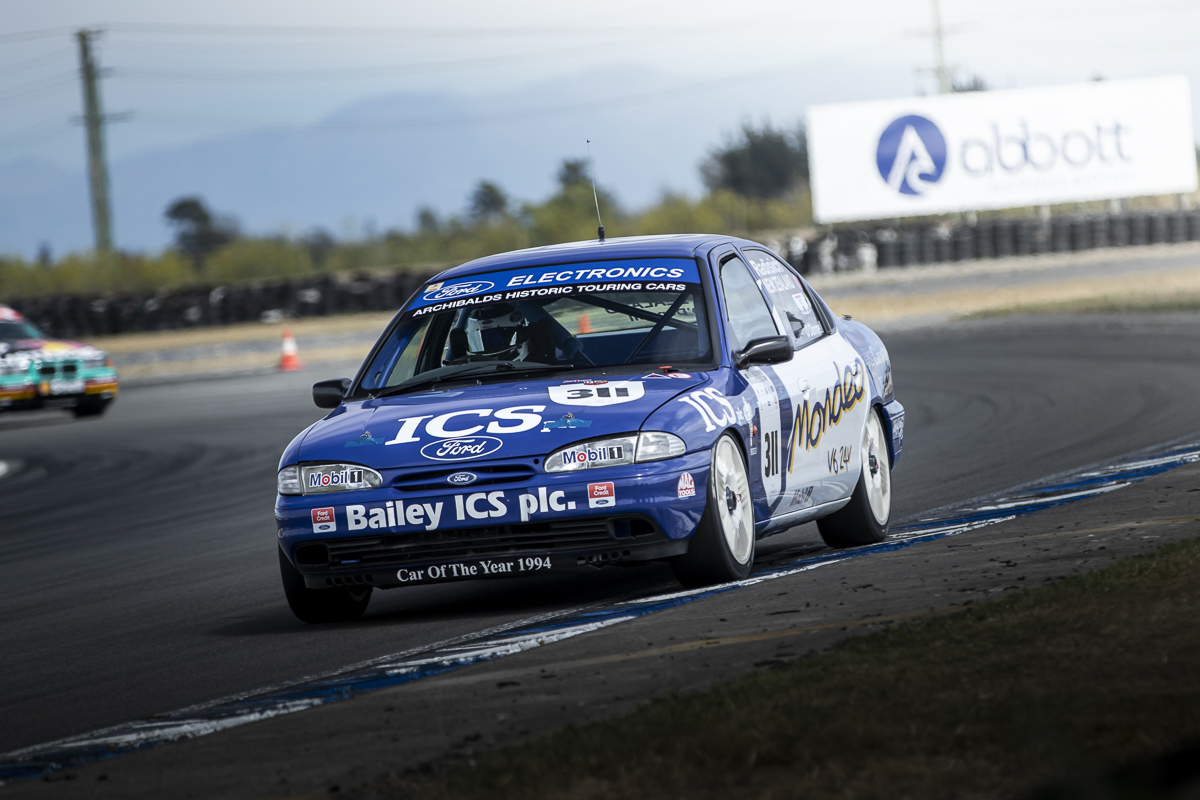 Historic Touring Cars set for more action at Teretonga this weekend
The ever-popular Archibalds Historic Touring Car Series hits the track again this weekend as part of the 2021 Mobil 1 Classic Speedfest at Teretonga Park in Invercargill. The second round of the season will see a strong field of truly historic machinery in battle.
Once again, Paul Radisich will be reunited with his 1994 Touring Car World Cup winning Ford Mondeo Supertourer. Radisich seems just as quick in 2021 but will be pushed this weekend by local Scott O'Donnell in the #3 ex Walter Wolf Team Ford Mondeo.
Brett Stevens in the #28 Ford Sierra Cosworth RS500 may be the car to beat this weekend. This Group A spec car was originally built by the Stone Brothers for Kevin Waldock and finished third at Sandown and fifth in the Tooheys 1000 in 1991. Stevens will have to stay ahead of Bruce Miles in his distinctive orange Jagermeister-liveried, ex Prince Leopold van Bayern #25 BMW E36 320i Super Tourer and #62 Nigel Arkell (Honda Accord). Arkell's Supertourer was originally built in the UK for the Japanese Touring Car Championship but ended up being raced in the US as part of their factory race program.
Also, in the field this weekend are a number of cars which were campaigned in different NZ domestic series' in the 1980s and 90s. Kevin Pateman is still driving his original #63 Ford Telstar while Austin McKinley will be driving the #115 Holden Commodore built by Larry Perkins for Wayne Crichton and Wayne Wilkinson who won the 1983 Benson and Hedges 500 Series.
Gary Johnstone's distinctive Jaguar JPS had its first outing, after a major rebuild, at the Skope Classic a fortnight ago. Having given the car a good shake-down, expect Johnstone to be more competitive this weekend.
The competition will be strong throughout the field. Dunedin's Warren Good's distinctive teal blue/black bonnet, #8 Listerine-backed ex Tim Harvey/Vic Lee Motorsport 1992 BMW 318iS, which won the 1992 British Touring Car Championship in the hands of Tim Harvey, will be up against a number of other quick cars from the German marque. Matthew O'Donnell will be competitive in the ex-Tony Longhurst 1994 Australian Touring Car Championship winning #97 BMW 318i E36 Supertourer. Both will be up against Dennis Chapman's #23 ex Paul Morris Diet Coke BMW 318i SuperTourer previously driven by both Craig Baird and Brett Riley in the 1999 Bathurst 1000.
Practice gets underway on Friday with qualifying and racing over Saturday and Sunday.