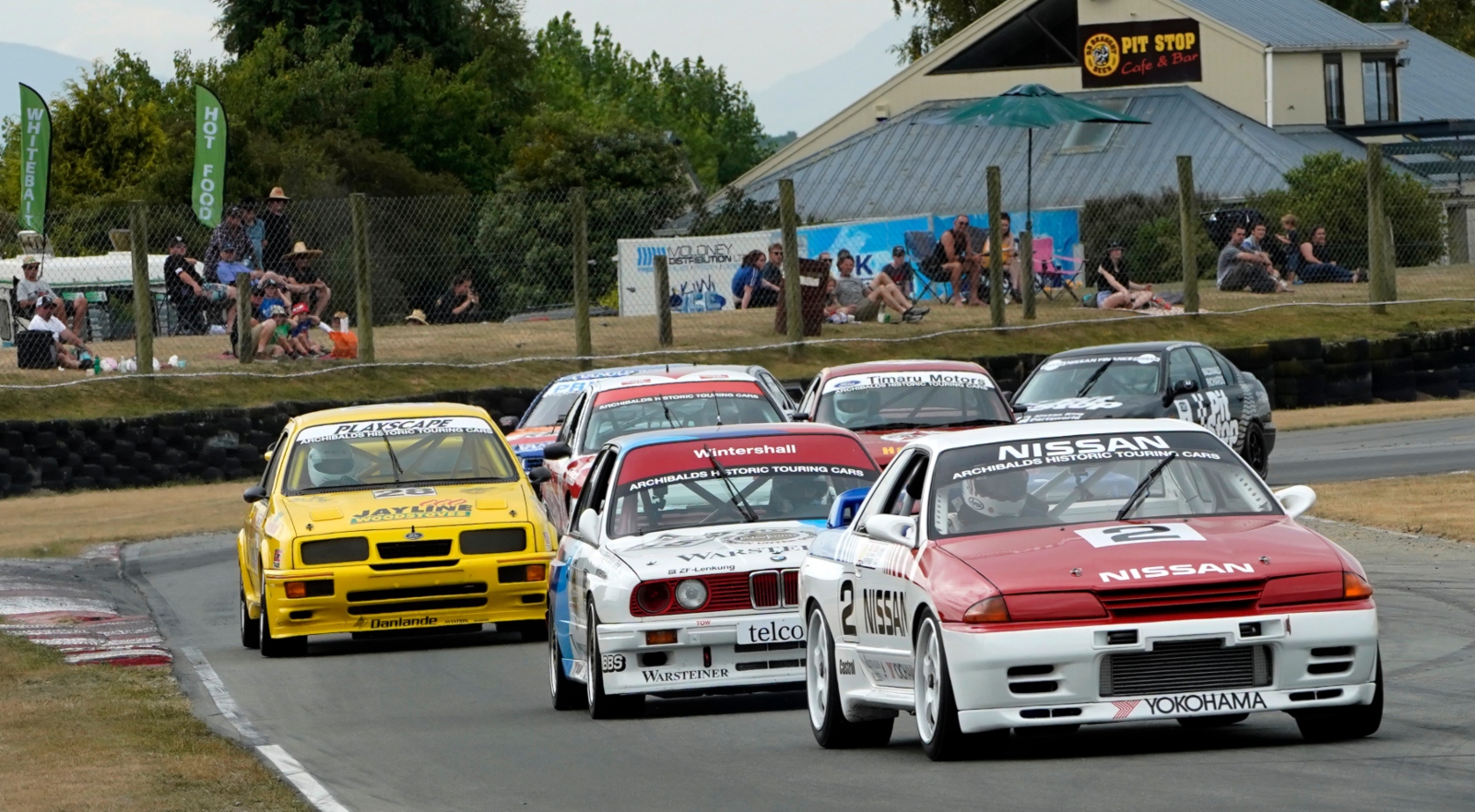 Historic Touring Cars entertain at Timaru
Fastest qualifier Stu Rogers (Nissan BN-R32 Gp A rep) won the first Archibald's Historic Touring Car Series race of the 2020 season at the big Thunder Down Under motor racing meeting at Timaru's Levels Raceway this afternoon; but not before he and eventual runner-up Arron Black (BMW E30 M3 Gp A) swapped the lead early on.
Fellow Group A runner, Brett Stevens (Ford Sierra RS500 Cosworth) and Ford Mondeo Super Tourer driver Scott O'Donnell were also in the hunt, the foursome entertaining the large and enthusiastic crowd with the final podium positions not settled 100% settled until the chequered flag came out.
Local man Kevin Pateman was once again the best of the drivers running NZ 2 Litre TC-spec cars, setting the fifth quickest lap time in qualifying then running as high as fifth in the race in the familiar red Ford Telstar V6 he and his brother built in period, until dispatched back to sixth place by the Volvo S40 Super Tourer of Lindsay O'Donnell.
Series returnee Murray Sinclair (Nissan Primera ST) enjoyed a trouble-free run to seventh place, ahead of a fast-finishing Stephen Grellet (Peugeot 406 ST) who caught and passed young Invercargill driver Liam McDonald (ex-Team Kiwi/Jason Richards NZTC Nissan Primera) for eighth on the final lap.
The Archibald's Historic Touring Cars joined a number of other high profile racing categories on a packed Thunder Down Under programme at Levels Raceway today and tomorrow.
Also on the programme are NZ Super Trucks, Central and Mainland Muscle Cars and South Island 2K Cup.
The three-round Archibald's Historic Touring Car Series continues tomorrow then heads to the 30th annual Skope Classic motor racing meeting in Christchurch over the Feb 01-02 weekend and concludes at the George Begg Classic Speedfest at Invercargill's Teretonga Park a fortnight later (Feb 15-16 weekend).