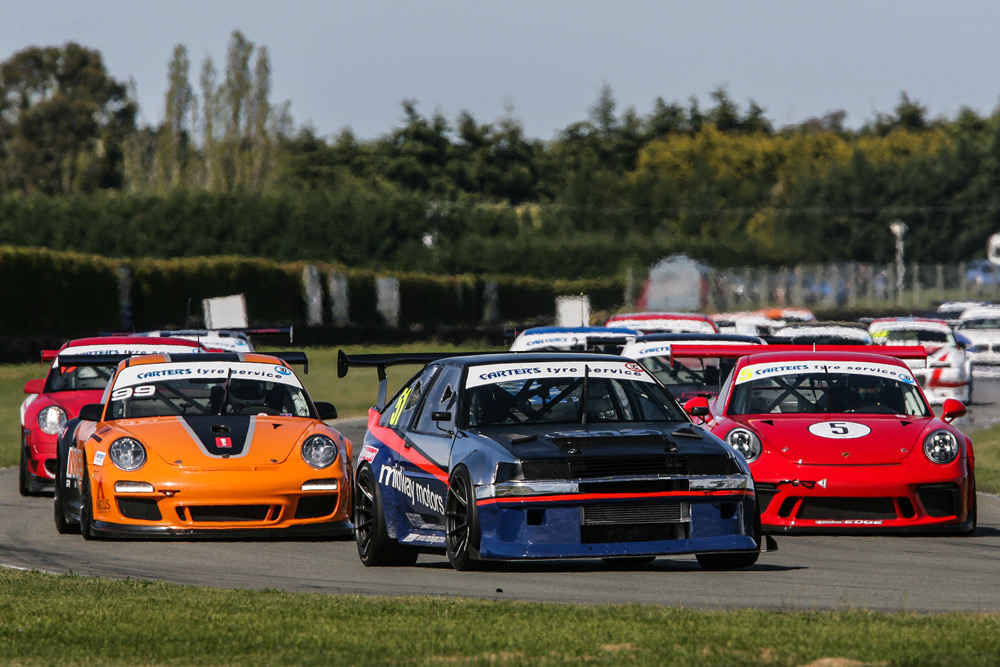 Highlands set to rumble for NZ Endurance Champs
With the best endurance cars in New Zealand set to decent on Cromwell's Highlands Motorsport Park this Saturday 24 November, teams will put everything on the line as they attempt to claim one of the New Zealand Endurance Championship titles that are up for grabs.
In a joint venture between the event hosts South Island Endurance Racing Drivers Club (SIERDC) and the North Island Endurance Racing Drivers Club (NIERDC) the New Zealand Endurance Championship format is unique in circuit racing where it's an outright dog-fight with a single, one hour, fastest car wins, race for the silverware. Fans can be assured that teams will leave absolutely nothing on the table as they chase the NZ Championship silverware, and for the first time in its current format, both One Hour and Three Hour champions from each island will be attending, going head to head alongside both defending 1 hour & 3 hour NZ Championship winning teams.
The One Hour entry list sees an incredible array of man and machinery with hot favorites including the Ford Falcon BA V8 Supercar that snared the 2017/18 NZ Championship at Pukekohe in the hands of Shane Hodgson. Matt Carter will drive the car this year and fans may fondly remember the Falcon's last visit to Highlands in 2013 when V8 Supercar Championship contender Shane Van Gisbergen three wheeled the Falcon around the Cromwell circuit to win the SIERDC 3 hour race. Current ENEOS North Island One Hour Series overall Champion Cameron McCormack makes the journey South with his Porsche 996 Cup car as he hunts both Overall and Class C silverware and he goes head to head in C class with current Carters Tyres South Island One Hour Champion, Chris Henderson. Henderson has just taken back to back South Island titles and will be looking for a better run that his last NZ Championship at Ruapuna in 2016 when the monstrous hybrid AE86 V8 only lasted a few laps of the race. Others to watch out for include Jarrod Owens Porsche 997 Cup S, who won the Manfield round of the 2018 NIERDC Series and the striking Generation 2 Porsche 991 of past NIERDC Champion Matt Whittaker that took two victories from two starts in this year's SIERDC Series.
There is also a plethora of cars from the Porsche marque that actually make up over one third of the entire field with everything from the older 996 Cup cars through to a pair of the new Cayman GT4 Clubsport's, including Porsche 997 and 991 Cup cars and the debut of the stonking 7 litre LS7 V8 powered 996 RSR Replica of Angus McFarlane & Michael Bushell.
Other factory cars include the stunning Ferrari 458 Challenge of Tim O'Connor and the GT4 spec McLaren 570s of David McAlpine & Kynan Yu, as well as a pair of ex World Touring cars competing in 0-2000cc Class A.  But fans of the home-built hybrid's will also have some championship contenders to cheer on with the German-crushing Toyota V8 of Henderson joined by the freshly built MRX Boss Mustang GTX of Paul Collins & NZV8 driver Nick Ross as well as the beautiful Corvette C6R of Central Otago local Bruce Davidson.
So fans are in for a pair of thrilling races that will see the very best cars from the ENEOS North Island Endurance and the Carters Tyres South Island Endurance Series as they fight for New Zealand Championship glory. One Hour championship titles are awarded across all the classes, from the glamorous GT Class D through Class C (3501cc+), Class B (2001-3500cc) and Class A (0-2000cc). So rest assured that the little guys are taking this just as seriously as the big boys. Plus there is also a SIERDC v NIERDC Challenge trophy up for grabs to create some friendly rivalry between the two Series'.
So circle the date Saturday 24 November on your calendar as this is guaranteed to be an outstanding event with 2 separate races that are sure to be filled with all the tension, drama, anguish and excitement that endurance racing is renowned for. Highlands Motorsport Park has great viewing facilities to watch all the action, and gate entry is just $30-00 (kids under 16 free) including entry to Level 1 of the National Motorsport Museum. With everything on the line and plenty of silverware up for grabs this is an event that is not to be missed!!
For more information on the Carters Tyre Service NZ Endurance Championship or the South Island Endurance Series please contact Secretary Chris Dunn via e-mail at sierdc@xtra.co.nz, ph 021-107-9293 or on facebook at www.facebook.com/sierdcnz