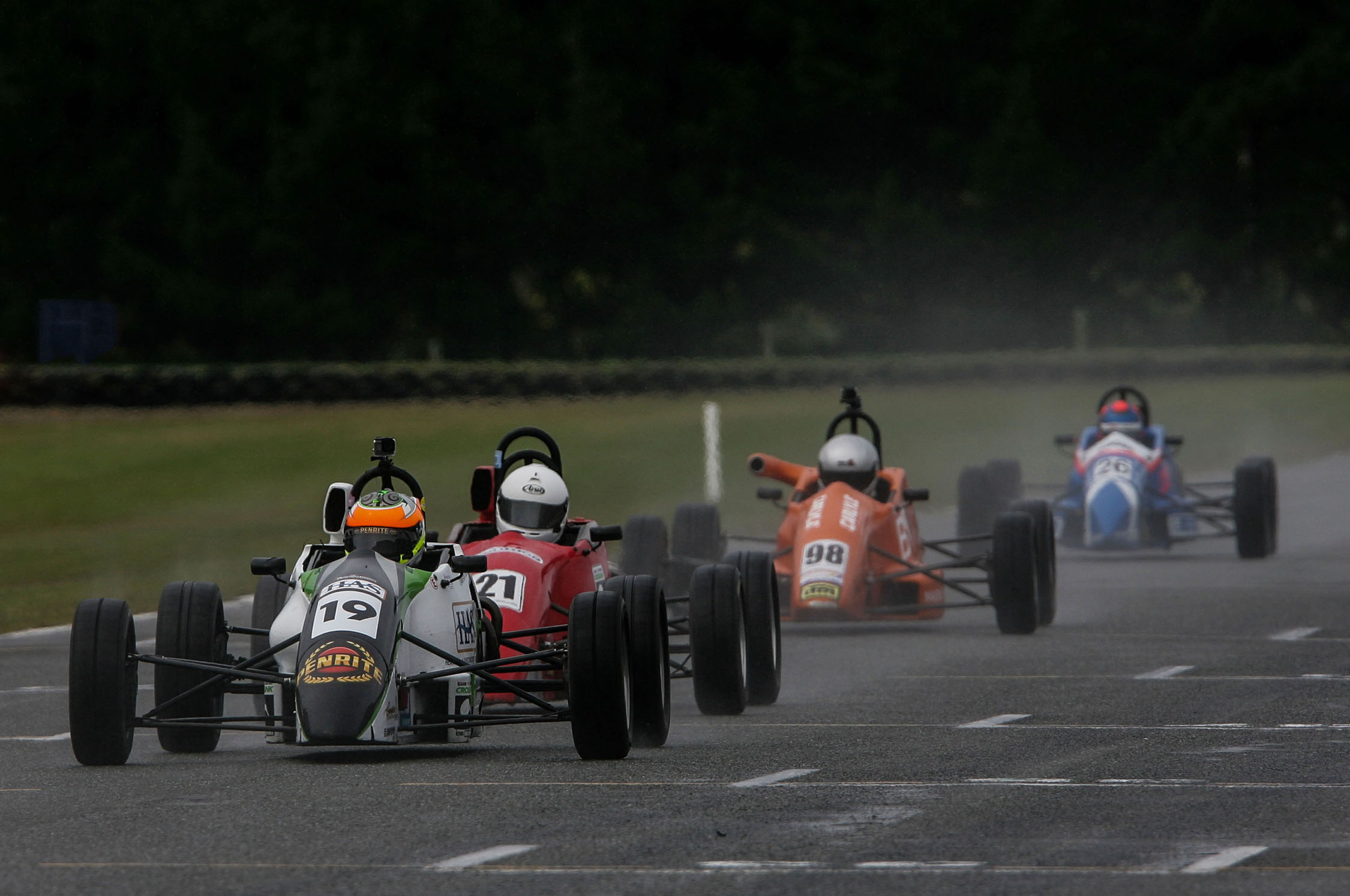 Freeman under pressure from large South Island F1600 field heading to Highlands
Current points leader after four of seven South Island Formula 1600 series rounds, Cameron Freeman, will come under pressure this weekend with 30 other drivers also lining up on the grid. Highlands Motorsport Park in Cromwell hosts the fourth round as part of the Speed Works Summer Series meeting which will see three races over two days of competition. It is the first time that a sanctioned Formula 1600/Ford round has been held at the circuit.
Dunedin's Freeman (Van Diemen RF92) took over the lead from Christchurch's Bailey Paterson (Van Diemen Stealth) at the third round held at Teretonga Park, Invercargill, before Xmas and holds a narrow 25-point lead. Paterson didn't compete at that meeting due to other commitments and has been the in form driver this season. Heading into the second half of the series there are more drivers starting to shine through including Freeman, Jack Noble-Adams(Van Diemen Stealth) and Zac Christensen (Van Diemen RF92).
Thrown into the mix this weekend will be two national championship contenders Billy Frazer (Spectrum 015) and Blake Evans (Mygale SJ11). As the 2019/20 NZ Formula Ford Championship holds it third of six rounds the following weekend at Teretonga Park, Frazer and Blake have elected to contend the Highlands round of the South Island series.
Also making their second appearance in the championship are Australian based Kiwi drivers Andy McElrea and Tim Miles. McElrea won the 1990/91 NZ Formula Ford title and will compete in his original winning Van Diemen RF88 while Miles will drive a Van Diemen RF92. Both competed at the Wigram Cup third round meeting back in November with McElrea winning Class 3.
Freeman and Paterson will also come under pressure from third and fourth-placed Zac Christensen and Jack Noble-Adams. Rookie Christensen is making quite an impression in his first year of Formula 1600 and is hunting for his first win, having already twice stood on the podium. Noble-Adams took his second win of the season and his first round win at Teretonga. He now has confidence in both his car and talent to fight for race wins and ultimately the season title.
Alongside the overall South Island F1600 title there are three separate class titles in contention. In Class 1 (post 2000), Steve Edwards (Mygale SJ08) has a narrow 12-point lead over Grant Campbell (Van Diemen RF03) with Tauranga's Kim Crocker (Ray GR14) fast catching up having been the quickest in Class in the last three races.
Freeman leads Class 2 (1990-2000) from Paterson and Christensen while in the Historic Class 3 (pre-1990), rookie Ryan Lowe (Van Diemen RF88) has a 58-point lead over Andy Downs (Lola 642E) with Noel Atley (Crossle 55F) third.
Following the Highlands round teams and drivers will head to Invercargill for the sixth and penultimate round of the series the following weekend.