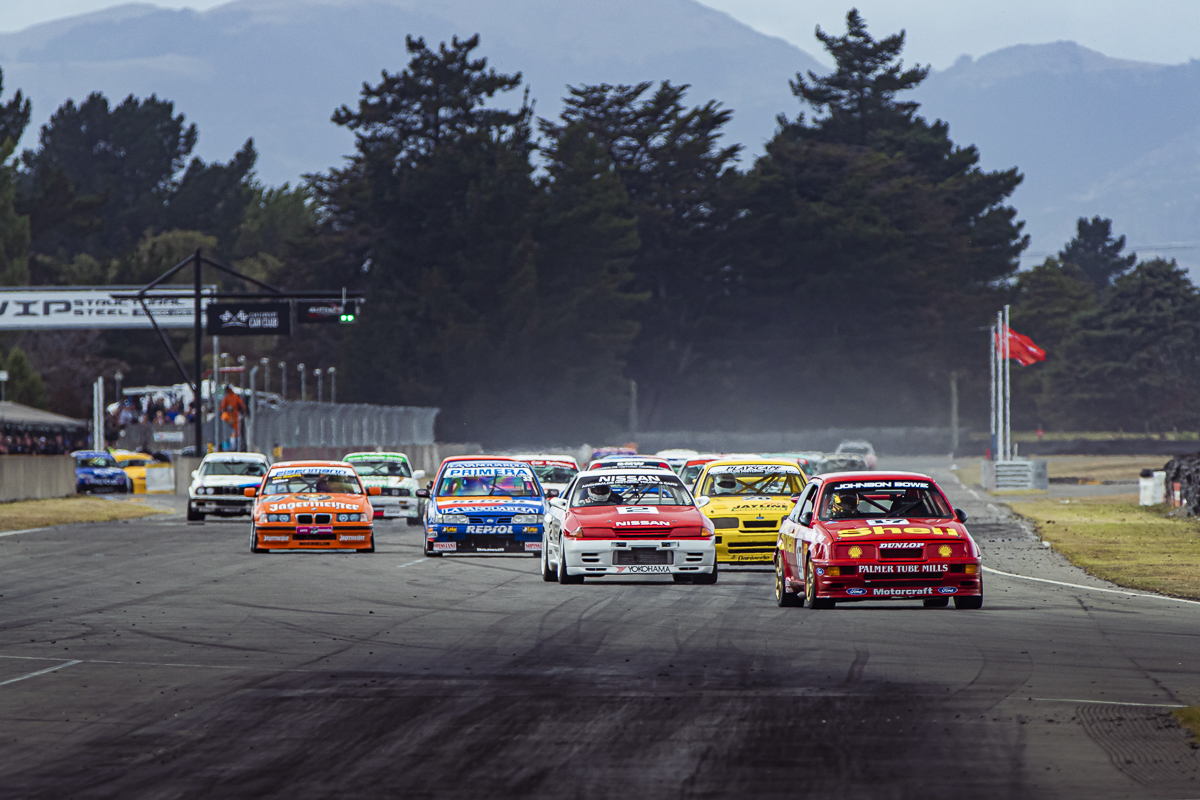 Four race wins for Greg Murphy/#6 DJR Ford Sierra in Archibalds Historic Touring Cars at Skope Classic
Greg Murphy has led from the front at the 2021 Skope Classic over the weekend, winning four-out-of-four races in the Archibalds Historic Touring Car Series at the Mike Pero Motorsport Park in Christchurch. The nearly thirty strong field gave the large attending crowd plenty to see with a wonderful mixture of truly historic touring cars battling throughout the field.
Murphy had the pleasure of driving the recently purchased genuine DJR #6 Ford Sierra, the last Cosworth RS500 built by Dick Johnson, now owned by Christchurch's Lance Coupland.
"For me the weekend has been great because I have got to drive an iconic piece of Australasian motorsport history and have an amazing time with a bunch of cool people amongst such a stunning event and what it represents."
"Think of sitting on some sort of missile fired from a fighter jet," said Murphy describing the experience. "Then it's like trying to stop a 60-tonne truck from a speed it shouldn't be travelling, and with brakes that aren't working.
"But hey, that's what they were like in the day and what is awesome about it. These cars created an aura about them, being a wild and unforgiving weapon and they were and still are. It is so awesome to still have that and the ability to see it, which the fans have loved.
Murphy was pushed all the way, particularly by Timaru's Stuart Rogers in the Nissan GTR Skyline. Despite retiring from the opening race with a broken alternator belt, Rogers finished a close second in the remaining three.
"Greg is a fantastic driver and did everything right in that car," Rogers said. "Three second placings to Greg Murphy is just fantastic. There were a lot of Supertourers out there but we both were able to get away and battle it out."
In the opening 6-lap race, pole-sitter Murphy initially diced for the lead with Rogers, with son Ronan Murphy (Nissan Primera) watching in third. With Rogers retiring on the fourth lap, Ronan moved up to second for a Murphy 1-2 finish.
Third home was a very quick Nigel Arkell (Honda Accord) ahead of Bruce Miles (BMW 320I Supertourer), Angus Fogg (BMW M3) and Scott O'Donnell (Ford Mondeo ST).
Further down the field there were good battles between Nick Young (BMW 325i), Warren Dunn (BMW E30 M3), Allan Dippie (TWR Rover) and Matthew O'Donnell (BMW 318 Supertourer), finishing in that order.
The competition was no less at the back of the field with Gary Johnstone making a return to the grid in his stunning Jaguar XJS, leading Austin McKinley (Holden Commodore) and David Beattie (Toyota Corona) for most of the race but dropping to last on the final lap.
Having missed Friday qualifying, Paul Radisich, reunited with his World Touring Car title Ford Mondeo, drove from the back of the field to finish in 12th.
It looked as though Murphy would be beaten in the second race of the day, on Saturday, by Rogers but overheating brakes allowed Murphy to take the lead heading into the final eighth lap. Rogers finished in second ahead of Nigel Arkell, Brett Stevens (Ford Sierra Cosworth RS), Bruce Miles, Graeme Cameron (BMW M3 Zakspeed) and Paul Radisich.
Sunday morning's third race saw Murphy finish ahead of Rogers with this time Bruce Miles in third ahead of Graeme Cameron, Angus Fogg, Aaron Black (BMW E30 173) and Murray McCleland (BMW 320i Super Tourer).
While Rogers finished 0.418 second behind Murphy in the final 8-lapper, Murphy always had it under control right from the start. Third home for a well-deserved podium was Brett Stevens (Ford Sierra Cosworth RS500) who had a battle to stay ahead of Nigel Arkell and Ronan Murphy. Stevens had been quick all weekend but suffered two retirements.
The annual Skope Classic proved to be another great celebration of historical motorsport with the Archibalds Historic Touring Cars the feature. The category will head to Teretonga Park in Invercargill for the Mobil 1 Classic Speedfest 19-21 February.