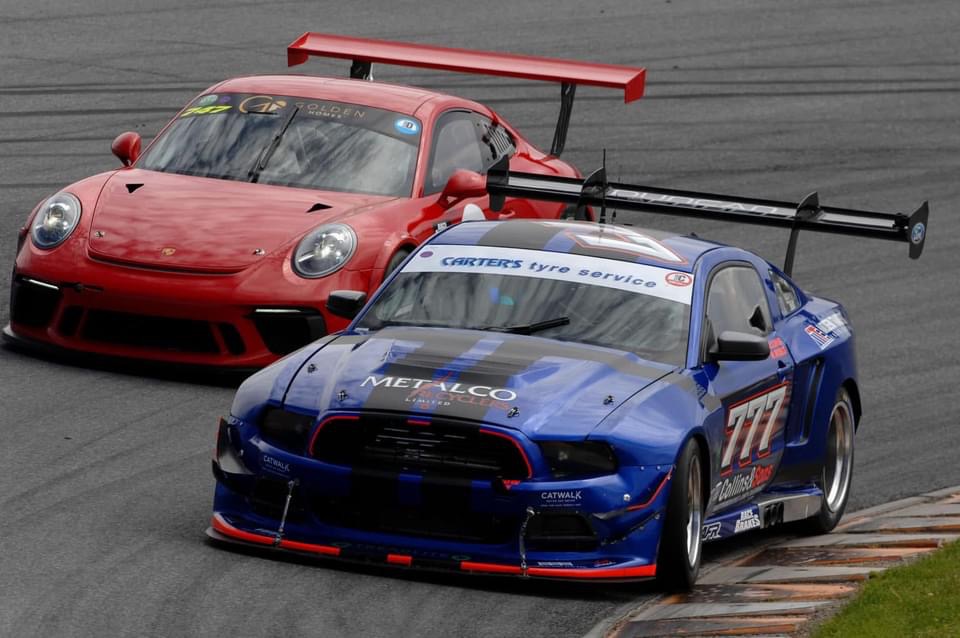 Fogg in BNT V8's in another Mustang
Angus Fogg, Race Car Engineer & Driver plans to bring it this weekend. In not one but two 800+ hp Mustangs!
In a remarkable weekend Fogg will also contest the BNT V8's in The Collins Motorsport NASCAR Ford Mustang.
Renowned driver, Foggy, is synonymous with the country's premier V8 series being a mainstay from 2003 to 2016, claiming the prestigious NZV8 title in the 2011 -12 season after a string of championship podiums. Building his own 1970 JA Russell Ltd Mustang in 2017, he has continued pleasing crowds in his in-house, purpose-built Roush Yates NASCAR fire breathing delight at the front of Muscle Car races the length of the country.
Having "re-engineered" the 2020 New Zealand Endurance Class C Champion Collins Motorsport Ford Mustang, he is excited to be behind the wheel racing the machine he transformed.
Engineering the Collins Mustang aero kit, suspension, undercarriage, Hollinger shifter kit and more to transform the 800+ hp Roush Yates NASCAR engine that comfortably revs to 9,400 rpm into a consistent race winning machine at his workshop, FOGGY'S Garage, Angus knows the car very well.
"The opportunity to get behind the wheel of the Collins Motorsport Mustang, that I know intimately and on the longer International Hampton Downs circuit in the BNTV8's was too good, so I jumped at it. It's certainly going to be a weekend to remember" said Angus Fogg.
Fogg is no stranger to busy race weekends. This weekend will see him compete at Hampton Downs NZ GP in two supporting categories: NAPA Central Muscle Cars and BNT V8's. If steering two different fast NASCAR Mustangs was not enough Fogg heads to Taupo, via helicopter for the Historic GP during a mid-afternoon race gap to compete at Bruce McLaren Motorsport Park to run in the Historic Sports Sedans and Allcomers for the Taupo Historic Grand Prix driving the ex-Ian Algie 1979 Alfetta GTV V8.
Paul Collins, team owner is looking forward to watching his growing team this weekend at what is likely to be NZ's highest profile motorsport weekend of the year.
"We know the car is fast, you know Angus is quick, so it will be very interesting" said Collins.
Fogg's Super Saturday:
8.45am – NAPA Central Muscle Cars Qualifying, Hampton Downs, Waikato – JA Russell Mustang
11.42am – NAPA Central Muscle Cars, R1, Hampton Downs, Waikato – JA Russell Mustang
12.04pm – BNT V8's, R1, Hampton Downs, Waikato – Collins Motorsport Mustang
Historic Sports Sedans and Allcomers, Taupo Historic Grand Prix – ex-Ian Algie 1979 Alfetta GTV V8.
3.51pm – BNT V8's, R2, Hampton Downs, Waikato – Collins Motorsport Mustang
4.08pm – NAPA Central Muscle Cars, R2, Hampton Downs, Waikato – – JA Russell Mustang