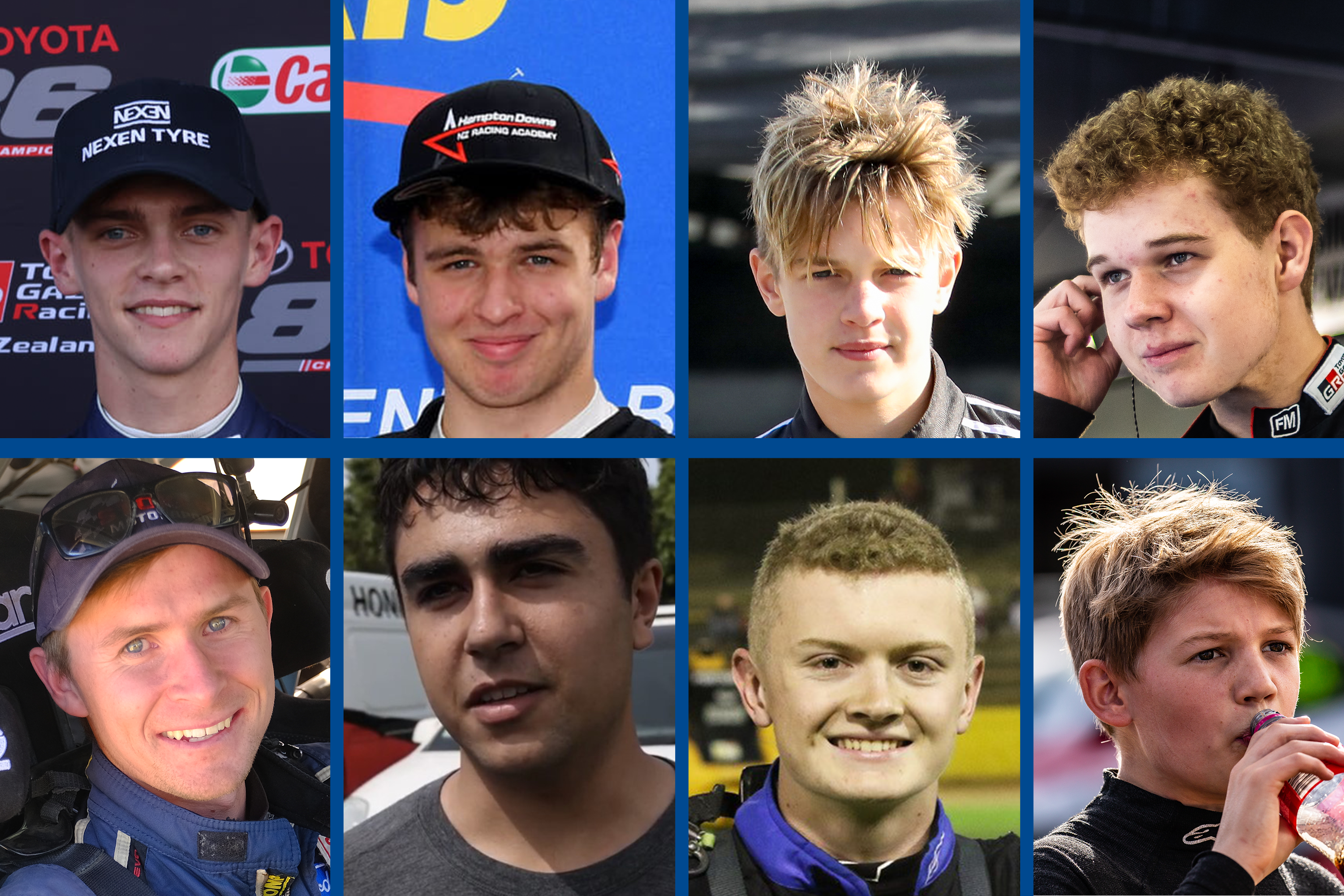 Elite Motorsport Academy class of 2022 revealed
The class of 2022 for the Elite Motorsport Academy of New Zealand has been revealed following the crowning of James Penrose as the 2021 academy winner on Wednesday.
Eight young motorsport competitors from across New Zealand will head to Dunedin for the Elite Motorsport Academy camp from 26 June to 2 July. Race drivers Hugo Allan, Marco Giltrap, Hayden Bakkerus, Zac Christensen and Sebastian Mason will join rally drivers Robbie Stokes and Jackson Clendon as well as speedway racer Troy Pennington to form the academy class of 2022.
Held at the Otago Academy of Sport, the week-long academy camp is the first part of a 12-month development program which is world-renowned in motorsport. Participants will receive tutelage from experts on the 'off-track' elements of motorsport such as nutrition, fitness, media, marketing, sponsorship, data analysis and much more.
North Shore sensation Hugo Allan, 17, has just finished his first season of real-world motorsport. After proving successful in simulator racing, Allan made the step up to the Toyota 86 Championship as part of The Heart of Racing's Driver Academy and ended the season as the rookie of the year.
Waikato speedway ace Troy Pennington, 19, has proven success on the dirt racing his TQ midget. Whilst COVID-19 and mechanical failures have disrupted his most recent season, his results speak for themselves with multiple top-ten finishes, a win and most importantly front-running pace. Pennington has aspirations to head to the United States to grow his oval racing career.
Zac Christensen, 18, of Christchurch has been plying his trade in Formula Ford racing. Following a successful South Island Formula 1600 campaign where he ended up as the series winner, Christensen finished second overall in the NZ Formula Ford Championship at the weekend. Christensen hopes the academy will aid his plans to head to Australia to race professionally in the future.
Rangiora rally driver Robbie Stokes, 26, is a front-runner in the New Zealand Rally Championship. His recent run of form is highlighted by a win in the Canterbury Rally in 2021 and front-running pace in the latest NZRC rounds. Stokes also won the Mainland Rally title in 2021.
Auckland's Sebastian Manson, 14, is in his first season of Formula Ford racing following the step up from his successful karting roots. Manson has regularly stood on the podium in the North Island Formula Ford series and has enjoyed strong results in the NZ Formula Ford Championship too.
Toyota 86 racer Marco Giltrap, 18, was originally slated to take part in the 2021 academy until a back injury sidelined him. Giltrap's almost hard to believe recovery saw him score eight podiums and a race win in the Toyota 86 Championship on his way to finishing third overall.
Masterton rally driver Jackson Clendon, 19, has enjoyed success in the ClubSport and Rally disciplines of the sport in New Zealand. Clendon completed his debut New Zealand Rally Championship in 2021 and competed in rallies outside the national championship where he has enjoyed podium results in his class. Clendon is preparing for a more serious assault on the NZRC in 2022 with a new car on the way and a bolstered team lineup.
Auckland's Hayden Bakkerus, 16, aspires to head to the United States to join the Road to Indy program. Bakkerus so far is on the right track, finishing fifth in the highly competitive NZ Formula First Championship in their 2020-21 season before stepping up to the North Island Formula Ford series this season where he has enjoyed podium finishes.
Wayne Christie, MotorSport New Zealand President and trustee of the MotorSport New Zealand Scholarship Trust, commended the high level of applicants to choose from in 2022.
"New Zealand has such a depth of young motorsport talent which makes our job as selectors for the academy incredibly tough," commented Christie.
"This year's class is the future of New Zealand motorsport, and perhaps even more encouraging was how high the level of talent was of those that just missed out on selection this year.
"On behalf of all the trustees, I want to wish Hayden, Marco, Troy, Jackson, Hugo, Robbie, Sebastian and Zac all the best for the camp in Dunedin. I know the trustees are looking forward to monitoring your progress."
The Elite Motorsport Academy first ran in 2004 and its 138-strong list of graduates reads of the "who's who" of the modern era of New Zealand motorsport. International stars such as Shane van Gisbergen, Hayden Paddon, Brendon Hartley, Earl Bamber, Nick Cassidy, Mitch Evans, Richie Stanaway and Andre Heimgartner have all graduated from the academy.