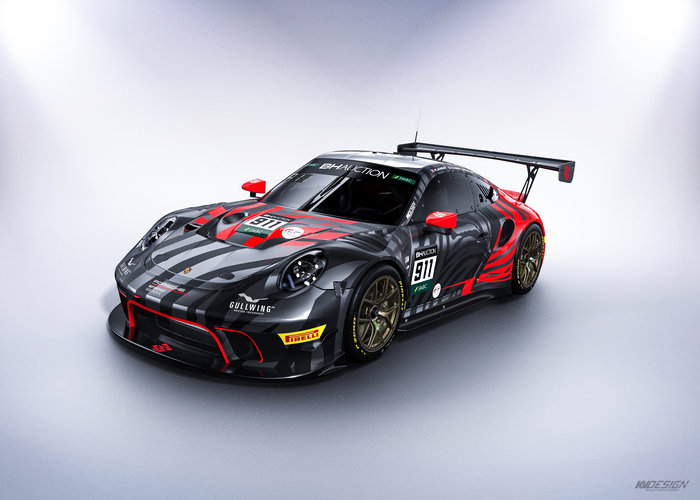 EBM TARGETS SECOND IGTC VICTORY
Earl Bamber Motorsport (EBM) returns to Intercontinental GT Challenge Powered by Pirelli competition this weekend at the BH Auction SMBC Suzuka 10 Hours. EBM has entered the No. 911 Porsche 911 GT3 R with drivers Romain Dumas (France), Mathieu Jaminet (France) and Sven Müller (Germany).
EBM's last foray into the Intercontinental GT Challenge (IGTC) resulted in a thrilling victory at the Bathurst 12 Hour in February. The win was a significant contribution to Porsche's Manufacturers' Championship hopes.
While Bathurst saw EBM enter two Porsches, the team's Japan outing will involve just one car driven by Porsche factory drivers Dumas, Jaminet and Müller. Additionally, the New Zealand squad has taken delivery of the latest generation of the GT3 R, which became eligible for IGTC competition following Bathurst.
Team principal Earl Bamber, who drove in Suzuka last year, will not be in attendance due to a conflict with his IMSA schedule, where he and teammate Laurens Vanthoor currently lead the drivers championship.
The Suzuka 10 Hours kicks off with a parade of race cars through public streets and into the town center—the first time such an event has been attempted in Suzuka. Following free practice on Friday evening and Saturday morning is qualifying, including a 20-minute pole shootout. Sunday's race begins at 10am local time.
The race is shaping up to be quite a challenge strategically; temperatures are predicted to approach 32C with a strong change of rain all weekend.
The Suzuka 10 Hours will be streamed live on the Intercontinental GT Challenge website.
DRIVER QUTOES
ROMAIN DUMAS, Driver, No. 911 Porsche 911 GT3 R
"I am very happy to be back with Earl Bamber Motorsport. I am sure we will have a good car in Suzuka and I hope we can score a good result."
MATHIEU JAMINET, Driver, No. 911 Porsche 911 GT3 R
"I'm super happy to be back together with EBM for this round of IGTC. Suzuka is going to be a tough race, high temperatures are expected and it's always physically difficult for everyone. "We have a great team behind us so the target is clear: we have to fight and finish up front!"
SVEN MULLER, Driver, No. 911 Porsche 911 GT3 R
"I'm really looking forward to the Suzuka 10 Hour. This is one of my favourite tracks, since having driven here in Super GT over a few seasons. I'm also very proud to be joining one of the best teams, with EBM. We had a great start to the year at Bathurst, with strong pace, so we hope to be able to carry this over to this event. I was also driving with Earl last year at this event, so that is now special to be driving for his team. My colleagues and I (Romain/Mathieu) will give it our all."