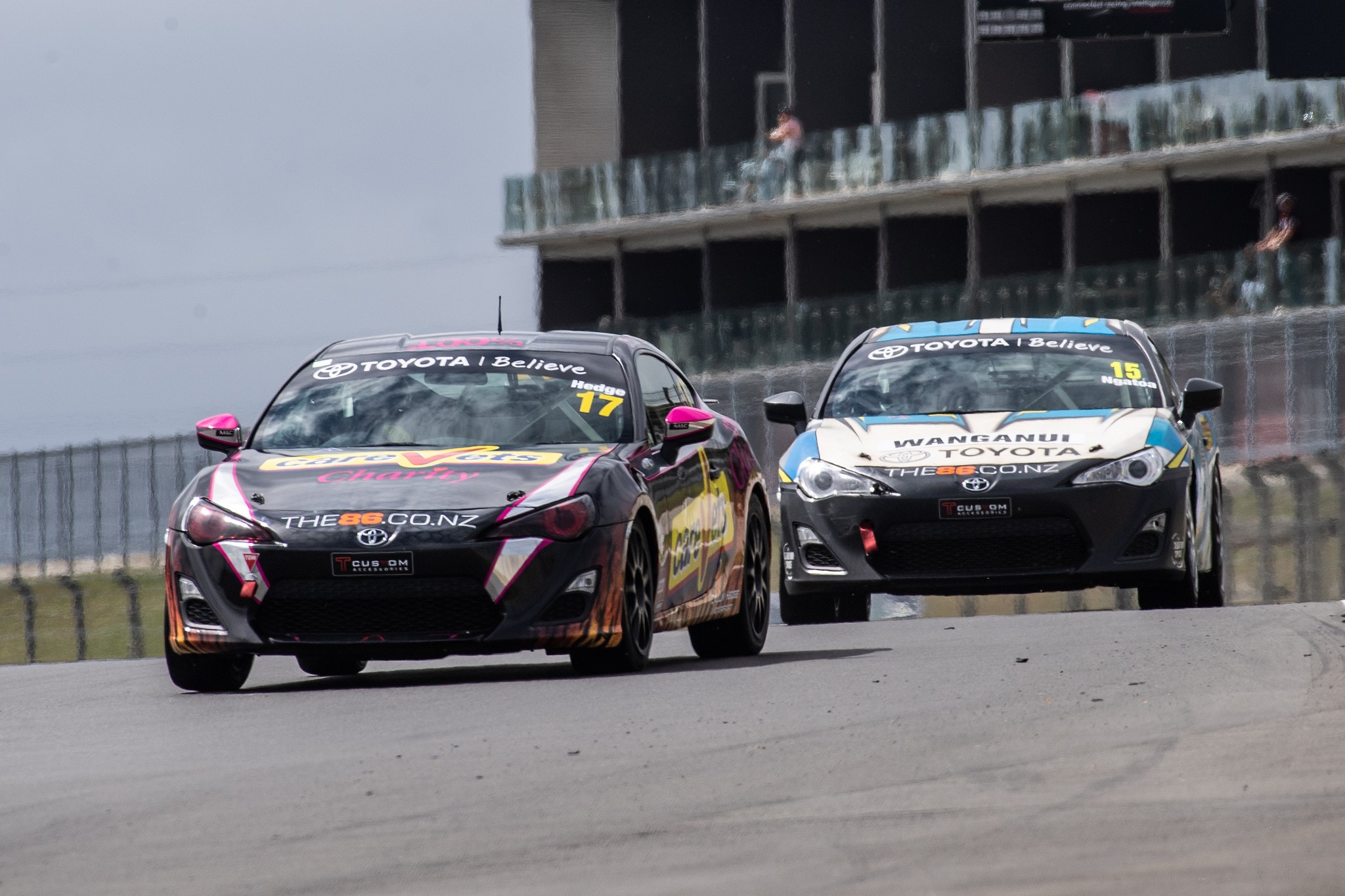 Drama as Hedge wins and Ransley shunted out
Callum Hedge won the first race of the Toyota 86 Championship final with ease to retake the series lead with two races to go, but the real drama happened behind with Jaden Ransley eliminated from the race after Connor Adam rolled his car and took the championship leader out of the race with him.
It was Hedge in the CareVets Scholarship car and Kaleb Ngatoa in the JJ Wallers/Capture Sign Toyota 86 who made the break from the lights, Hedge making a particularly good getaway to lead the field by several car lengths after the first turn with Ngatoa in hot pursuit. Ngatoa, enjoying his best race performance of the season, stayed within sight of Hedge throughout and it was only in the latter stages of the race that Callum was able to stretch his lead out to a few car lengths.
All eyes were on Ransley at the start, the series leader starting a lowly sixth after missing the opportunity to bag a really quick lap in the wet conditions of morning qualifying. He didn't make the best of starts and was passed by Justin Allen in the Battery Town car.
Ransley however, reckoned he had good race pace and he proved it. Within a lap or so he had passed Allen, following up quickly with a good pass on Peter Vodanovich at the start of lap two. He then passed Connor Adam for fifth before closing down on fourth placed Brock Gilchrist in the NEXUS Logistics car, who proved a tougher nut to crack. After a couple of laps of great racing, the Miles Toyota driver passed Gilchrist at Turn 2 and then set his sights on third placed Arran Crighton in the other CareVets car, who had managed to build a gap as his two rivals fought it out behind.
Ransley made a great pass on Crighton at Turn 1 to take third, but it all came unstuck just a few laps later when Adam tried to force his way up the inside of Gilchrist at Turn 4, but clipped front wheels in the process and got airborne. The car came down with the front wheels pointing hard left, dug in and barrel rolled off the track right in the middle of a pack containing Jordan Baldwin in the Intermach car, Crighton and Ransley as well as Gilchrist. It was Ransley who was collected by the International Motorsport Post Haste car, both coming to rest in the gravel, and thankfully the right way up with both drivers emerging unhurt from the spectacular shunt.
"I didn't see it coming at all," said a dejected Ransley afterwards. "The damage to the car is pretty bad, but we'll have a look at it and see what our options are.
"The main priority will be to get this one back out for tomorrow, but if means running another car then that's what we'll have to do. It's not over. But it's definitely going to be tough to fight back from here. We'll push on."
The race concluded under the Safety Car, and with Hedge posting a win and Ransley a DNF, the pendulum of a closely fought championship swung again. Hedge moves from a 19 point deficit to Ransley to a 57 point lead with Jordan Baldwin still in third place but a further 44 points behind.
2018-2019 Toyota 86 Championship – Round 6 Race 1 – Hampton Downs
1. Callum Hedge – CareVets NZ Ltd
2. Kaleb Ngatoa – JJ Wallers/Capture Sign
3. Brock Gilchrist – NEXUS Logistics/Giltrap Group
4. Arran Crighton – CareVets NZ Ltd
5. Peter Vodanovich – CMC Markets/MacClure's ITM
6. Jordan Baldwin – Intermach NZ/Carters Tyres
7. Campbell Stewart – NZPGS/Hydraulink
8. Connor Davison – Hampton Downs/Highlands
9. Sam Wright – Tony Richards Toyota/Premiers
10. Jacob Cranston – Best Bars/Vista Lite
11. Andrew Jackson – North Shore Toyota
12. Justin Allen – Battery Town
13. Leo Bult – North Western Toyota
DNF: Connor Adam – Post Haste/Weigh Northland
DNF: Jaden Ransley – Miles Toyota/Kitchen Studio
Caption: Callum Hedge on his way to a win in Race 1 – but there was plenty of drama behind him. Picture Bruce Jenkins.
Media release: Toyota Racing NZ