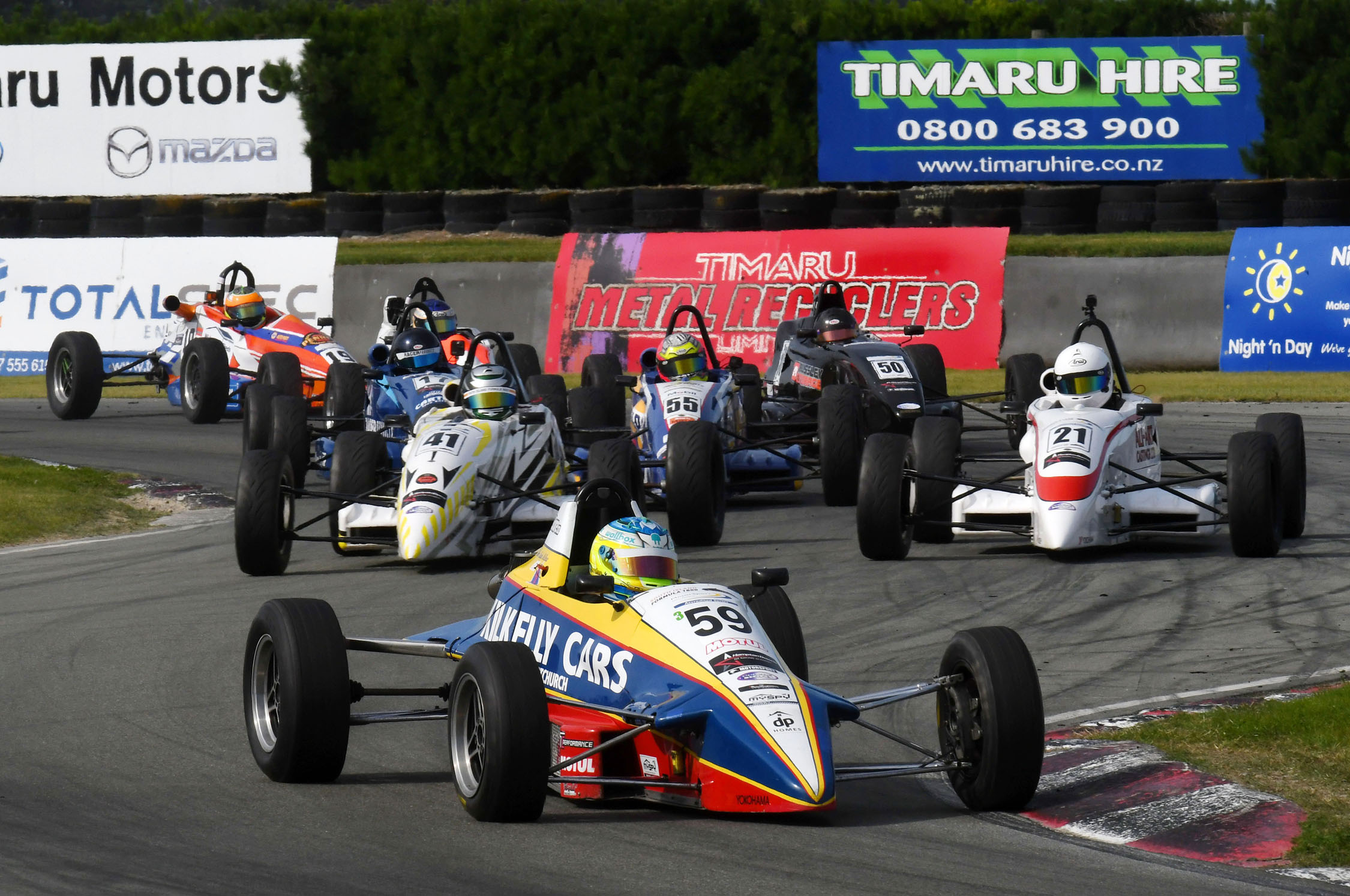 Dominant Hamilton takes lead in Yokohama South Island F1600 Championship
An in-form Matthew Hamilton has taken the lead of the 2021/22 Yokohama South Island Formula 1600 Championship after dominating the penultimate round at Timaru International Raceway on Saturday. Having won the $500 Hampton Downs NZ Racing Academy prize for fastest time in qualifying, the Christchurch driver went on to win two races and finished runner up in the third.
"Happy with that," commented Hamilton. "It's what we needed to take the lead in the championship. The last race was about finishing and getting points, so we now have a nice wee lead heading to Invercargill"
Previous points leader, Louis sharp, has headed to the UK to pursue his single seater career in British Formula 4, pathing the way for rivals to compete for the title, in which they did. Hamilton (Van Diemen RF88) didn't have it all his own way with Zac Christensen (Ray GR20) winning the final race of the day, and now sits second on the points table, 36-points behind Hamilton.
"We had the setup right and the pace all day," said Christensen. "I managed to get ahead in that last race so pleased with the win."
In all three races Hamilton and Christensen battled for the lead while behind them Alex Crosbie (Ray GR21) and Bree Morris (Ray GR17) fought for the remaining podium place. The top four having qualified in that order.
Behind them it was a battle between Dylan Petch (Ray GR20), Daniel Brown (Ray GR21), Blake Knowles (Van Diemen RF92), Shane Drake (Van Diemen RF92), while cousins Cameron Freeman (Van Diemen RF93) and Dyson Freeman (Van Diemen RF92) battle for both family and Class 2 honours.
In all three races, Hamilton got a blinding start from pole, meaning Christensen would always have to go around him to take the lead. This he did in the opening race but was unable to defend Hamilton's ultimate attack for the race win.
The second race provided a mix of results after three drivers collided heading into the turn one on the seventh lap, bringing out the safety car. Dylan Petch retired with damage as did Blake Knowles while Bree Morris dropped back to tenth and Christensen to eight. Hamilton took the win crossing the line still under safety car conditions with Crosbie second and Brown third.
Christensen certainly showed his speed in the final 12-lap feature race hunting down and passing a fast-starting Hamilton, to take his third win of the season.
With one final round to go at Teretonga Park in Invercargill in two weeks' time, the title is likely to come down to a straight fight between Hamilton and Christensen while a tussle for third will take place between Crosbie and Brown. Also, on the line is the Hampton Downs NZ Racing Academy $500 prize for fastest driver. The award is part of the $60,000 prize pool from the Tony Quinn Foundation with funding for travel and testing opportunities with TOYOTA GAZOO Racing NZ.