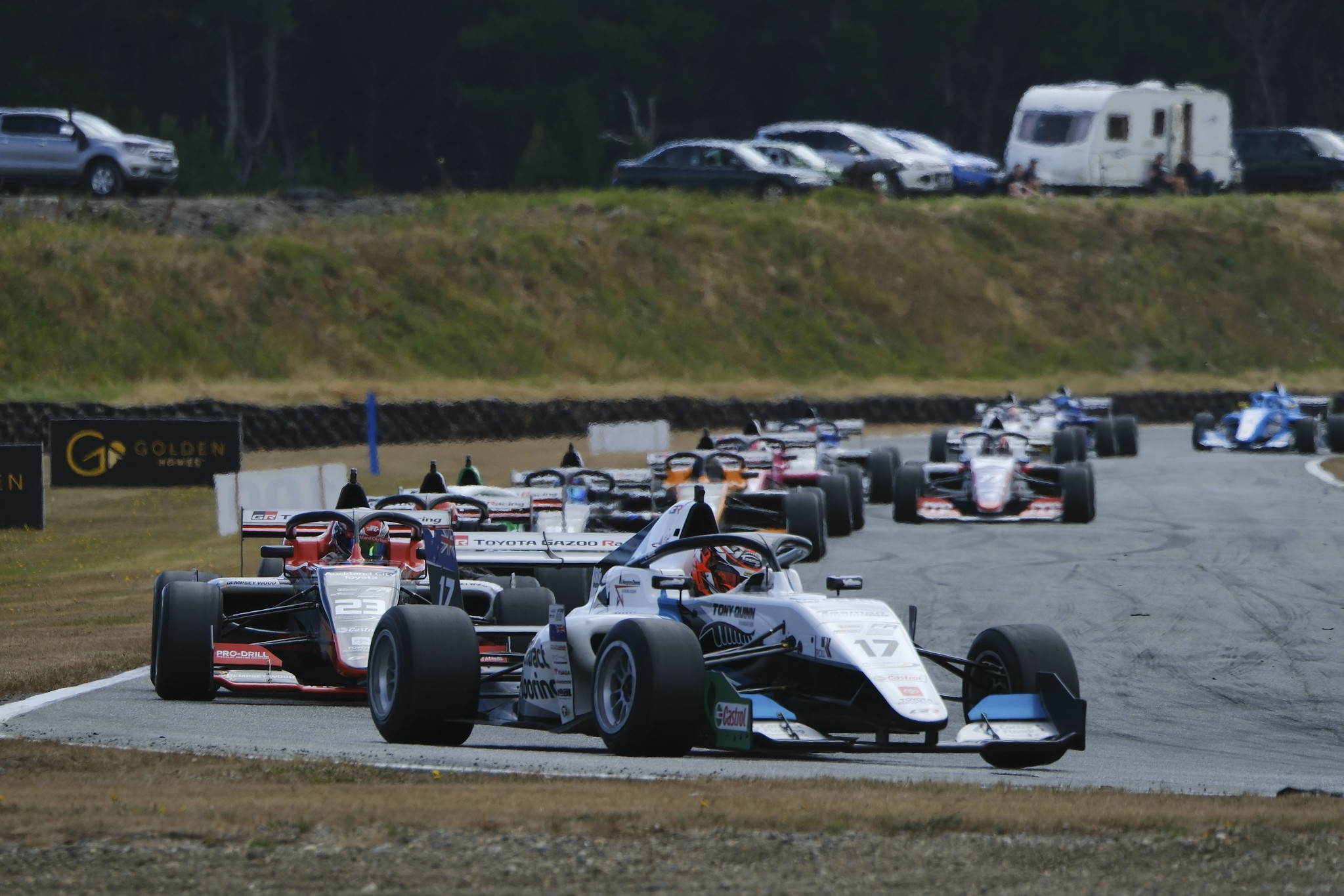 Critical weekend for Castrol Toyota FR Oceania drivers
The third weekend of five in the 2023 Castrol Toyota Formula Regional Oceania Championship is often a critical one in New Zealand's premier single seater series and this weekend will be no different.
If championship leader Charlie Wurz has another weekend like he did at Teretonga, he will increase his lead and become clear title favourite with two rounds to go. And if Callum Hedge has a better weekend than Wurz, then his championship challenge will gain even more momentum. For the rest, they'll be doing everything they can to topple the top two.
Sixteen cars take to the track this weekend at Manfeild – Circuit Chris Amon, with Indy Pro2000 champion, Britain's Louis Foster, Ireland's Adam Fitzgerald and New Zealander and former race winner in this category Billy Frazer joining the highly competitive field for two qualifying sessions and three races at the tight, twisty and highly technical 3.3km circuit.
Wurz is just 25 points ahead of his nearest challenger Callum Hedge, who is only 18 ahead of Jacob Abel. One bad race could change it all for any of the three. Fourth in the championship standings is outstanding rookie Ryder Quinn out of Australia. The M2 Competition driver has two podiums to his credit already on this year's championship trail, and will be aiming to make it to the top step in one of the races this weekend.
Of the new drivers, all are accomplished racers. Billy Frazer, however, has a season in the championship where he won at Manfeild already under his belt and knows the car and the circuit well from his days racing in New Zealand. He even topped a session in Thursday testing as he reacquainted himself with car and track.
The 19 year old is a firm dark horse for a big performance this weekend. Fitzgerald and Foster are both class acts, but the learning process joining the championship at this stage might well limit progress this weekend at least.
United States racer Jacob Abel remains third in the points for Kiwi Motorsport after a solid weekend in which he took points for a third, fifth and sixth place finish. Former Indycar racer and USA motorsport star Spencer Pigot joined his campaign as driver coach and it looked to have paid dividends as Abel looked fast and smooth throughout the weekend.
He may have less than two years circuit racing expertise but Australian Ryder Quinn is continuing to impress in this season's championship, taking two seventh place finishes over the weekend and his second series podium on Sunday morning. As his speed is developing in the championship, so he is maintaining consistency and it is very much to his credit that he sits fourth overall. A win might not be too far away.
Kiwis Liam Sceats for M2 Competition and James Penrose for Kiwi Motorsport had solid weekends in rounds one and two and will want further progress this coming weekend. Bree Morris made significant steps forward at Teretonga as well, and will be looking forward to a North Island circuit she knows like the back of her hand.
Britain's Josh Mason was outstanding in the feature race at Teretonga, moving away from mid-field and latching onto the back of the leading group of four and it was his best performance of the championship so far. There's no doubt he will be looking to make the next step up and upset the leading trio.
Highlands feature race winner David Morales had an absolute nightmare in Invercargill and will want to get his weekend off to a good start and score some solid points in the Manawatu. He's another class act so expect him to bounce back strongly.
Another dark horse for this weekend will be Ryan Shehan, who simply gets better every time he goes out on track in the Toyota FT-60. Interestingly this is his strategy as he builds towards a campaign in the forthcoming equivalent championship – the Formula Regional Americas Championship and if he continues on the trajectory he's currently on, he has more than enough time to bag a win or two.
Chloe Chambers will also be targeting further improvement as she takes on the boys in her Giles Motorsport entry. Very impressive in the feature races, the physical nature of Manfeild could suit her well much as Highlands did. Cool, calm and apparently fearless, watch out for the Stars and Stripes liveried car to make great progress in each of the three races over the weekend.
Brazil's Lucas Fecury and Australia's broke into the top ten last weekend and will be hoping for more. McLennan particularly will be looking at fellow Australian series Porsche rival Hedge and aiming to get close to his pace, while Fecury is in New Zealand to learn and is clearly doing that.
All 16 drivers will test throughout Friday, with all bar Foster having completed Thursday testing too. Official action at the track begins with qualifying for the first race on Saturday morning and the first race on Saturday afternoon. There will be qualifying for the feature race on Sunday morning, before the second race which will have a reverse grid formed from the top eight finishers in Saturday's event. The weekend concludes with the longer feature race, the winner of which will put their name on the Dan Higgins trophy.