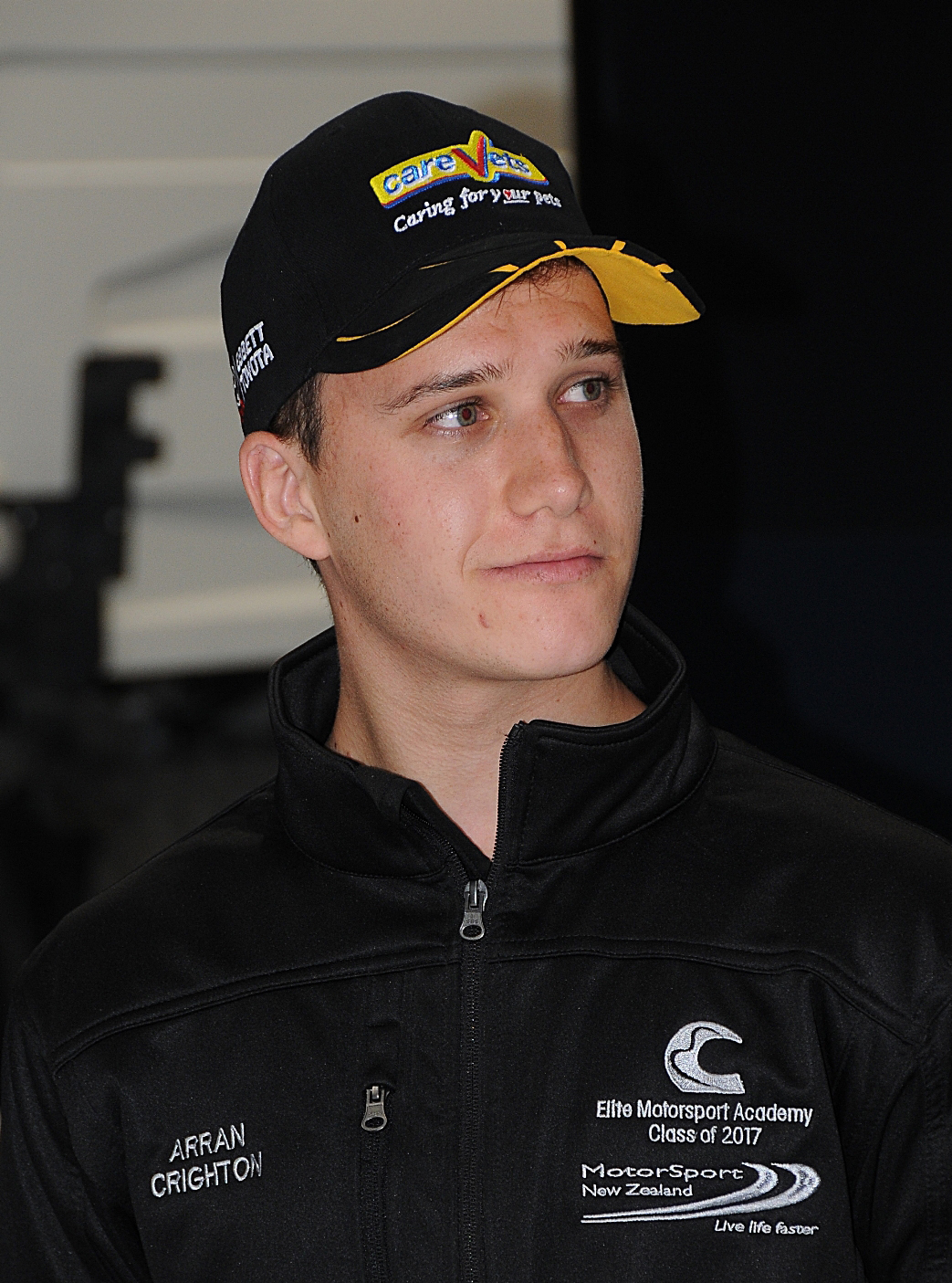 Confident Crighton looking to continue winning form
CareVets Toyota 86 racer Arran Crighton is turning heads early in his circuit racing career and will enter the forthcoming Toyota 86 Championship as a potential title contender.
Having learned his race craft skills – like so many – in karting, the 20 year old has been mightily impressive since he switched from single seaters to saloons and is much more than a dark horse for honours in what should be the most competitive season ever in the Toyota series.
Arran and his family came to New Zealand from South Africa in 2009 and he quickly resumed his karting career in Aotearoa with several seasons already behind him. He made the switch to Formula First and single seater circuit racing in 2013 and was a factor in the ultra-competitive series for four seasons, leading the race for top honours for most of the 2016-2017 championship before eventually finishing third. In 2017 he was also accepted into the New Zealand Elite Motorsport Academy where he finished runner up at the end of the week long training camp.
A switch from single seaters to the BMW E30 class for the 2017-2018 season heralded a firm decision to try and build a racing career in tin tops rather than single seaters and it proved a good move when Arran took out the rookie title at his first attempt. That provided the impetus to try out for the CareVets Scholarship drive and he proved his BMW success wasn't a one off by securing a place with the team after the highly competitive scholarship test day at Hampton Downs.
With a winning campaign for the CareVets team in Class 3 of the North Island Endurance Series One Hour championship behind him over the winter, the success has kept coming for the ever-improving racer and he is optimistic about the season ahead.
"The step up from Formula First to BMW was a big one as the dynamic of the cars was so different, but stepping into the Toyota 86 I felt at home immediately and have gained a lot of confidence in the car in testing and in the endurance races. I believe it's important to back yourself and I am definitely aiming to win the Rookie Championship and finish in the top three overall."
With 20 of the country's best up and coming drivers lining up for a highly competitive championship, Crighton knows the opposition is going to be tough, and that will include his F1600 championship winning team mate Callum Hedge.
"You just know he's going to be fast everywhere and that's a great benchmark for me," he added. "We'll push each other in the championship and drive the team and the performance forward and that's got to be a good thing."
Crighton's season begins with the Supercar Championship round at Pukekohe Park, before revisiting the circuit in its original configuration in December then heading south in the New Year to Highlands Motorsport Park. The series also visits Teretonga, Manfeild Circuit Chris Amon (for the New Zealand Grand Prix) and Hampton Downs.
The full schedule for the Toyota 86 Championship is as follows:
November 2-4                  Pukekohe (with Supercars)
December 7-9                  Pukekohe short track (no back straight chicane)
January 11-13                  Highlands Motorsport Park, Cromwell (with Castrol Toyota Racing Series)
January 18-20                  Teretonga Park, Invercargill (with Castrol Toyota Racing Series)
February 8-10                  NZ Grand Prix at Manfeild, Manawatu (with Castrol Toyota Racing Series)
March 9-10                       Hampton Downs Motorsport Park, North Waikato
Caption:  Arran Crighton has solid form ahead of the 2018-2019 Toyota 86 Championship.
Release: Toyota Racing
Picture: Bruce Jenkins