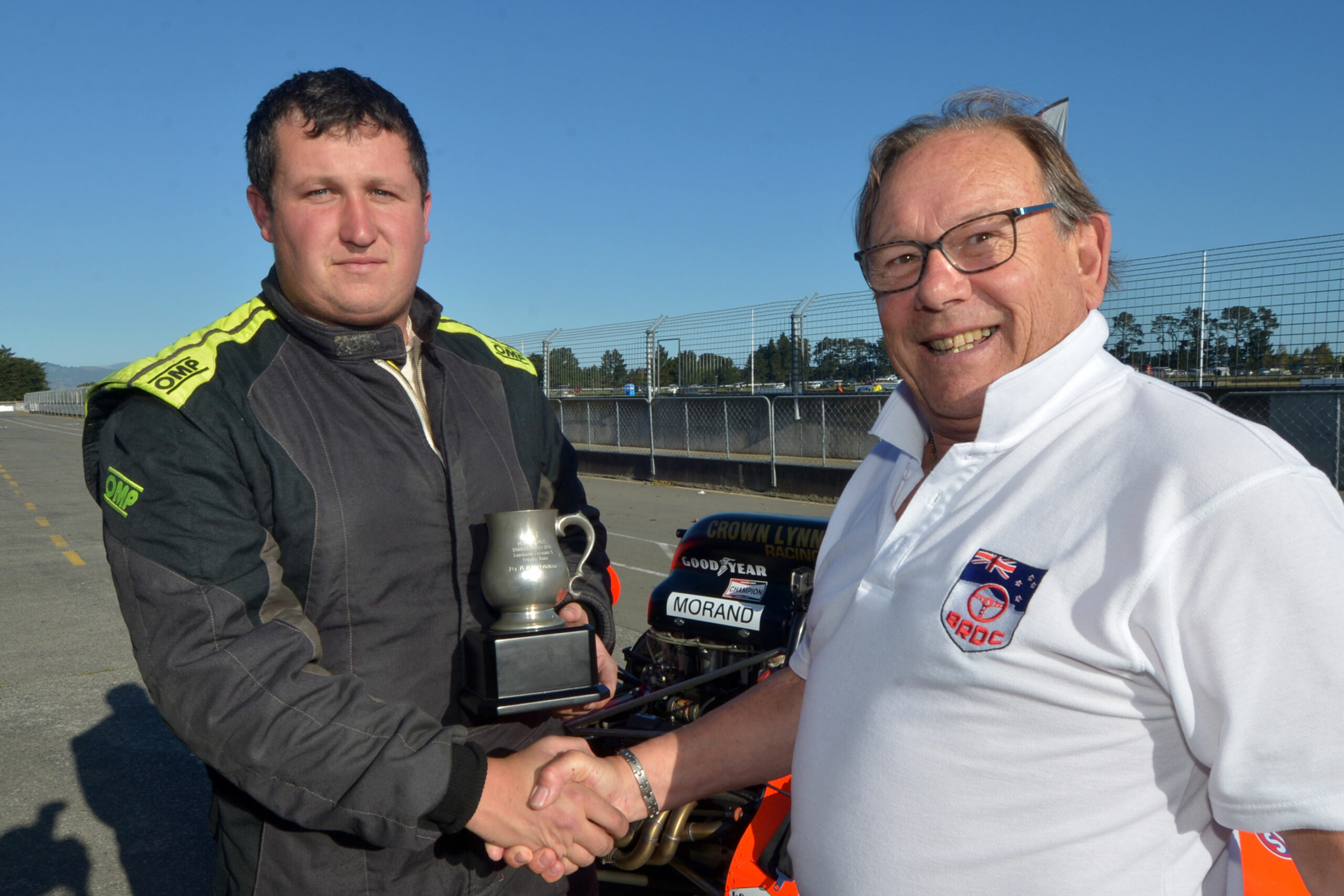 Collins caps memorable F5000 series return with three wins and his name on latest Skope Classic trophy
Local F5000 category hero Michael Collins (Leda GM1) capped a memorable return to New Zealand's SAS Autoparts MSC NZ F5000 Tasman Cup Revival Series at the re-jigged Skope Classic meeting at his home track in Christchurch yesterday (Sundy April 10), driving away from a top-class field to comfortably win the 12-lap F5000 feature race and be the first driver to earn the Bert Hawthorne Memorial Trophy which will now go with it.
Behind the wheel of his family-run, Alistair & Vicky Hey-owned ex-Graham McRae Leda GM1 (001) Collins (27) was obviously determined to make the most of the opportunities the Skope Classic's COVID-19-inspired date-swap presented.
His pole lap – a scintillating 1:18.868 – for instance , was the only sub 1:19.00 lap set across the whole weekend, and though arch-rival and eventual feature race and event runner-up, Steve Ross from Dunedin (McRae GM1 009) was able to match and even better Collins's best laps in race trim, in terms of ultimate track speed Collins was King!
He put that fact beyond doubt in the 12-lap feature final race late on Sunday afternoon.
Though Steve Ross again got the better start and held the lead – albeit briefly – through the first corner Collins had grabbed it back just two corners later and, with a clear track in front of him, quickly built up a two second buffer on Ross.
Behind the pair the race order has quickly established a pattern, with former NZ Formula Ford champion Kevin Ingram (LolaT332) circulating quickly and efficiently – albeit not at quite the same white hot pace the pair up front were running at – in third place then another largeish gap back to series' Rnd 1 race winner Grant Martin (Talon MR1/A) in fourth, Codie Banks (taking up the offer of a drive in his father's similar car, the black ex-Jon Woodner Talon MR1, after his own Lola T332 suffered terminal engine damage in the race on Saturday) in fifth, and category new face Bruce Kett (Lola T332) in sixth.
Bar the other category newcomer, Alastair Chalmers (Chevron B32) stopping on the warm-up lap with a clutch issue the rest of the 10-strong field got away to another typically unique rolling (thunder) start, the initial running order having Codie Banks in P4 and Tony Galbraith back in P7.
By the third lap however, Grant Martin had found a way past Codie Banks to claim 4th place while two laps later Tony Galbraith (Lola T332) had finally managed to wrestle P6 off Bruce Kett's similar Lola.
Upfront however the race for the new Bert Hawthorne Memorial Trophy was anything but over, Steve Ross counterattacking twice between laps 3 and 11, each time reducing the margin Collins had just built on him from between 2 and 3 seconds to just over a single second.
As it turned out however Collins was not to be denied completing a clean sweep of SAS Autoparts MSC NZ F5000 series races with a final margin after 12 hard'n fast laps of 3.581 seconds over Ross and 26.891 seconds ahead of Kevin Ingram who was third.
Bert Hawthorne was a talented young Kiwi racing driver from Kaiapoi, just north of Christchurch, who was killed while practising for the German round of that year's European Formula 2 championship at Hockenheim on Friday April 14, 1972.
At just 28 years of age, it was a cruel blow for his family back home in Kaiapoi not to mention the close-knit local motor racing scene where he had got his start – but 50 (22) years on, to honour his memory, the Canterbury Car Club and Hawthorne family put up one of his original trophies for the winner of the SAS Autoparts MSC NZ F5000 Tasman Cup Revival Series feature race at the Skope Classic from this year on.
In accepting the trophy from meeting rep Rob Cope-Williams, inaugural Bert Hawthorne Memorial winner Michael Collins acknowledged the role family – both his own and that of car owners Alistair & Vicki Hey – has on a young driver's career and said that the trophy was for them to savour and enjoy as much as it is for him.
The trophy joins the original Stan Redmond Memorial one traditionally awarded at the annual Skope Classic meeting 'to the driver who, over the course of the weekend exhibits the same sort of pace, grace, and passion for the F5000 racing that Redmond, one of the founding fathers both of the NZ F5000 Association and the now SAS Autoparts and MSC-sponsored NZ F5000 Tasman Cup Revival Series, now in its 19th year, did.
This year the trophy went to Lola T332 driver Kevin Ingram from Feilding.
Earlier in the day Michal Collins also won the second – full handicap 'lollipop' rolling start 7-lap – SAS Autoparts MSC NZ F5000 Tasman Cup Revival Series race of the weekend, after he and fellow back-row starter Steve Ross, both made up their full 75-second handicaps within six of the seven laps, Collins taking the win from a fast-finishing Steve Ross, the gap at the finish line just 1.119 of a second.
Third home was David Banks, fourth Kevin Ingram and fifth Tony Roberts in the first of the Class A McLaren M10Bs
Not surprisingly the first SAS Autoparts MSC NZ F5000 Series race of the weekend on Saturday afternoon also saw Michael Collins and Steve Ross swapping the lead a couple of times amongst themselves, before a mistake by Ross allowed Collins a final pass for the lead which he managed to hold onto until the chequered flag came out.
Third across the line – having spent much of the race defending the position from fellow Lola T332 driver Codie Banks – was the ever-improving Kevin Ingram.
Just when Banks Jnr thought he was in with a chance, he was forced to slow dramatically then stop completely as his car's engine suddenly lost all oil pressure, handing 4th place on a plate to his father David Banks.
Finally in the battle for Class A honours (for earlier era cars) category stalwart Tony Roberts in his recently acquired ex Kip Ackerman South African series McLaren M10B was shadowed all the way to by Toby Annabell from Hawera in Taranaki in his similar M10B.
Aucklander Frank Karl had battery issues with his McLaren M10B however and was one of three drivers who DNFed the Saturday race.
The other two were Grant Martin who broke a half shaft on the first full lap, prompting an early Safety Car intervention while the prone car was moved, and Tony Galbraith who had engine issues.
The SAS Autoparts MSC NZ F5000 Tasman Cup Revival Series is organised and run with the support of sponsors SAS Autoparts, MSC, NZ Express Transport, Bonney's Specialised Bulk Transport, Mobil Lubricants, Pacifica, Avon Tyres, Webdesign and Exide Batteries.