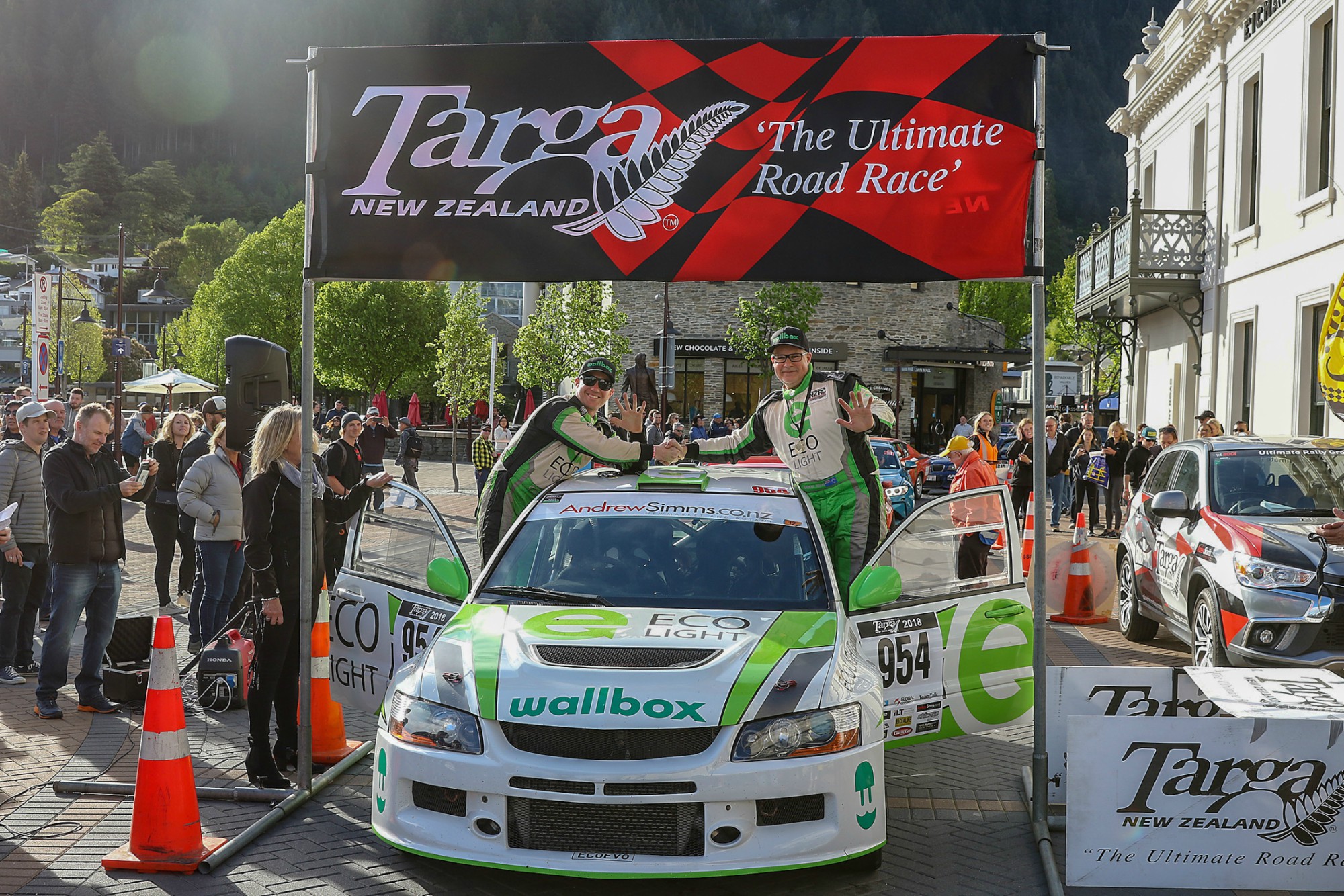 Can Inkster & Winn set new Targa NZ record this year?
Will defending – and now five-time consecutive – event winners Glenn Inkster and co-driver Spencer Winn (Mitsubishi Evo 8) from Auckland win this year's 25th anniversary Targa NZ tarmac motor rally, which starts in Taupo on Tuesday October 29 and finishes five days later in Palmerston North on Saturday November 02?
Or will another pairing – former winners Martin Dippie and co-driver Jona Grant (Porsche 911 GT3 RS) from Dunedin, perhaps, or the winners of this year's Targa Hawke's Bay event, Haydn Mackenzie from Auckland and his Hamilton-based co-driver Matt Sayers (Mitsubishi Evo 10) – deny former gravel rally ace Inkster and his co-driving boss Winn the chance to set a new six consecutive win benchmark?
That's the big question as the countdown begins to this year's event which starts in a week's time in Taupo.
Since claiming their first Targa NZ even win back in 2014, Auckland Supercity pair Glenn Inkster (from Patumahoe near Pukekohe) and Spencer Winn (from Howick in the city's Eastern suburbs) have gone on to dominate the country's premier multi-day tarmac motor rally.
Two years ago, the dynamic duo won the event for a fourth consecutive time, equalling the record set back in 2012 by circuit-owing Scottish entrepreneur Tony Quinn and co-driver Naomi Tillett (Nisaan GT-R35). Then last year they equalled Quinn's total event win record of five victories, meaning that – if they win again this year – they will create an all-new benchmark of six consecutive victories in what event director, Peter Martin calls the 'The Ultimate Road Race.'
"It certainly is an amazing achievement," Martin said this week. "Just getting to finish a single Targa NZ is enough for a lot of people, yet not only to finish but win five – and in a row – then come back fresh as a daisy this year looking for win number six? Incredible!"
This year's event is again a multi-faceted one with three separate starting groups – Competition, the Targa Tour and now a Time Trial organised in conjunction with the Vintage Car Club of New Zealand.
A separately scored but concurrently-run two-day 'Regional Targa' – complete with its own eight-strong Targa Tour group – is also being run this year over the final two days of the main event.
The idea, says Martin, is to give as many people as possible the opportunity to 'do the Targa,' be it as a one-off 'bucket-list-ticking' exercise, or we would hope, a chance to get the feel for tarmac rallying and come back to do the full five-day event next year.'
This year's route returns to what Martin sees as the 'heartland' of the five-day Targa NZ event, starting in Taupo on the Tuesday after Labour Weekend then heading west for a two-night stay in New Plymouth, south for a single overnighter in Whanganui, and east again for a final night in Palmerston North.
Along the way competitors and Tour/Time Trial entrants will cover 760km of closed special stages and close to 1200kms of touring stages, from as far north (and west) as Oparau (near Kawhia) in the western Waikato to as far south and east as Pongaroa in southern Hawke's Bay.
Of the 56 pairings in the main competition event, last year's surprise early leader, and winner of this year's Targa Hawke's Bay event, Haydn Mackenzie and co-driver Matt Sayers loom as the duo most likely to take the battle to Inkster and Winn. Though like Inkster and Winn they will have their work cut out battling the Porsche 911 GT3 RS of southern men Martin Dippie and Jona Grant.
This year more than any other in recent memory, there are at least six other pairings who – given the right set of circumstances – are class as well as outright event contenders.
Included in this group are former Targa Rotorua event winner Leigh Hopper and co-driver Michael Goudie (Subaru WRX), fellow Aucklanders David Rogers and co-driver Aidan Kelly (Mitsubishi Evo 10), long-time Auckland-based event specialist Jason Gill and co-driver Mark Robinson in Gill's recently-acquired tarmac-spec, WRC-style VW Polo R, and former circuit ace Eddie Bell and his co-driver Blair Forbes from Christchurch in Bell's late model BMW M3.
Another Aucklander, Nic de Waal and his co-driver Shane Reynolds (Subaru WRX), are also in with a chance, as are gravel rally ace Marcus Van Klink and co-driver Matt Richards in Christchurch man Van Klink's 2WD Mazda RX8..
In the Classic 2WD category, meanwhile, the return of Bevin Claridge and Campbell Tannock in Claridge's 2015-class winning Holden Commodore SS, will add an extra element to a class usually dominated by a Kirk-Burnnand BMW E30 M3.
That said both Mark and his co-driving father Chris from Wellington, and Chris's brother Barry from Auckland and his co-driver Dave O'Carroll are both back for more this year with their matching E30 M3 BMWs
Also back for the 25th anniversary event, after a one-off first event in the early 2000s, is Emirates Team NZ Americas' Cup team boss Grant Dalton, this time behind the wheel of a Classic 2WD class Ford Escort with fellow Aucklander Chris Stephens in the co-driver's seat.
And, after running a later model Fiat Abarth in recent events, now Adelaide-based former Rotorua event regular Mike Lowe and co-driver Phillip Sutton will be back in the diminutive 'Barty,' the 1964 Fiat Abarth Berlina Corsa 1000 the pair ran in the first 20 Targa NZ events.
With a total of 32 entries across the main (25 cars) and the two-day 'Regional Targa' event the concurrent but non-competitive Targa Tour is again a popular choice for owners of exotic sports and/or classic cars.
Porsche is again the most popular marque amongst entrants this year with 11, followed by BMW & Subaru with three each, Audi & Lamborghini with two and one each for everyone from Ford to Holden, Mercedes-Benz, Jaguar, Chrysler, MINI and Morris!
The Vintage Car Club of NZ Time Trial has attracted a mixed field of 19 cars, from the oldest – a 1951 Jaguar C-type – to the newest, a 1989 BMW E30 Alpina.
Targa New Zealand events are organised by the Ultimate Rally Group with the support of sponsors AndrewSimms.co.nz, Chicane Racewear, Global Security, NZ Classic Car magazine, Race Brakes, Race4Life Trust, Racetech, TrackIt, Vital and Writeraze.
For more information go to targa.nz or check out the Targa NZ page on Facebook.