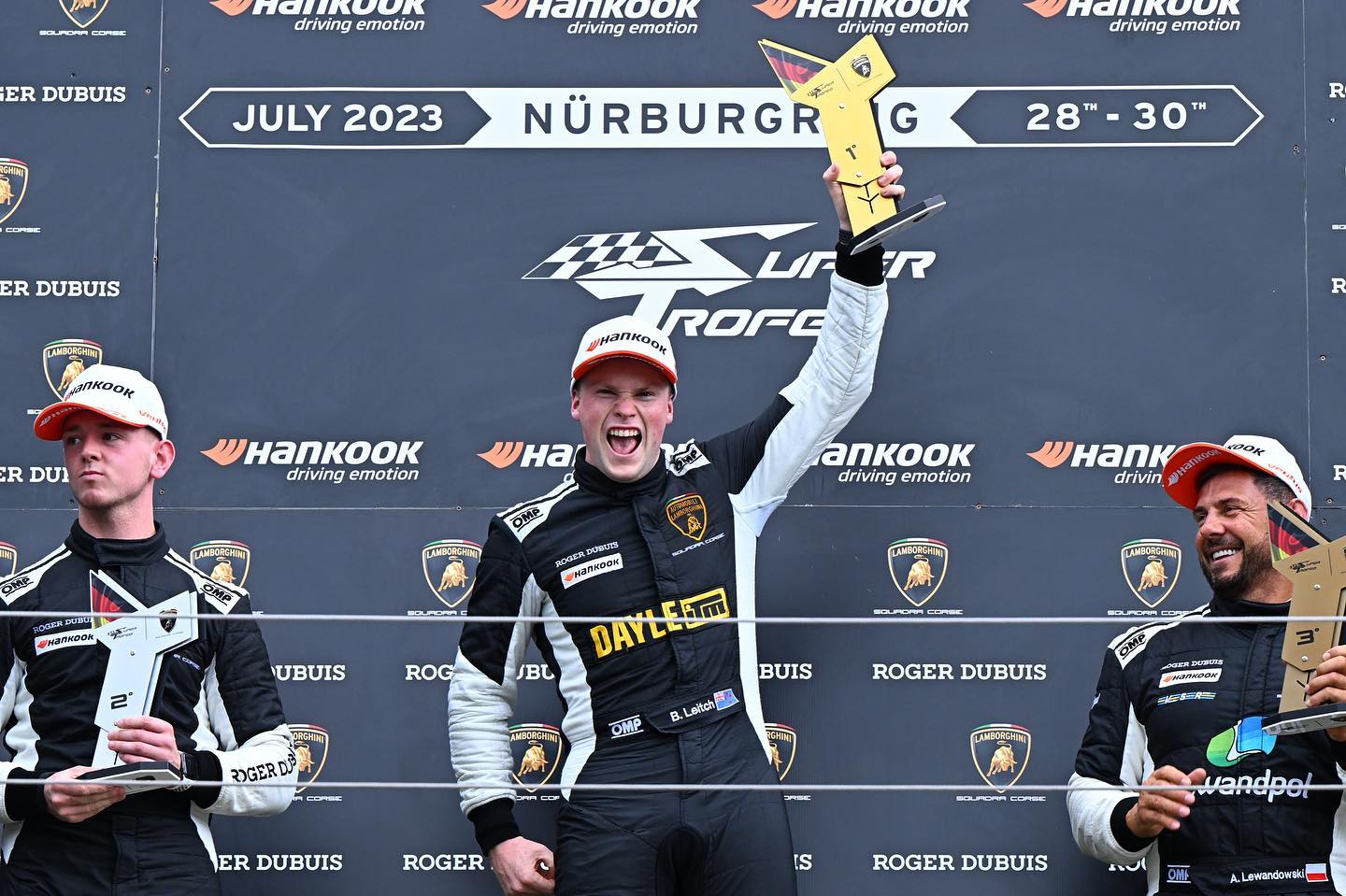 Brendon Leitch triumphs in Lamborghini Super Trofeo Europe
Brendon Leitch has broken through for his first Lamborghini Super Trofeo Europe win with Leipert Motorsport in scintillating fashion at the famed Nurburgring, storming to victory from fifth on the grid.
After a delayed start due to inclement conditions on the GP Strecke course, Leitch soon rose to fourth in his Dayle ITM Lamborghini Huracan Super Trofeo EVO 2 before a brief safety car intervention.
He challenged for the podium early but opted to pit not long after the window opened for his compulsory stop to find clear air. The move paid dividends as he leap-frogged his main race rivals to sit third after the field had cycled through the pit lane.
What followed was a series of bold passes, first on former Grand Tour test driver Abbie Eaton with 12 minutes to go and then on Andrzej Lewandowski with six minutes remaining. Both passes came at turn 11, the Warsteiner Kurve, after dummying the preceding car.
From there, Leitch kept BDR Competition driver Amaury Bonduel at bay to win by one and a half seconds at the chequered flag and send the Leipert Motorsport team into raptures.
"The Leipert guys prepared an incredible car for me today and I can't thank them enough," commented Leitch.
"We had great speed. Yeah, what can I say? We had a decent start to the race passing a couple of cars and then sat there and waited for the pit window to open, hoping that it wasn't going to open under safety car. We were very fortunate there.
"And then it was just about pushing as hard as I could without making any mistakes. The Dayle ITM Huracan was on fire."
Leitch's win came just a day after he finished second after charging through from seventh on the grid. The opening race victory went the way of Gilles Stadsbader and Mattie Michelotto of Vincenzo Sospiri Racing, who moved into the lead of the series as a result.
However, Leitch was given a massive free kick in the drivers' championship after Stadsbader crashed the car he was sharing with Mattia Michelotto in the second race.
With victory, Leitch moved back into the series lead on 65 points while Stadsbader and Michelotto dropped to second on 53 points.
The series heads to Circuit Ricardo Tormo in Valencia, Spain on September 15-17 for the second-to-last round of the season.