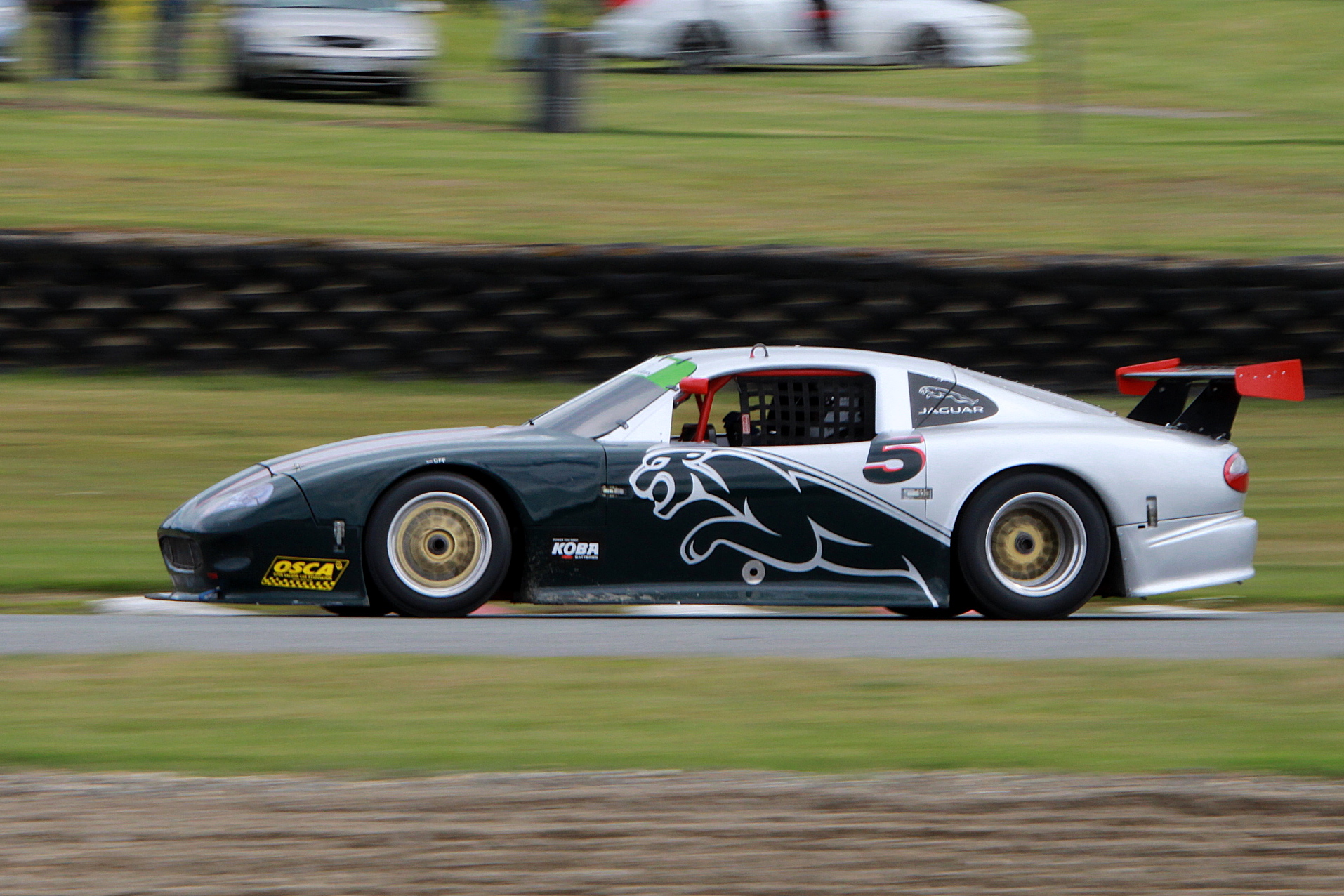 Big fields make for great action at Teretonga Park
Large fields made for a top weekend of motor racing action presented by Downer at Teretonga Park, Invercargill, this weekend.
Steve Ross of Dunedin in his Jaguar XK8 TraNZam was the standout in the OSCA Super Saloons winning three of the four races to top the podium for the weekend with Kris Brown of Timaru in his Nissan R32 second and Neville Stowell of Timaru third in his Nissan Skyline GTR. Others that were prominent were Invercargill drivers Liam MacDonald and Andrew Cundall plus Russell Mortimer of Christchurch but mechanical problems cost them dearly at times.
Brendan Mason of Invercargill took the top step of the Noel McIntyre Drainage Clubmans Saloons podium in his Chev Camaro ahead of Brian Scott of Dunedin (Corvette) and Dion Dawson of Invercargill (Saker). Mason and Dawson shared the race wins across the weekend while James Liemburg of Timaru won both Group B races from Bradley Dawson of Invercargill and Rachael Beck took out the 0-2500cc class race from Warren Walker of Wanaka.
The race wins were shared equally across the Evolution Motorsport South Island F1600 races with James Penrose winning the first on Saturday before leaving the track and ending the race down the order on Sunday morning in a contest won by Matthew Butchart of Nelson while Jack Noble-Adams of Christchurch won the third.
Corey Ross of Christchurch took the Pre 65 Saloon honours in his Ford Mustang from Paul Clarke of Mosgiel and local driver Wayne Tuffley (Mustang).
Timaru driver Jarrod Parmenter was on the top step of the podium in both the SS Cup and also the Pro 7/8 class. Second in SS Cup was Phil Gurney of Rangiora in a Honda Civic with Jared Pyke of Rangiora third in his RX8. Pyke was second on the Pro 7/8 podium with Sam Wallace of Christchurch third.
Justin Neill of Christchurch stood atop the Mini 7 South podium at the end of the weekend ahead of rookie Adam Box and Steve Scobie, all three hailing from Canterbury.
Steven Gordon of Alexandra in a Commodore won two of the NZ Six races and Cody Welch of Omakau in a Falcon the other.
The next motor racing event at Teretonga Park is the Speedworks Events Motorsport NZ Premier Championship meeting featuring competitors from around the world from 24-26 January.