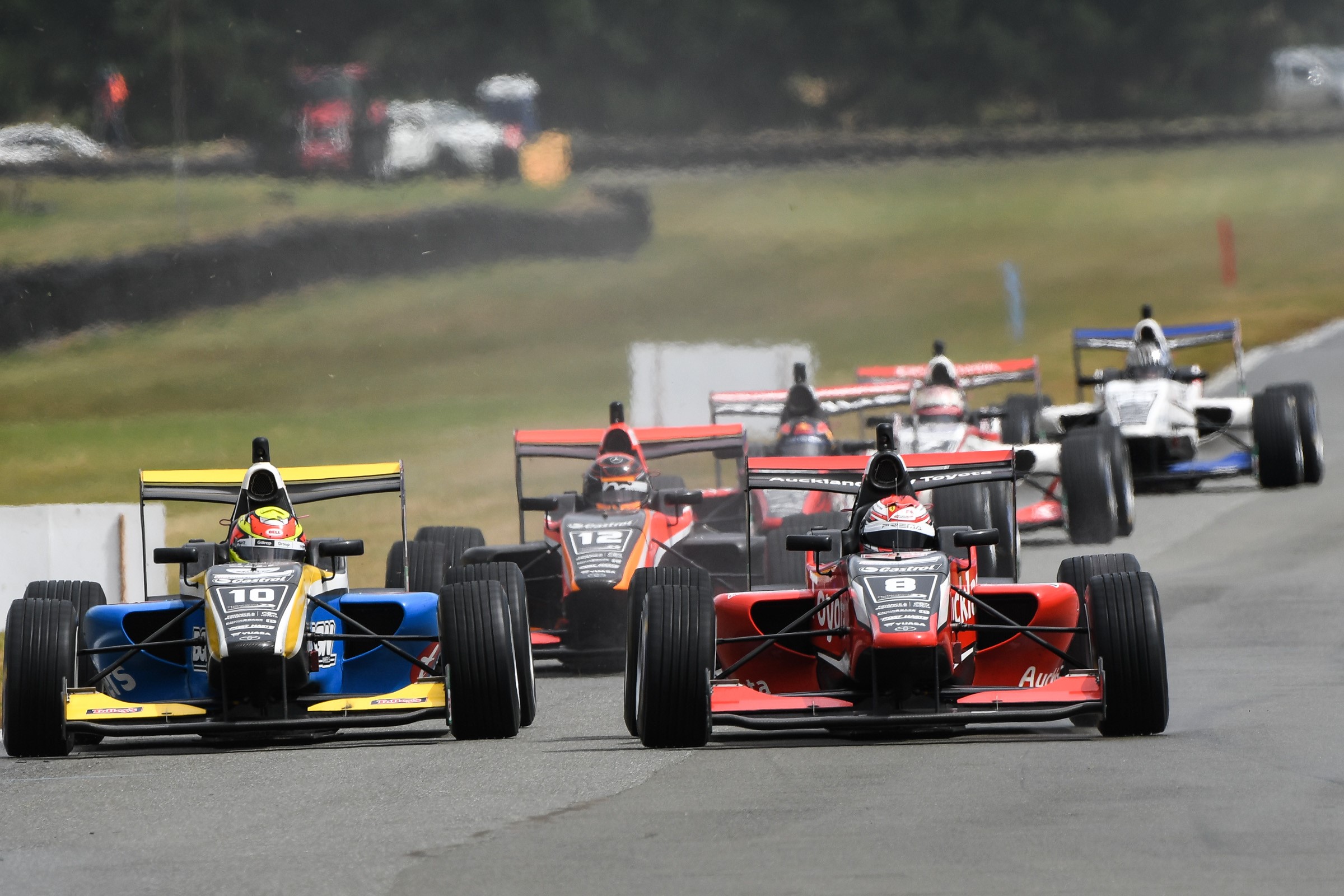 Armstrong wins a thriller
Marcus Armstrong took his first win in the 2019 Castrol Toyota Racing Series with a thrilling victory over title rival and countryman Liam Lawson after a dramatic first race at Teretonga Park in Invercargill.
The dynamic Kiwi duo are now tied on points.
After a poor start, Lawson fought back from third place and spent the majority of the race closing down Armstrong. A Safety Car on lap 12 when Romanian Petru Florescu dropped his car into the sand trap at the Castrol complex bunched the entire field together and Armstrong held his nerve and his form to win as Lawson made a slight error on the last lap which left him too much to do to win. Raoul Hyman looked odds on for a podium after a remarkable drive from eleventh on the grid but ran out of road trying to pass Artem Petrov on the last corner, leaving the impressive Russian in third at the flag.
"It certainly wasn't the easiest of races but it was fun and I really enjoyed it," said the Ferrari Junior driver. "It was difficult conditions but the M2 guys gave me a great car."
Armstrong made a textbook getaway for the 20 lap encounter from the front row, while Lawson got way too much wheel spin and slipped to third behind Russian Artem Petrov who made the best start of anyone to scythe through from eighth on the grid as the sixteen car field streamed into the first turn. It took Lawson until the third lap to catch and pass Petrov, which he did with his now signature move around the outside – this weekend in even wetter conditions than the move he pulled on Armstrong a week before at Highlands Motorsport Park.
Armstrong's clean start had given him a three second lead within the first three laps, but as soon as Lawson was past Petrov, he began to reduce that gap and push himself towards the leader. Behind, the UK's Raoul Hyman – third in the series points – was also making solid progress. His lowly qualifying position turned out to be the result of running older tyres in wet qualifying and he had new rubber for the race. With the car much more to his liking on new Michelins he was able to pick off his rivals ahead one by one and was inside the top ten by lap four. Meanwhile Lucas Auer, Cameron Das, Kazuto Kotaka and Brendon Leitch were in the early stages of another great battle for fourth, fifth, sixth and seventh. Youngster Jackson Walls also started well and was in the top ten early on.
All eyes were on the front and what was shaping into another great battle between Armstrong and Lawson. By the end of lap five, 16 year old Lawson had narrowed the gap to two seconds and was reducing it at the rate of a few tenths per lap. The lead pair were comfortably ahead of Petrov, who had Auer in his mirrors in the battle for third.
Behind them, the focus was Hyman and his progress through the mid-field. Clocking some of the race's fastest laps, he found a way past Leitch on lap seven and Kotaka on lap ten to be sixth at half way. Armstrong and Lawson were still comfortably ahead out front at the halfway mark, followed by Petrov, Auer, Das, Hyman, Kotaka, Leitch, Florescu and a recovering Calan Williams.
With a rapidly drying track under them, the complexion of the race changed on lap 12 when Florescu's off brought out the Safety Car. Lawson immediately headed for any standing water he could find to cool his wet weather tyres, and Armstrong quickly followed suit.
With Florescu's beached car removed, the sun was out when the race got underway again with just three laps to go. Armstrong made a good enough getaway, but was matched by Lawson who tracked him all the way around the lap. Armstrong held firm as Lawson tried everything to get by over the last two laps. A tiny error putting two wheels on the grass at the exit of the fast Castrol right hander was all that separated them in the end as Armstrong came home a couple of car lengths to the good to grab his first series win of 2019.
Behind them it was mayhem in the battle for third. Hyman was flying and dived up the inside of Petrov on the last bend, out-braking himself and slithering onto the wet grass, which took an eternity to recover from. All of his hard work came to nothing and he crossed the line where he started – in 11th.
Petrov claimed the last spot on the podium, with Cameron Das coming through the drama to finish fourth. Auer was out of grip and down in fifth, while Kotaka took sixth and Calan Williams seventh.
Brendon Leitch ended up eighth, with Esteban Muth in ninth and Dev Gore rounding out the top ten.
There are two more races at Teretonga on Sunday, with a further qualifying session for the final feature race taking place in the morning. Race 2's grid will be Race 1 finishing order with a reverse top six.
2019 Castrol Toyota Racing Series – Round 2 Teretonga Race 1 Result
1. Marcus Armstrong (New Zealand)
2. Liam Lawson (New Zealand)
3. Artem Petrov (Russia)
4. Cameron Das (USA)
5. Lucas Auer (Austria)
6. Kazuto Kotaka (Japan)
7. Calan Williams (Australia)
8. Brendon Leitch (New Zealand)
9. Esteban Muth (Belgium)
10. Dev Gore (United States)
11. Raoul Hyman (United Kingdom)
12. Petr Ptacek (Czech Republic)
13. Jackson Walls (Australia)
14. Thomas Smith (Australia)
15. Parker Locke (USA)
DNF: Petru Florescu (Romania)
2019 Castrol Toyota Racing Series
January 12-13 – Dorothy Smith Memorial Cup – Highlands Motorsport Park, Cromwell (completed)
January 19-20 – Spirit Of A Nation Cup – Teretonga Park, Invercargill
January 26-27 – NZ Motor Cup – Hampton Downs Motorsport Park, Waikato
February 2-3 – Denny Hulme Memorial Trophy – Bruce McLaren Motorsport Park, Taupo
February 9-10 – New Zealand Grand Prix – Manfeild Circuit Chris Amon, Feilding
Caption:  Marcus Armstrong (right) and Liam Lawson fight it out for the win at Teretonga. Armstrong prevailed. Picture Bruce Jenkins.