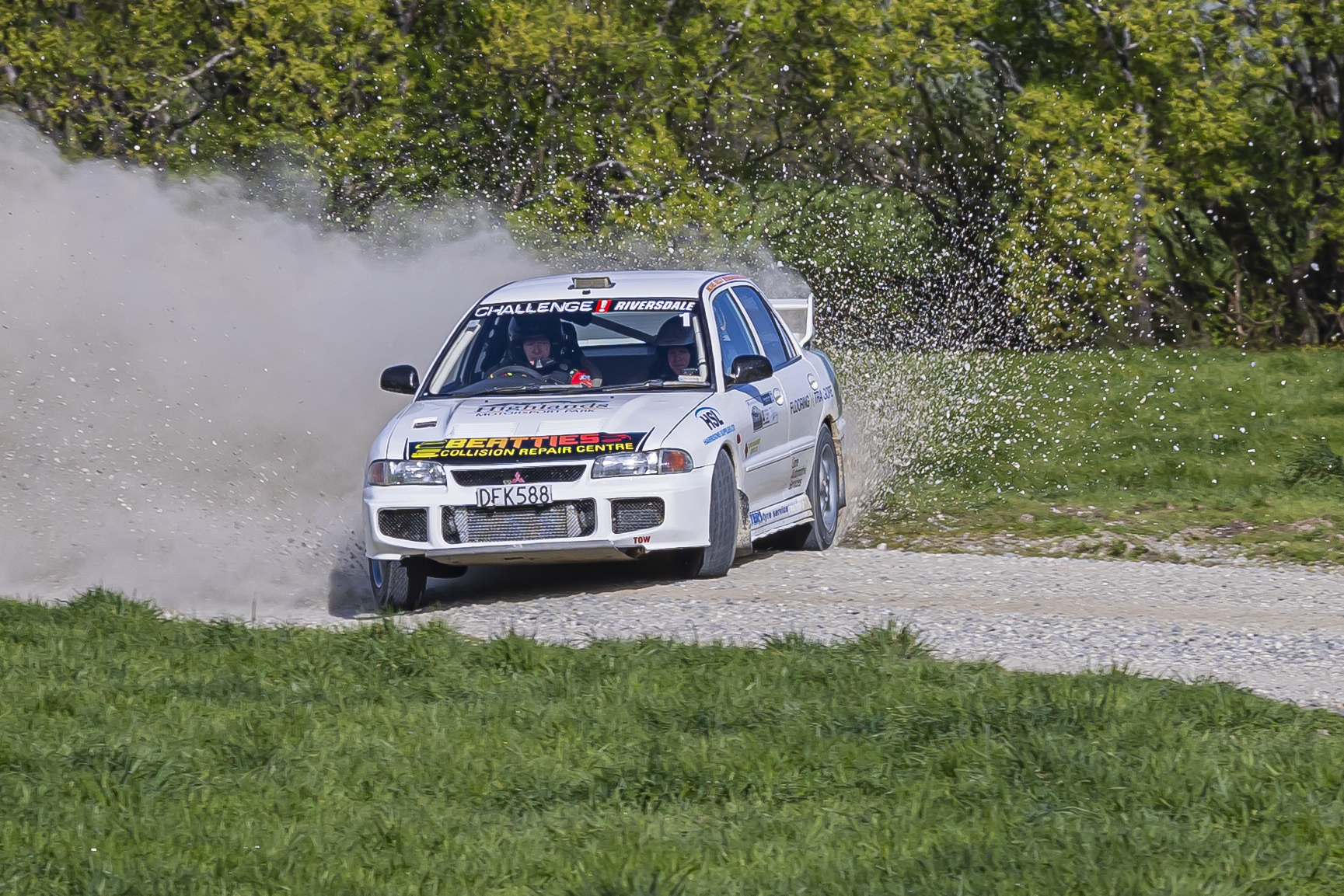 Andrew Graves grabs another southern rally win at Wyndham
Andrew Graves of Gore added another rally victory to his impressive record when he won the MLT Barry Robinson Memorial Wyndham Rally on Saturday.
Graves, with son Hayden alongside in their Mitsubishi EVO 3 won four of the five Special Stages to win by 43.5 seconds from Wallacetown driver Carter Strang and co-driver Stewart Robbie in an EVO 10. Caleb MacDonald of Queenstown with Kerran Graeve alongside in an EVO 6 was third.
After Strang won the opening stage, Graves won the remaining four stages of the event which remembered iconic driver Barry Robinson. At the finish, prior to receiving the Barry Robinson Memorial Trophy, Graves said, "this one is really special. It means a lot to me. I remember watching Barry at Ashley Forest on TV. We had our share of issues today. I was slow on Stage 1 and sweeping the road of loose gravel as the first car on the road was not ideal but it is all part and parcel. Being a rally that hasn't been run for a long time meant it was a level playing field. Carter Strang pushed us hard all day, it was an awesome battle. It was a shame he had dramas on the last stage. There was all sorts of traps and hazards throughout." Graves also acknowledged his son and co-driver Hayden, his sponsors and Glenn Frew, who fixed car the after an excursion at his last event.
Strang said it was his plan to go hard in the first stage. "Andrew is the king of going fast from the start so I went hard but he responded very well. The roads were quite 'pebbly'. Stage 3 was like ice because of the pebbles. Stage 4 was absolute magic but in the last stage we had issues on a couple of corners. We had brake issues from early on and in the last stage the pedal was very long and I lost a bit of confidence." Strang was just 18.1 seconds adrift before the final stage but the issues cost him further time.
Derek Ayson of Gore was fourth in David Kirk's Ford Fiesta Proto with Christchurch driver David Clearwater fifth in an EVO 4 and Paul Cross of Gore sixth in a Subaru Impreza H6. Jeremy McIlwrick (Winton), Wayne Muckle (Ashburton), third seed David Quantock of Ohoka and Ray Wilson of Pokeno rounded out the top ten.
With the top three ineligible for class prizes, Ayson took MacDonald Perniskie 4wd Class D honours, while Muckle took Macks Panel & Paint Class E and Cross, Avon Engineering Class H.
Gareth O'Hara of Oamaru took Damian Vincent Builders Class C in 11th place and also took out the Glen Shirlaw Memorial Trophy for the first Otago Sports Car Club driver home.
Greymouth's Graham Ferguson claimed Gill Repairs Class G in 12th, Ian Warren of Dunedin, MSK Medical Imaging Class B in 14th while Richie Chadwick took Advance Agriculture Class F in 15th place. Kevin Brockie of Dunedin took out Inders Marineland Class A in 43rd place.
Thomas Paul and Terri Taylor of Cromwell had a troubled day in their Honda Civic but brought it home to win the Barry Robinson Memorial Challenge Trophy for the first Central Otago Motorsport Club crew home.
Others to excel on the day were Nigel Marshall in a leased Ford Escort BDA who was in sixth place with one stage remaining after three top ten stage results only to have an off on the final test. Mark McMillan of Invercargill was third after the first two stages but clipped the water table and punctured a tyre, which dropped him down the order. He bounced back to record the second fastest time on the final stage. Other top seeds to have trouble were James Worker who went off the road on the third stage due to a broken CV and Deane Buist who succumbed to mechanical troubles. Buist was fifth overall and first two-wheel-drive car to that point.
Special Stage 2 saw Ford Escort drivers Gregg Cooper and Stephen Gill crack the top ten while Phil Terry scored a top ten result in his Subaru Impreza in Stage 3.
Striking trouble during the day were Otago drivers Tom Bond and Ian Elliott, Southlanders Graham McRae and Dave Jenkins and Aucklander Andrew Keighley who all retired with mechanical issues.
The Alexandra Auto Electrical Novice Driver and Co-Driver Awards went to driver Jamie Donaghy of Queenstown and co-drivers Roger Capil and Libby Mitchell.
Rally Secretary, Roger Laird said, "it was a very special day. Wyndham was buzzing and there were a lot of happy faces. It was a fitting tribute to Barry."
The rally was supported by the Mataura Licensing Trust, the naming sponsor, along with Traffic Management Services, Rayonier NZ, the Southland District Council, Gore District Council, Prime Range Fresh Shop Lorneville, Matt McRae and the landowners on the rally route plus the Special Stage and Class Sponsors.