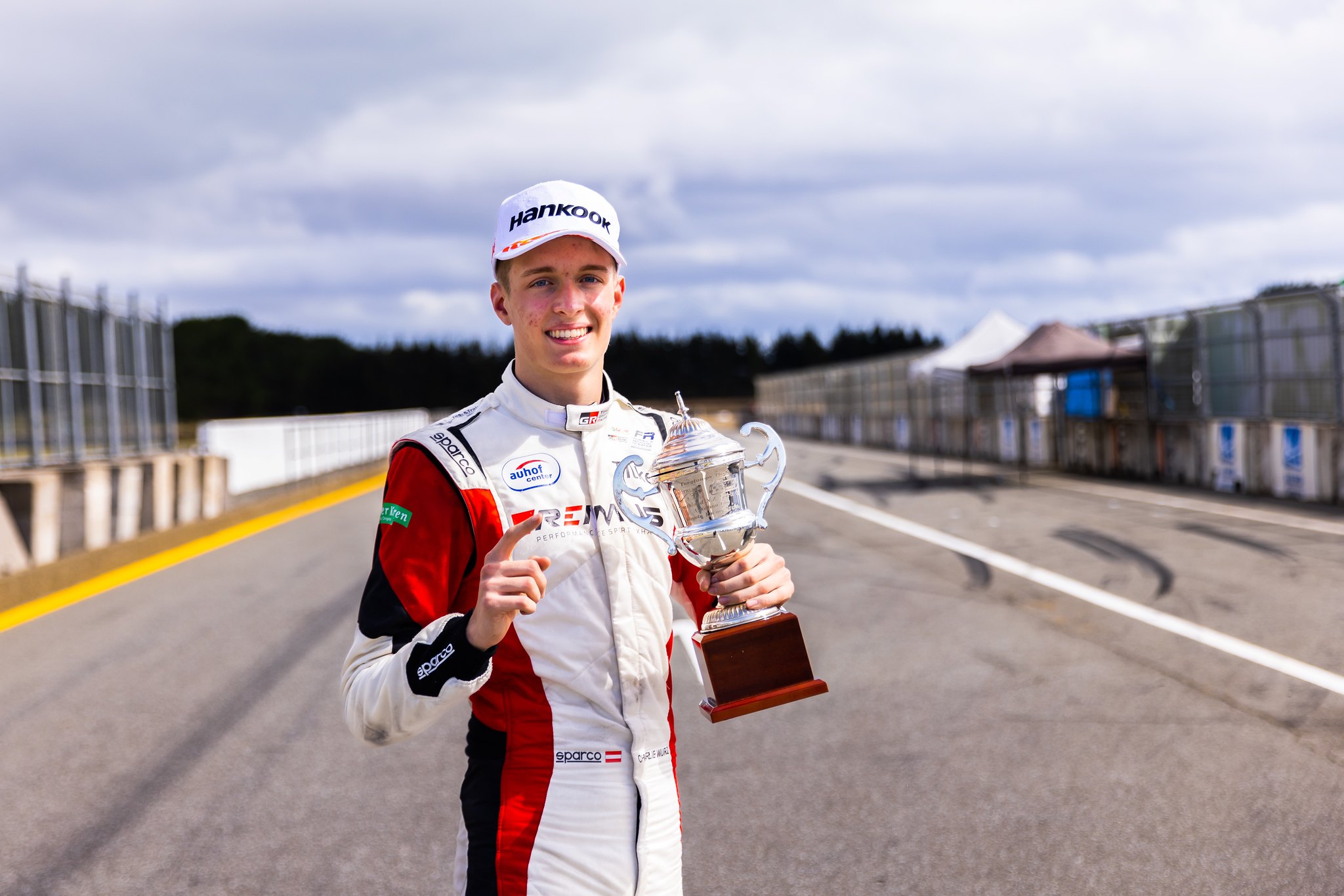 Advantage Wurz – Hedge and Abel now main challengers
Austrian Charlie Wurz continues to go from strength to strength in the 2023 Castrol Toyota Formula Regional Oceania Championship – leaving the South Island leg of the New Zealand-based championship with his first wins and an increased points advantage.
Wurz completed round one with the series lead, but didn't have a race win to his credit. He put that right at Teretonga with two wins from three, including a lights to flag win in the weekend's feature race, the Spirit of a Nation Cup.
He now sits 25 points ahead of his nearest challenger, Kiwi Callum Hedge. Hedge had a better weekend at Invercargill, clocking up a brilliant wet-dry-wet win in the Sunday morning race and finishing runner-up to Wurz in the other two races.
Outstanding again in the first qualifying sessions, he started the first race on pole position and the feature race from second on the grid, but it was his drive in the reverse top eight race that caught the eye. In tricky conditions he made quick work of Wurz around the outside of the first turn before moving swiftly through the field and passing leader Ryan Shehan before building a six second margin at the flag. Speed not in doubt, he now needs to finish consistently ahead of Wurz. Not an easy task but one the Kiwi young gun relishes.
United States racer Jacob Abel remains third in the points after a solid weekend in which he took points for a third, fifth and sixth place finish. Former Indycar racer and USA motorsport star Spencer Pigot joined his campaign as driver coach and it looked to have paid dividends as Abel looked fast and smooth throughout the weekend.
He may have less than two years circuit racing expertise but Australian Ryder Quinn is continuing to impress in this season's championship, taking two seventh place finishes over the weekend and his second series podium on Sunday morning. As his speed is developing in the championship, so he is maintaining consistency and it is very much to his credit that he sits fourth overall. A win might not be too far away.
Liam Sceats had another solid weekend for M2 Competition – continuing to make steady progress in his first major junior formulae championship. He was competitive throughout the weekend again and took another feature race podium along with a fifth and sixth in the earlier races. He now sits an impressive fifth in the points table.
Britain's Josh Mason came alive in the feature race at Teretonga, moving away from mid-field and latching onto the back of the leading group of four and it was his best performance of the championship so far. He was well into the groove in his Kiwi Motorsport entry, nailing fastest lap after fastest lap. With another fourth place from the weekend and an eighth, he sits sixth overall in the points table, five ahead of the next Kiwi in the field, James Penrose.
James definitely had more pace at Teretonga than at Highlands and narrowly missed out on a front row start for the feature race. There or thereabouts the whole weekend a slipping clutch in the final race put him in the pits and although he got going again after losing two laps, it cost him dear on points. His other results, a fifth and a seventh place, means he sits seventh overall on the table. He'll be hoping for three solid results next time out at Manfeild.
The second round couldn't really have gone worse for Highlands feature winner David Morales. The likeable American was a little off the pace on early testing at Teretonga but Lady Luck most certainly ditched him for the weekend as he recorded two DNFs and an eighth place finish which included a five second penalty for lining up in the incorrect position in his grid box. Currently eighth in the table, he'll be hoping for a return to form this coming weekend.
Chloe Chambers is proving something of a find in this year's championship. Fast and consistent and able to handle the physical nature of the car and of the tracks very well, she has adapted extremely well to the challenge of racing some of the best up and coming young single seater racers and can count herself amongst them if this campaign is anything to go by.
Ryan Shehan was another to make a major step forward at Round 2 for Giles Motorsport, the American continuing on an impressive improvement curve and bagging his first podium in the championship after a great drive in the challenging conditions of the Sunday morning race.
The remaining three drivers in the field at Round 2 – Brazil's Lucas Fecury, Australia's Tom McLennan and New Zealander Bree Morris, all had moments at Teretonga where they looked strong and they all made a distinct improvement on pace in comparison to the leaders. Morris particularly found some worthwhile improvements but a couple of mistakes probably cost her a top ten finish in the feature.
This weekend it's the first of the North Island rounds at another iconic New Zealand track, Circuit Chris Amon Manfeild. The field will be joined by New Zealander Billy Frazer and Ireland's Adam Fitzgerald this weekend, bolstering it to 15 cars.
The drivers will have plenty of time to get their eye ion at the compact 3.3 km track, with testing on Thursday and Friday, before qualifying for the first race on Saturday morning. That first race will be on Saturday afternoon. There will be qualifying for the feature race on Sunday morning, before the second race which will have a reverse grid formed from the top eight finishers in Saturday's event. The weekend concludes with the longer feature race, the winner of which will put their name on the Dan Higgins trophy.