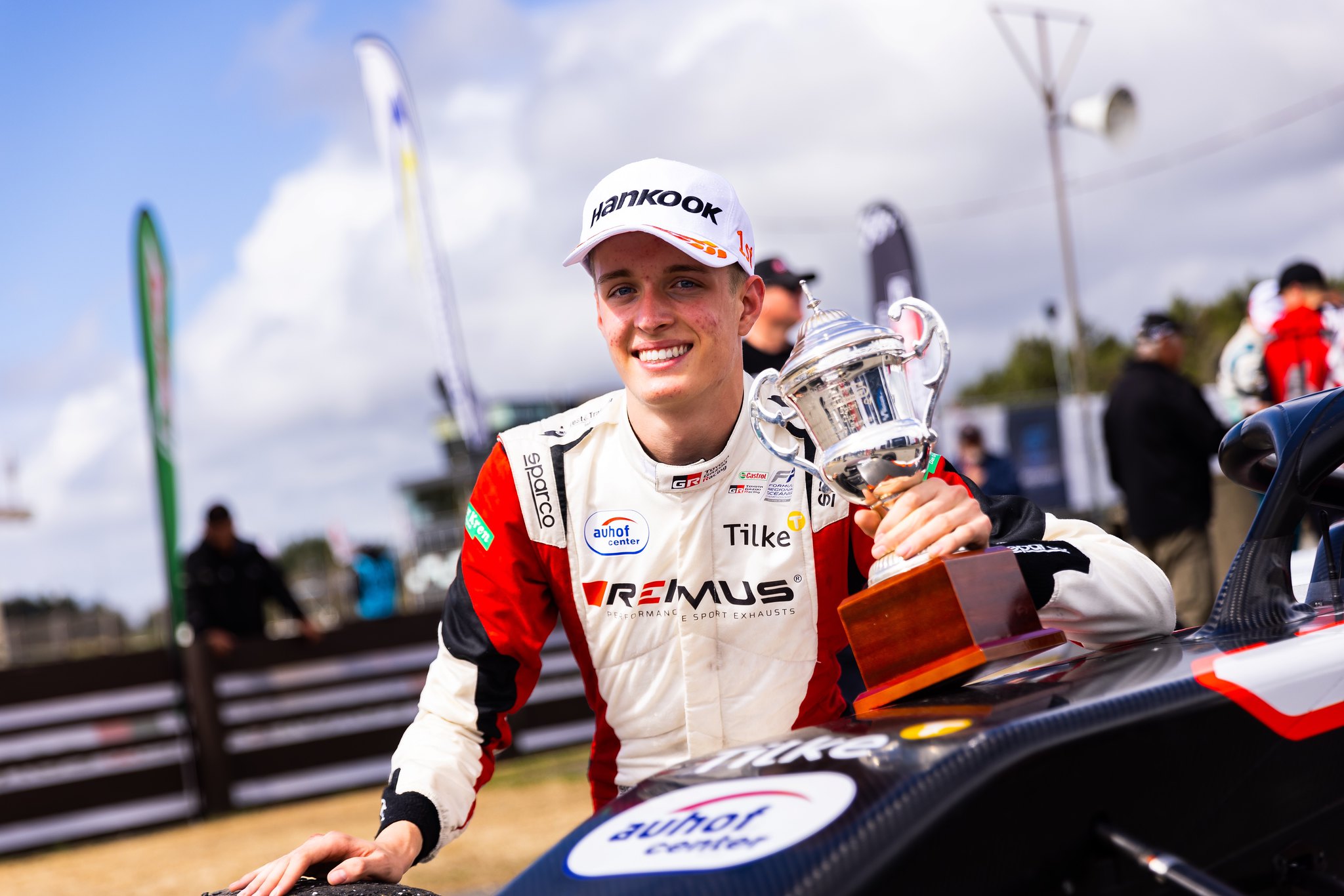 Spirited Wurz holds off Hedge for Teretonga feature win
Castrol Toyota Formula Regional Oceania Championship leader Charlie Wurz extended his points advantage with a lights-to-flag win at Teretonga to win the Sunday feature race and the Spirit of a Nation Cup.
Starting from pole position, Wurz made the best getaway in the entire field and had a car length or more on fellow front row starter Callum Hedge as the field swept into the first corner. After that he controlled the race, despite Hedge getting close on occasion throughout the 30-lap race. It meant an increased points lead for the Austrian as the second round concluded.
"I can only be happy with this," said the championship leader afterwards. "We were good off the line and I knew that was the most important thing. Callum was very fast today and may be I lacked a bit of race pace compared to yesterday so we will need to have to look at that but the team have worked on the qualifying pace and that is so important in the championship and especially here.
"I wasn't sure exactly what to expect at the start but I went a little off my instinct and it worked well. I knew at turn one I was halfway there but the tyres did drop off a bit later in the race so I had to keep a close eye on Callum in the mirrors."
The front two didn't have it all their own way in this race as they were followed closely throughout by third placed Liam Sceats – who took his second feature race podium in a row – and Josh Mason, who came alive in the second half of the race and fought his way onto the back of the leading trio with a series of fast laps that were tenths quicker than the leaders. At the flag they were separated by just two tenths of as second after what had been the best battle in the race.
Jacob Abel and Ryan Shehan also ran in close proximity throughout the race but it was a lonely affair for the Kiwi Motorsport and Giles Motorsport drivers. They too finished the race just a few tenths apart, but were five seconds behind Mason and three ahead of Ryder Quinn in seventh and Chloe Chambers in eighth, who impressed again with her consistency and endurance in a longer feature race.
Tom McLennan made it into the top ten again in ninth and Lucas Fecury bagged his second top ten of the weekend. Bree Morris made her best start and was looking like she was going to put in her best performance of the championship so far, but a couple of errors pushed her back down to 11th
It was an even worse race for James Penrose, who had shown great speed over the weekend and probably deserved better than 12th place after a slipping clutch forced an early stop in the weekend's big race.
David Morales – who a week ago was on cloud nine after a feature race win at Highlands – completed a miserable weekend parked by the side of the road with two laps to go after debris damaged his radiator and ECU.
The Castrol Toyota FR Oceania series now heads to New Zealand's North Island for the third round at Circuit Chris Amon, Manfeild, another Kiwi venue steeped in domestic and international motorsport history.