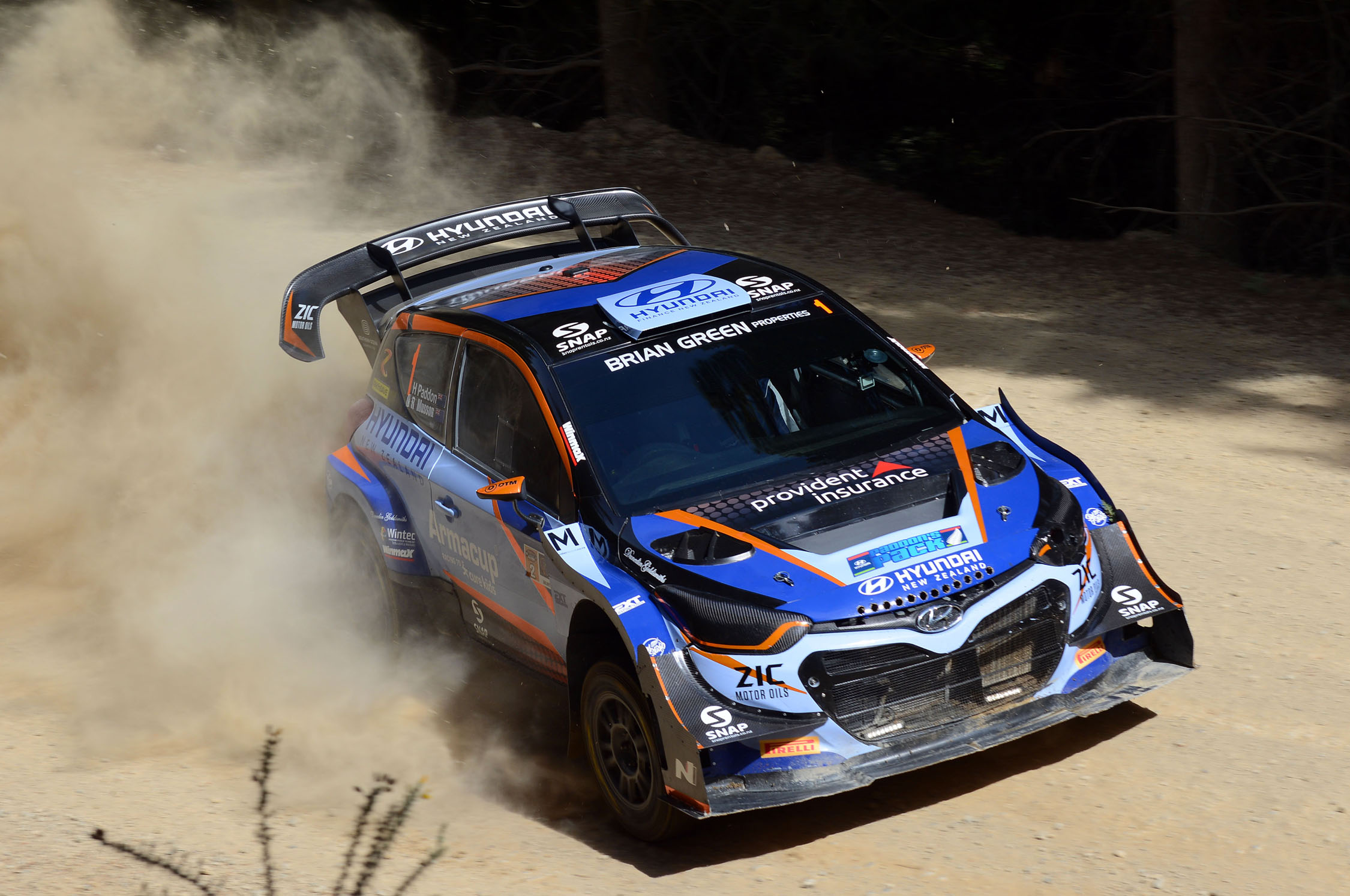 2019 Winmax Brakes by Paddon Rallysport Ashley Forest Rallysprint
2019 marks 40 years since the inception of the Ashley Forest Rallysprint. The rallysprint has attracted New Zealand's top drivers over the years and 2019 is no exception. With its elimination style, the drivers must complete a faultless run each round or risk not going any further in the event. After the qualifying rounds the fastest 32 competitors go through to the elimination runs. The field reduces by half until only fastest two competitors remain. They then go head to head for overall victory.
Hayden Paddon returns in his Hyundai i20 AP4++ and he is looking to set a new course record and win the event. His Hyundai has been transformed from rally spec to rallysprint trim.
Also looking to set a new course record is current record holder Sloan Cox. In 2016 Cox broke Kim Austin's record of 56.57 seconds that had stood for 17 years. Cox broke it again the following year in a time of 54.96 seconds. It did look like Hayden Paddon was going to beat it in 2018 when he came tantalisingly close with 55.00 seconds before an engine failure in the Top 16 round ended his day. As well as his Hillclimb Beast Mitsubishi Evo 8 Cox is also entering a front wheel drive Mitsubishi Evo 10 in the Two Wheel Drive Unlimited Class. His main competition for the honours in this class will be Chris Hey in his Toyota MR2. He has dominated this class since 2008 and is the current Two Wheel Drive record holder. In 2017 Hey broke Kim Austin's long-standing Two Wheel Drive record of 1:02.45 set in 1988. His record of 1:02.15 will be in the sights of both Hey and Cox.
Another top contender is Mike Tall in his Mitsubishi Mirage. His 2nd placing in 2012, 3rd placings in 2014 and 2017 and 4th placing in 2016 show that he is capable of getting a good result here. 2019 will be the 10th consecutive year that he has competed at the rallysprint.
Another long-time competitor is Trevor Crowe whose motorsport career spans well over 50 years. He has competed in most of motorsport's varying disciplines. Crowe's V8 Starlet took him to victory in 1985 when he became the first South Island driver to win the event.
It is not only competitors who have a long-standing association with the Ashley Forest Rallysprint. The ex-Kim Austin Mitsubishi Starion in which he set the course record, now owned by Graeme Bjerring, made its return to the event in 2017 and it will be back again this year.
2019 will again see an Australian based rally driver on the entry list. This year it is Stewart Reid. Reid, who has competed in the Otago Classic Rally, the South Canterbury Rally and the Silver Fern Rally, is competing here for the first time in his Ford Escort MK2.
Another Ford Escort MK2 in the field is "Baby Blue" owned by Frank Kelly. "Baby Blue" will be driven by Gary Hawkes in its last New Zealand event before it returns to Ireland. Kelly drove the Escort at the recent Otago Classic Rally and the Rally of Whangarei.
The 0-1300cc 2 Wheel Drive is once again proving popular with 13 entries to date. Competition for the class honours will be fiercely contested as the drivers vie for the Combes Cup. With last years' class winner Jono Taylor not entering this gives Chris Herdman the chance to reclaim the title he won in 2016 and 2017. Also up for grabs in this class is Comby's Rookie Cup, also donated by Geoff Combe, for the highest placed new comer in this class at the rallysprint. Several drivers fall into this category including Scott Harland driving the ex-Hayden Paddon Leyland Mini.
Event sponsor Winmax Brakes by Paddon Rallysport, with support from Hyundai New Zealand, have generously contributed a prize pool. One of the categories is People's Choice where the public choose one of the competitors' cars to win a $1,000 cash prize.
With a full field that includes four previous winners the Winmax Brakes by Paddon Rallysport Ashley Forest Rallysprint is going to be a great weekend of motorsport. Follow the event on the live stream through our Facebook page or come up and watch the action which gets underway at around 9.30am each day. Admission prices are as follows: Saturday $10 Sunday $15 Weekend Pass $20 Family Pass $30 EFTPOS will be available at the gate.
Media release: Ratec Motorsport Inc.
Photo: Geoff Ridder