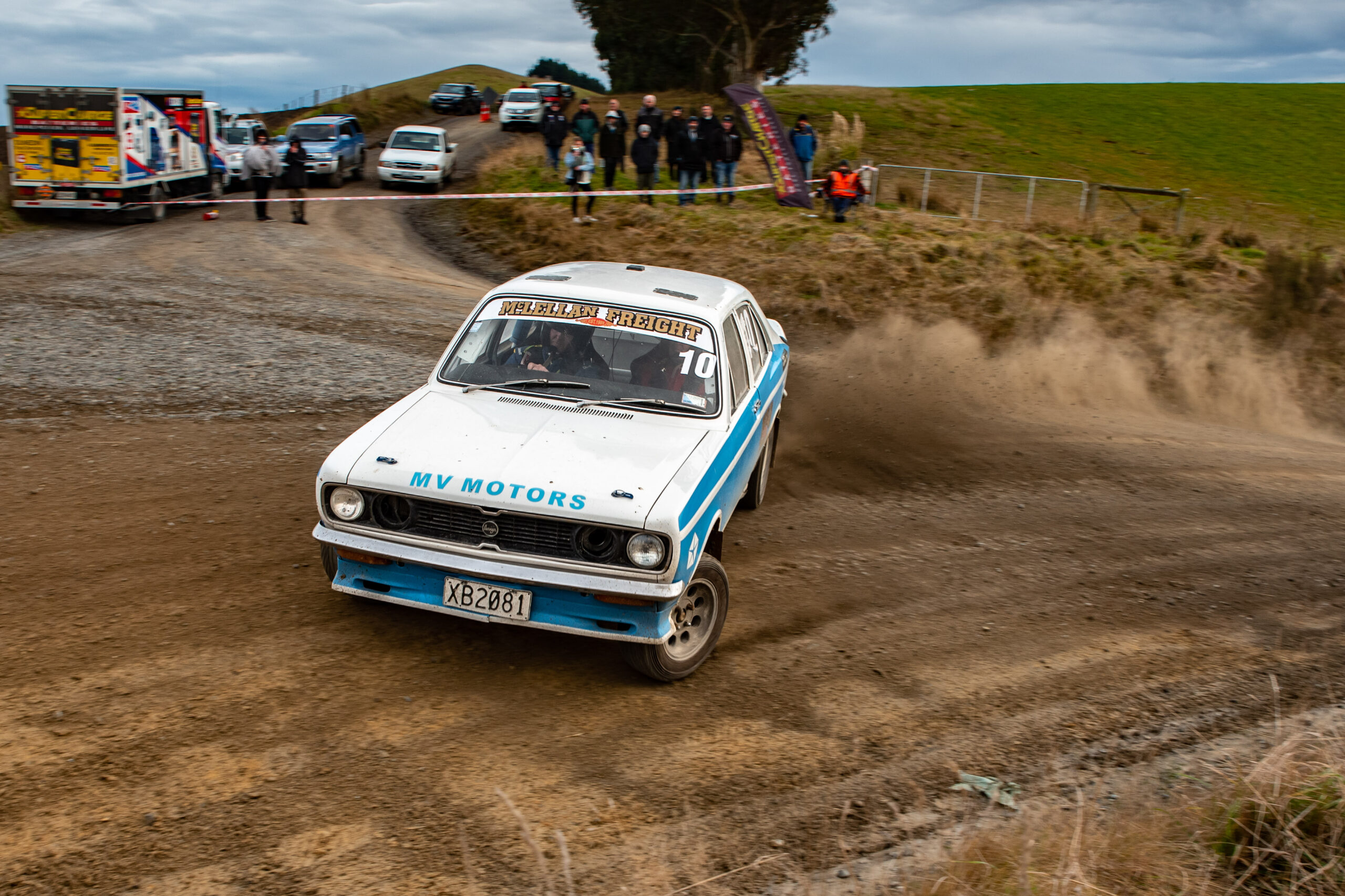 Twenty years of Catlins, Graves, Mills and Ayson
It is a special year for the Catlins Coast Rally this year as the Eastern Southland Car Club hold the 20th edition of the event on Saturday 8 August.
Amongst the eighty-four entries are two drivers, Andrew Graves of Gore and Barry Mills of BaIclutha, who have competed in every single one – with a fair degree of success to boot. There is another as well, Derek Ayson, who did the first eighteen before helping the club by performing Zero Car duties for the last two years.
Graves has both driven and co-driven in the event and has experienced wins in both roles. As co-driver for Derek Ayson, the duo won the event in 2005 before Graves took the wheel himself. He remembers the 2007 event well, because he rolled, but after stepping into his Mitsubishi EVO 3 Graves took wins in the event in both 2010 and 2013 before returning to the co-driver seat alongside Tony Quinn in 2014 and 2015. He returned to the driver seat, once again in his EVO 3, before winning in 2017 and 2018. Last year he grabbed the lead early and was cruising with a comfortable lead only to slide off the road in Stage 5 after a wheel parted company with the car.
"I really enjoy the rally. I look forward to it every year. I am looking forward to it this year. It is a tough field including Josh Marston of Christchurch." Graves has co-driven for three seasons with Marston in a Holden Barina as they campaigned in the Brian Green Property Group New Zealand Rally Championship where they finished runner-up last season. While Graves has co-driven for Marston, "this will be the first time I have gone head to head with Josh."
"He is an impressive driver," says Andrew reflecting on his time alongside Marston. "I have done more Catlins rallies though but his car is the latest technology so it should be good fun. Whatever happens we will still have a beer together at the end of the day."
Asking for a favourite Catlins memory proves a struggle for Graves. "I guess the first win was good. I realised we were at that top level then. It was pretty awesome. Winning with my previous co-driver Jared Leebody was great and it is good now to have my son Hayden aboard. He is seventeen and Graves says it would be "great for Hayden to drive in the event one day, maybe with me as co-driver, when he can afford to pay the bills," he jokes.
Barry Mills from Balclutha is the other driver to have done every Catlins. He too, has done exceptionally well over the years. Driving an elderly 2-wheel-drive Hillman Avenger, Mills has defied the age of the car to bring it home in the top ten more than ten times in the nineteen Catlins Coast Rally's he has done to date, most recently last year when he finished tenth. Between 1999 and 2016 Mills finished every Catlins Rally but his record took a hit in 2017 when he did not finish after a mechanical problem and then again in 2018 when he rolled the car in Stage 1 of the event. He bounced back to record his latest top ten result last year. Pressed for a favourite memory he nominates the first Catlins Rally all the way back in 1999 when he finished third equal.
Like Graves, Mills has his son Daniel in the co-driver's seat and says, "Daniel wants to drive but I haven't given up yet!" Like most of the drivers in the event this year with lockdown and cancellations of events Mills has done little of late. "I did the Circle Hill Rallysprint and finished eleventh and won my class but that is the only outing for quite a long time."
Ayson did eighteen straight Catlins Rally's finishing all bar one, when he had an engine problem which forced him out. For the last two years he has assisted the club by performing Zero Car duties in his Ford Ranger, meaning he has driven the roads in those two years as well. While it is not the same Ayson says, "it is nice to be behind the wheel. I enjoy the camaraderie and it is still good to drive the roads."
The highlight for Ayson was his win in 2005, the other enduring memory from that day his battle with Hayden Paddon who went on to become the only kiwi to date to win a World Rally Championship event while he also won the 2011 Production World Rally Championship.
"We knew he was going to go far, even at that stage and he took a bit out of us in the first stage and we were clawing our way back. I think he had gearbox issues but we both remember that battle."
The rally will commence at 10.00am on Saturday 8 August adjacent to Owaka Motors and will feature approximately 153 km of high-speed Special Stages at Puaho, Catlins Valley, McNab's Farm, Tawanui, Cannibal Bay and Romahapa.
The event will conclude at Owaka at 3,40pm that afternoon.
The Eastern Southland Car Club is delighted to have the support of the Clutha Licensing Trust through their Rosebank Lodge Balclutha establishment, plus Southroads, Owaka Motors, Yuasa Batteries and Stadium Finance. The club is also especially grateful to Rayonier Matariki Forests, the Clutha District Council and the McNab Family for their assistance with the event.