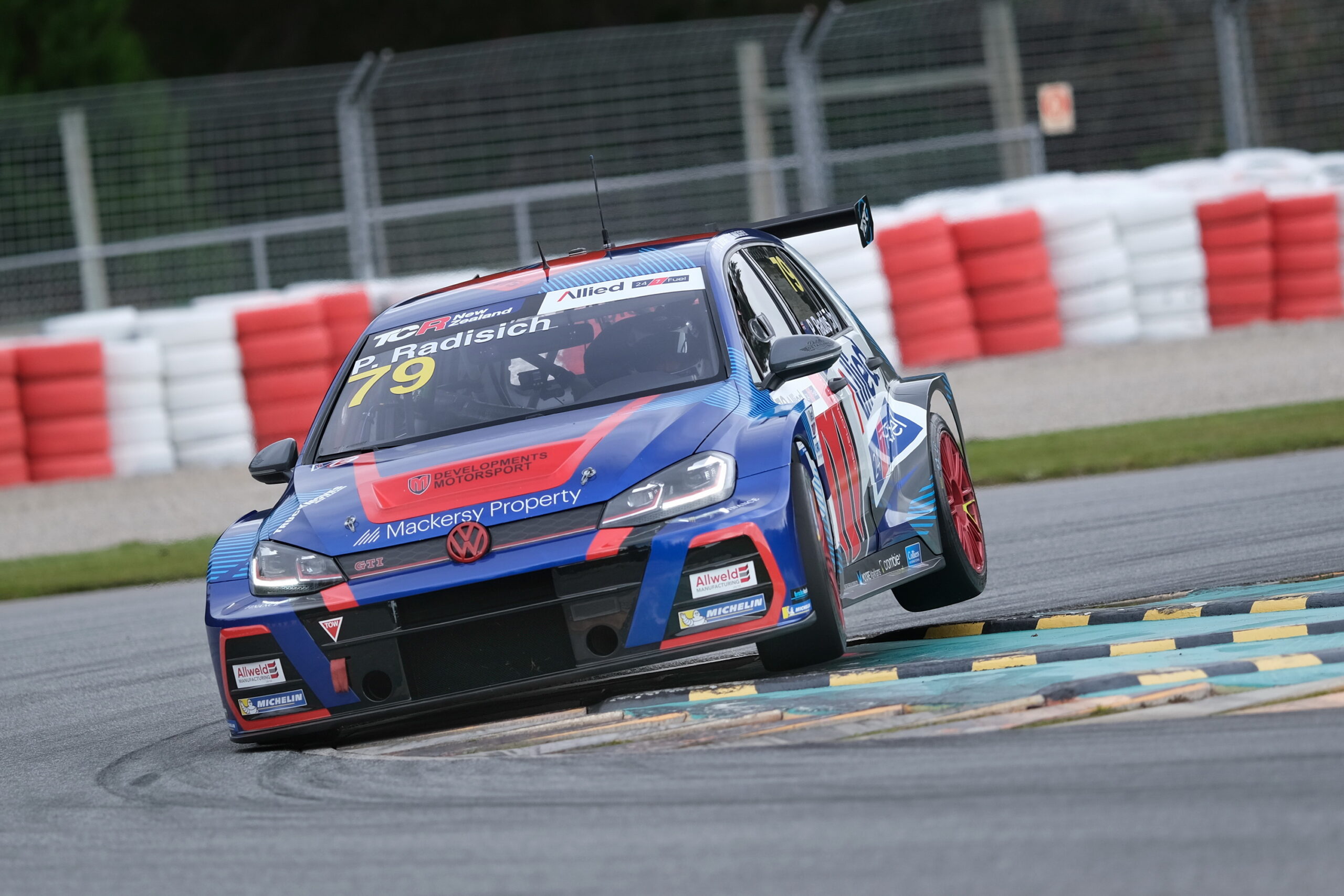 "TCR offers huge benefits" M-Developments
Results on track are always the best proof and TCR category cars certainly showed what they are capable of in the recently completed four-round 2021 Carter's Tyre Service South Island Endurance Series. Two VW Golf GTi TCRs' finished second and fourth overall in the Three-Hour competition while TCR cars filled the top four places in the Class A & B One-Hour Series. It all bodes well for the up coming three-round 2022 TCR Championship this summer that gets underway at the Highlands Motorsport Park in Cromwell, 15-16 January 2022.
It is no surprise to Barry Moore from Queenstown's M Developments. Moore finished fourth in the Three-Hour Series with co-driver Tim MacKersy as well as overseeing six other cars, including two TCRs, in the Series.
"Really, it's no surprise," commented Moore. "For me the benefits of running and competing a TCR are huge. They are factory built with factory support.
"Our TCRs have a customer support network with support from the factory. The development has been done by them so there is no development required from your end, other than adjusting suspension, wheel alignment and getting it the way you like it.
"It takes away the reliability issues and you can concentrate on driving and getting better as a driver rather than constantly fixing things.
Moore makes the point citing the example of the recently imported VW GTi TCR of Grant and Cole Askew. The Askew's finished second overall in the Three-Hour South Island Endurance Series as well as winning Class B (2001-3500cc).
"That car literally got here two weeks before they were going to race," said Moore. "They have jumped straight in it, finished every race and quite high up. It shows how good the package is."
M Developments are the current New Zealand TCR agents for VW, Audi and Cupra.
"We handle bringing these cars in plus all the spares. It can take about 6-8 weeks depending on if they are coming brand new from the factory or second hand from another team in Europe.
"The time to be buying them is now because the European season has finished. New cars are coming off the production line and second-hand cars are coming up for sale. As soon as the European season kicks off then there will be nothing on the market."
"We cover logistics from start to finish. We have a direct link with the manufacturer as well as other teams so can deal with purchasing, shipping, customs and then full inspection and race prep when the cars land in New Zealand."
Meanwhile, M Developments are gearing up with their own and customer cars for the 2022 TCR New Zealand Championship.
"For me, we used to race in other categories and have found that the costs of running a TCR is about a third to a half of what we used to spend. They are reliable, make good lap times and it is all about the driver's skill, rather than power. Set the car up to give the driver confidence and then it is all about lap times."
International Kiwi driver Chris van der Drift won the inaugural TCR New Zealand title in a star-studded field in April. Van der Drift won two of the three races with ex World Rally Championship driver Hayden Paddon winner the final decider. Also competing in the field was Greg Murphy, two-time World Touring Car Champion Paul Radisich along with young-guns Jordan Michels, who finished runner up, Lochlain Fitzgerald-Symes, Gene Rollinson and Jaden Ransley.
Two South Island rounds are expected to take place in January 2022 with one final round in the North Island either in late February or early March. While the dates are still to be confirmed, all three rounds will be at Speed Works promoted events.