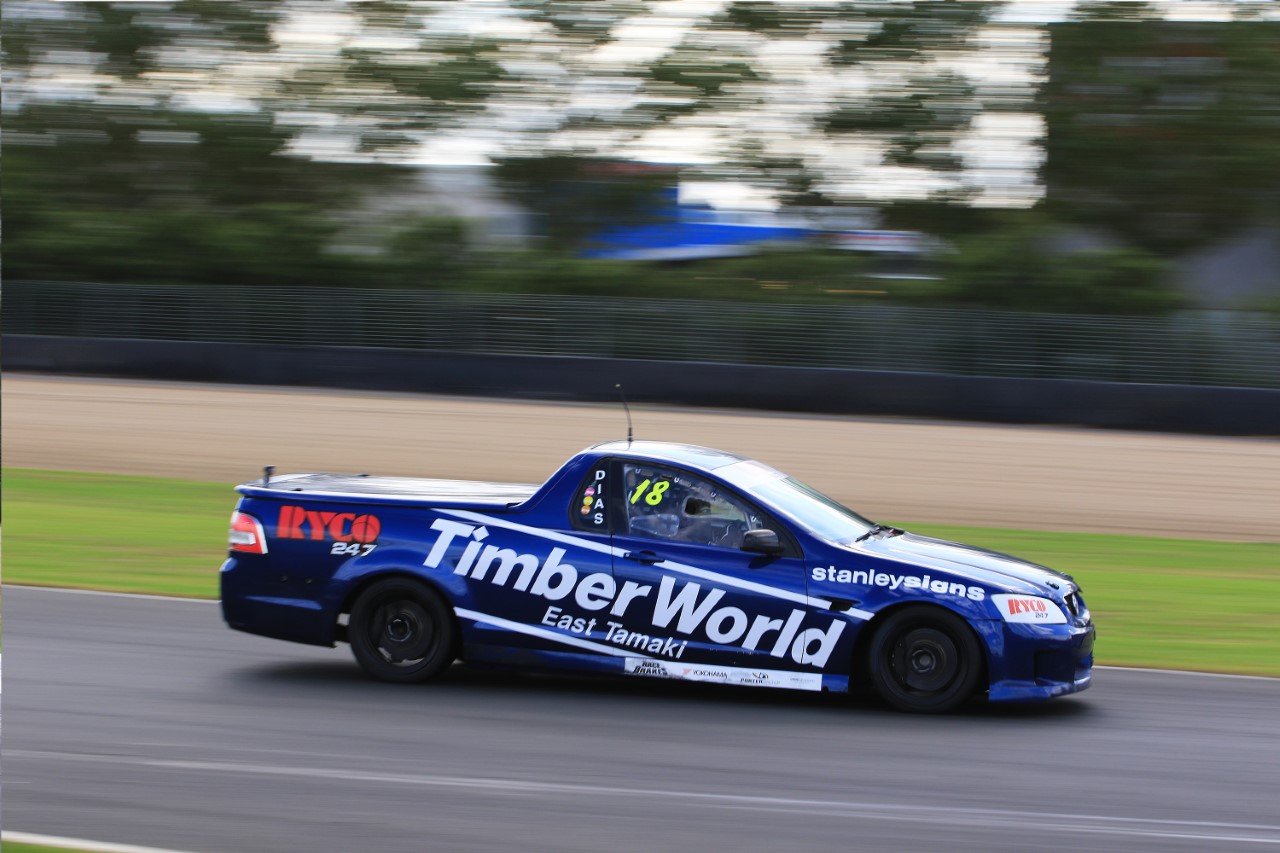 Shane Dias claims pole as times tumble in V8 Utes qualifying
After two intense practice sessions and equally frantic times in the pits, Shane Dias claimed a hard won pole in Round Two of the RYCO 24•7 V8 Utes racing championship at Pukekohe. Peter Ward set the early pace in qualifying until Shane posted a blistering 1.16.343 lap – a fitting reward for a fortnight of late nights massaging the panels and eliminating engine issues on the TimberWorld Holden.
Just getting onto the track was quite an effort for David 'Shaggy' Lowe who – with the help of several other teams – managed to change the gearbox between practice sessions. The effort paid off with a big lift in performance for the RYCO 24•7-backed Holden ute. Gearbox issues, however, plagued the Ford of Greg Kroef who exited the session early, while son Brad stormed to a hard won 3rd.
Nick Ross stepped in for cousin Nick in the #700 Holden ute and posted an impressive qualifying time. Qualifying also saw a brig improvement for Simon Ussher in the United Movers Ford, moving up considerably on his qualifying times in previous rounds to a well-earned 5th fastest. Rookie Daniel Ludlam continues to impress, trimming his lap times in only his second outing in a V8 Ute.
So as the session ended, here's how the V8 Utes will line up for Race 1 tomorrow morning:
RYCY 24•7 V8 Utes Qualifying Times
#18 Shane Dias Holden 1.16.343
#69 Peter Ward Holden 1.16.642
#06 Brad Kroef Ford 1.17.064
#700 Nick Ross Holden 1.17.332
#94 Simon Ussher Ford 1.17.708
#82 David Lowe Holden 1.18.158
#99 Stu Monteith Holden 1.18.217
#57 Paul Fougere Holden 1.19.499
#45 Bruce McRae Holden 1.19.618.
#24 Daniel Ludlam Ford 1.19.746
#23 Greg Kroef Ford 1.39.574