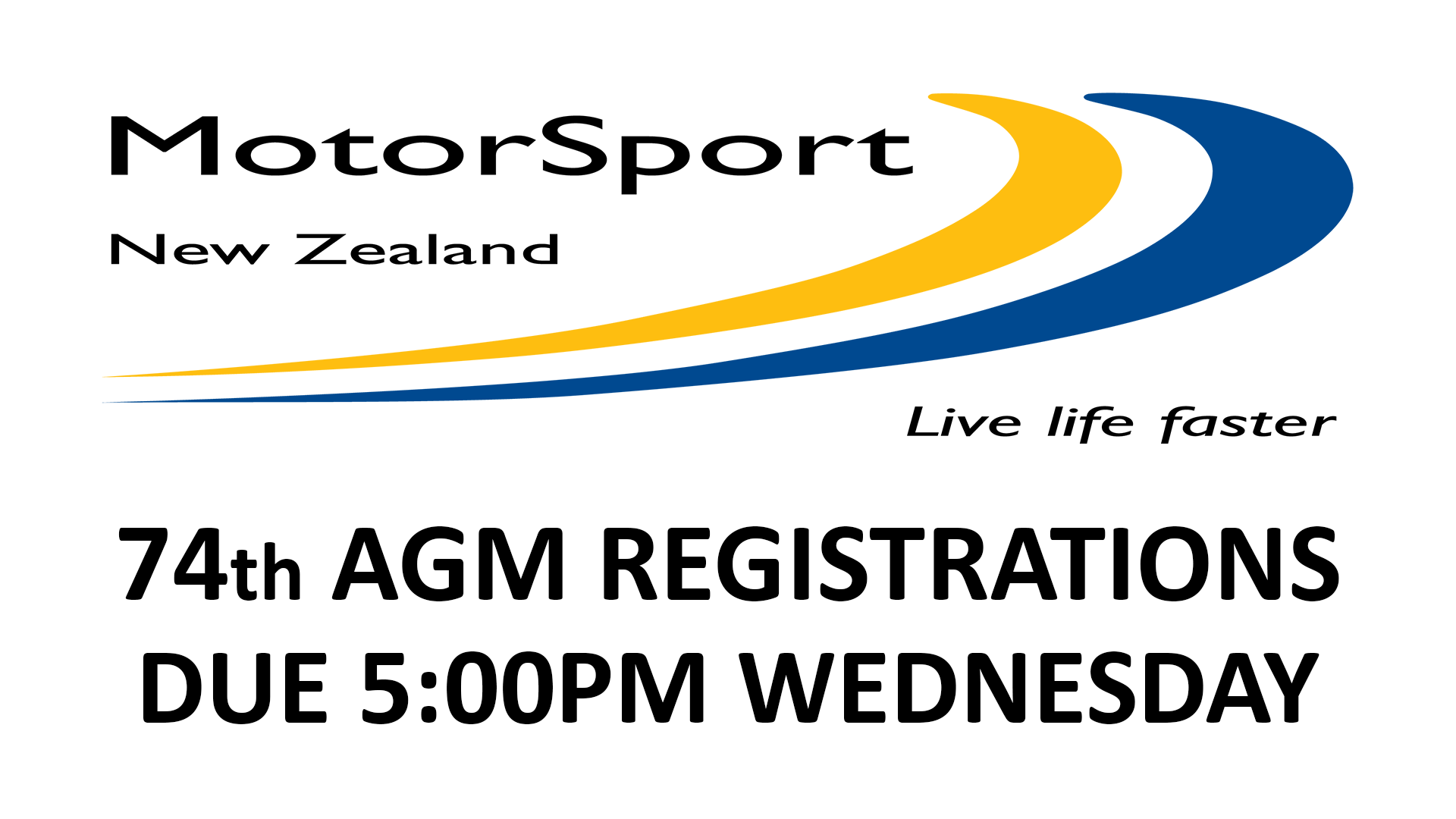 REGISTRATIONS DUE: 74th Annual General Meeting
MotorSport New Zealand would like to remind all member Clubs that registrations for the AGM and nominations for commissions, the board and awards are due at 5:00pm, 7 April.
It is important that your club attends as part of the AGM and the Conference will involve discussing and formulating the strategic plan for the sport and MotorSport New Zealand for the next three years. We want to hear your thoughts and ensure this plan is developed by our members.
We also ask that if you are yet to book your accommodation at the Rydges that you please do so soon as we will be releasing the unbooked rooms on 15 April.
Please also note the key dates relating to the 74th MotorSport New Zealand Conference, Annual General Meeting and Awards Evening.
Important Dates
Please ensure you follow the guidelines when completing the online forms and ensure they are submitted before the deadlines specified when the forms are closed off. The following table has been included to provide Members with a helpful timeline to assist in the returning of the required returns.
Item
Responsible
Due Date (5.00pm)
Remits to alter the Constitution
Member
11 Feb 2021 (100 days)
Honour Award Nominations
Member
12 Mar 2021 (71 days)

Registration Form




Nomination Form




Nominations for MSNZ Awards

Member

7 Apr 2021 (45 days)

Nomination Acceptance Form




Pen Picture Form

Nominee

7 Apr 2021 (45 days)

Hotel Accommodation bookings

Guest

15 Apr 2021 (direct to hotel)

Remit Form and other items of business
Commission Workshop Discussion Items
Member
22 Apr 2021 (30 days)
Agenda sent to Board & Members
MotorSport NZ
30 April 2021 (22 days)
Additional Dinner tickets
Member/Guest
7 May 2021 (15 days)