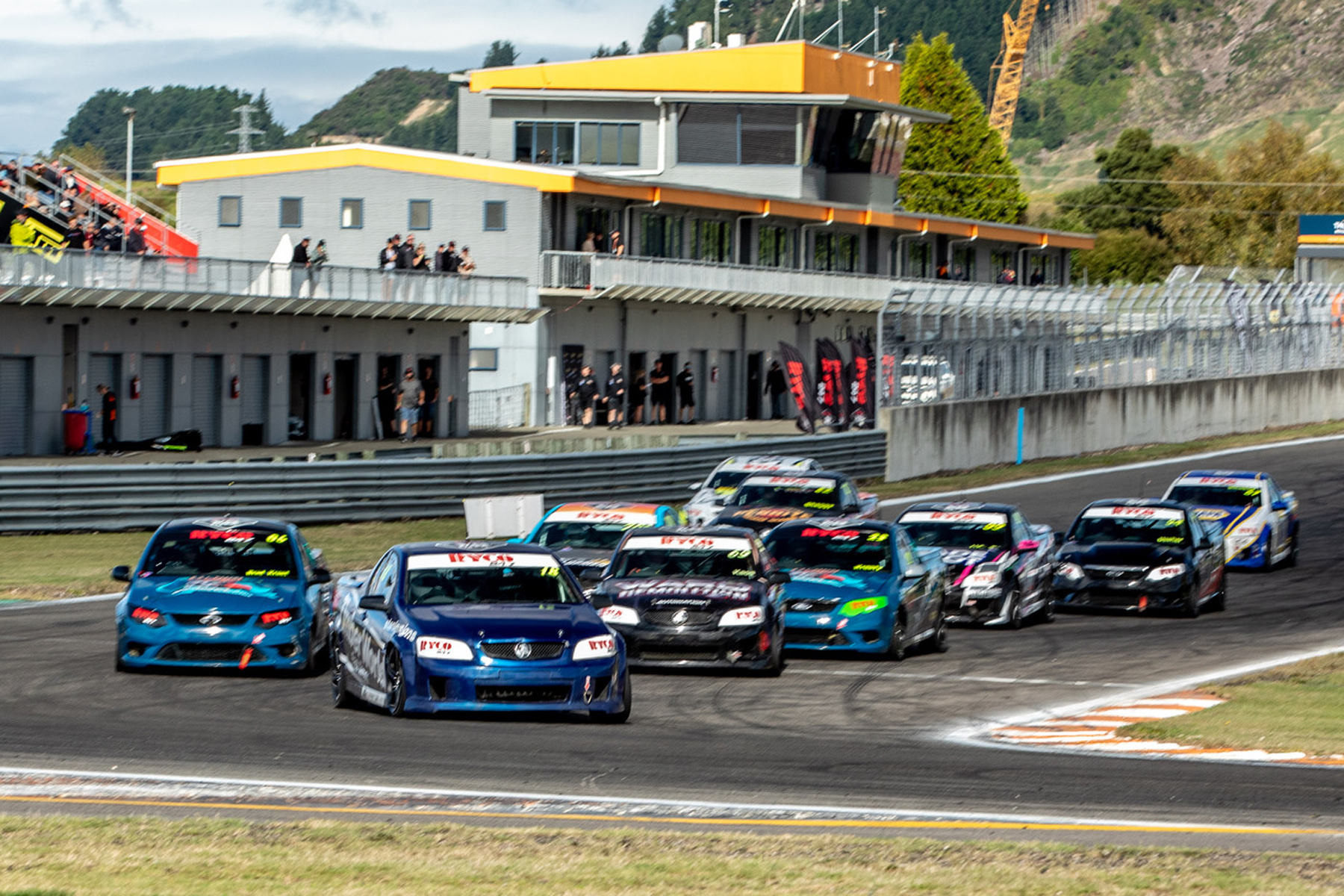 Peter Ward's V8 Utes lead reduced as Shane Dias wins at Taupo
The Taupo round of the RYCO 24•7 V8 Utes racing series was a one of mixed fortunes. Shane Dias won the round with two race wins and a second, but for other competitors it was a weekend of panelbeating and head scratching.
After racing from pole to the chequered flag in race one on Saturday, Shane Dias started Sunday's reverse grid Race Two in fast forward. After starting at the back, Shane worked his way up to lead by lap three with championship hopeful Brad Kroef chasing hard.
Further back in the midfield, however, drama was unfolding. As Simon Ussher approached the back straight on lap 3, he locked up and ran wide into Stu Monteith's Holden. Sensing carnage ahead, Phil Ross braked, locked up, nudged Brad Kroef, then hit Stu. Hard. Out came the safety car and in went a bruised and battered Phil Ross into the pits.
Despite the mayhem, Brad Kroef recovered to ultimately win Race Two as gear linkage issues relegated Shane Dias to 2nd just ahead of Greg Kroef and championship leader Peter Ward in 4th.
With the title race closing up, Race Three in the afternoon was destined to be a heated affair. Shane Dias and Brad Kroef were on the front row. When the lights went out it was a drag race to turn one. Brad prevailed. Shane piled on the pressure and managed to get around Brad on the back straight. From there, his race was in the bag.
Yet as Shane kept extending his lead, the battle between the two Kroefs and Peter Ward was less predictable. Brad Kroef was holding onto second, but father Greg was trying to get around the highly experienced Peter Ward in third. Trying perhaps a little too hard – Greg Kroef braked late and ran off into the kitty litter at the start of lap 7 and Peter Ward left him for dust.
That's how the positions of the championship contenders remained at the chequered flag. So as Shane Dias celebrated his 27th birthday that weekend, two race wins and a second place gave him something more to celebrate, helping close the gap to championship leader Peter Ward.
So as the points battle tightens, it sets up a nail-biting final round for the RYCO 24•7 V8 Utes final round at Pukekohe in 4 weeks.