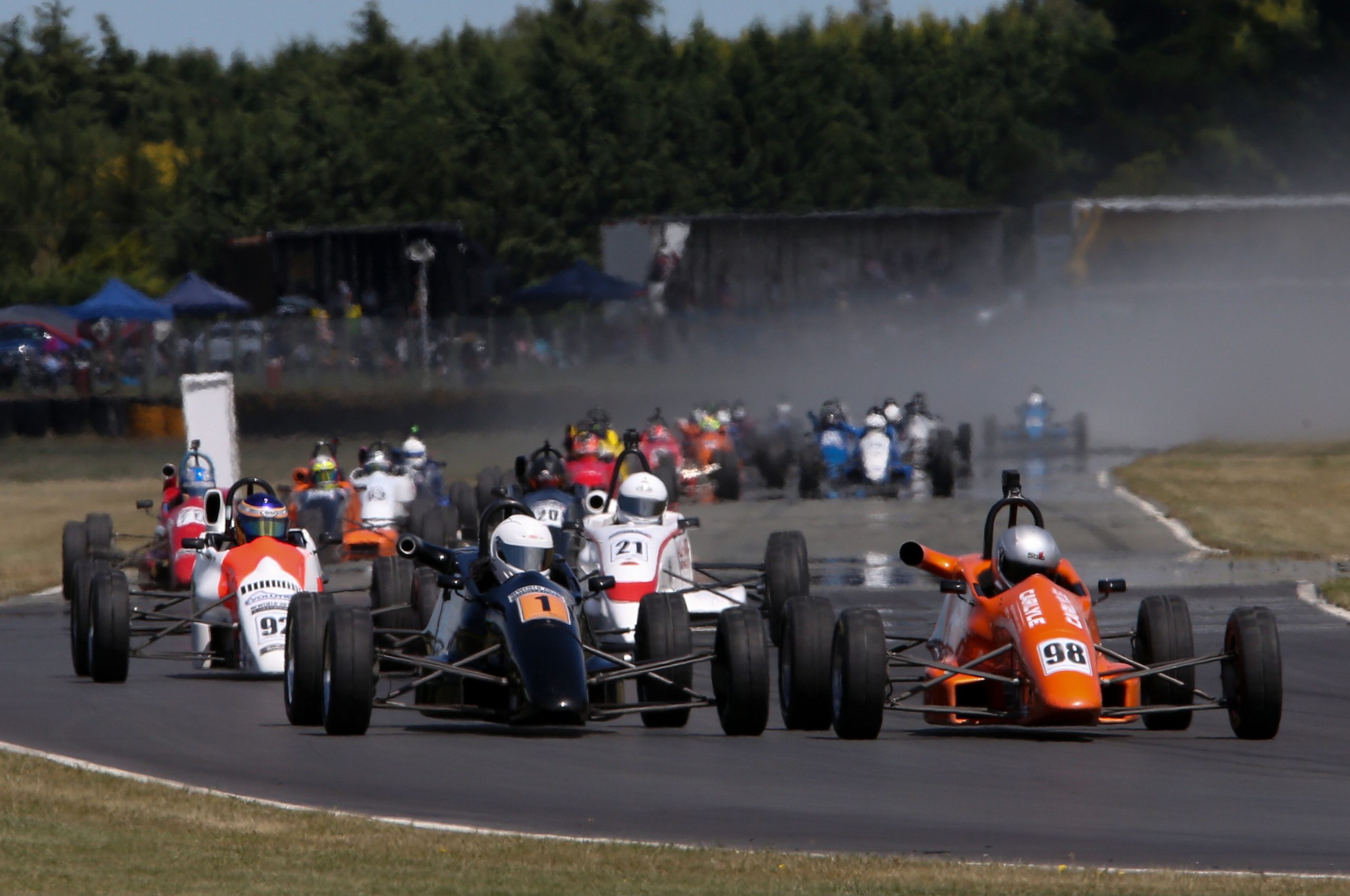 Penrose on a mission to seal South Island Formula 1600 Series this weekend
The 2020/21 South Island Formula 1600 Series roars into action this weekend with 30 cars expected on the grid of the final round to be held in Christchurch. Current series leader, James Penrose, has one hand on the overall title with an unbeatable run of race wins over the five rounds held so far. With just three races remaining and a maximum of 302-points left to play for, Penrose has a 271-point advantage over current champion Jack Noble-Adams with Zac Christensen a further 108-points back in third.
"I'm really excited about the weekend," commented Penrose. "It's good to be back racing at our home track. It would be great to get a clean sweep; however, we still need to focus on getting the little things right."
Penrose has led every lap this season and won all 15 races held so far.
"I think this weekend Zac (Christensen) and Jack (Noble-Adams) will be hungry for a race win so we need to be mindful of that and that the championship is the main focus. Everything after that is a bonus," said Penrose.
On the grid this weekend and celebrating 50 years of competitive racing is Auckland's Grant Campbell. With 43 of these years actively racing in Formula Ford, Campbell has won the national title in 1978 and 1989 as well as two separate Class 2 titles.
"It's an important category for teaching drivers, engineers and mechanics how to get the best out of a race car as well as themselves," commented Campbell. "As an entry level single seater, you can learn so much about mechanical grip and race craft."
Over this period of time, Campbell has seen many talented young drivers come through from ranks to race Formula Ford. "There are some really talented drivers currently involved in Formula Ford racing and many that have come through before them," said Campbell.
Double points will be on offer for the final race of the season at the Mike Pero Motorsport Park, Ruapuna with three Class titles also to be decided.
In Class 1, (>2000), Zac Christensen (Ray GR20) has a 224-point lead over Gary Love (Van Diemen RF01). Penrose (Van Diemen Stealth) is likely to win Class 2 (1990-1999) from Noble Adams (Van Diemen Stealth) and Ethan Anderson (Van Diemen Stealth). The competition in Class 3 (pre-1989) is tight with Harry Wilson (Van Diemen RF88) ahead of Noel Atley (Crossle 55F) by just 53-points.
Saturday sees qualifying and the first race of the round with two more on Sunday. The South Island F1600 Championship is part of the Super Weekend of Motorsport held by the Canterbury Car Club, also featuring NZ Super Trucks, SS Cup/NZ6, Continental Rennsport & BMWE30's, OSCA, RX7/Mini, and 2K Cup.