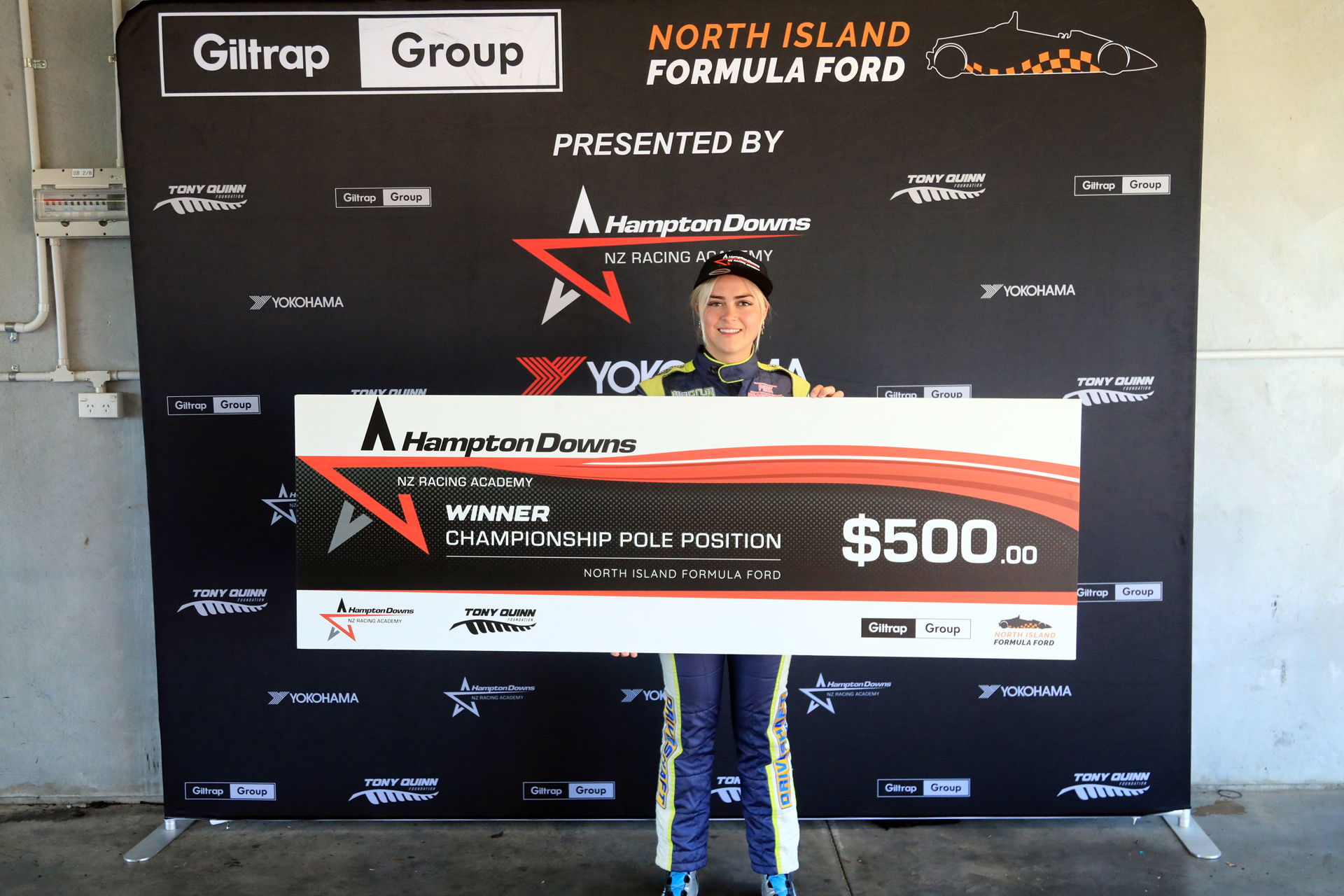 Penalty for Bree Morris spoils near perfect North Island Formula Ford Series round at Hampton Downs
Bree Morris may have had the near-perfect meeting however it was Liam Sceats that won the fourth and penultimate round of the 2021/22 Giltrap Group North Island Formula Ford Series at Hampton Downs on Sunday. Morris set fastest lap, winning the $500 Hampton Downs NZ Racing Academy cash prize and crossed the line three times in first place but a penalty, in Race 1, for contact with a fellow competitor relegated her back to sixth place.
This gave the win to Sceats (Van Diemen Stealth) who finished three times on the podium, beating Morris (Ray GR17) for the round victory by just five-points. Meanwhile, current points leader, Hayden Bakkerus (Mygale), made it difficult for his chasing rivals, putting in a solid-points haul to finish third overall and now heads to the final round in Taupo at the end of May, with a 117-point lead over Morris.
"Pleased with that," commented Sceats. "We didn't quite have the pace but were consistent with no dramas. We just kept it on the track, raced our own race and stayed out of trouble."
With a 19-car grid, including a good field of Historic Formula Fords, Morris was also thrilled with her results.
"It's been a good weekend," said Morris. "It was just Dad and I running the car so thrilled with the pole and race wins. The car was great so was really pleased with our speed and really thrilled to set fastest lap in qualifying."
While Morris and Sceats have shared race wins over the last eight races (Morris x 5, Sceats x 3), it has been Bakkerus who has consistently gathered points, the only driver to have finished all 12-races so far this season. Two podiums on Sunday and a fourth place means he will be difficult to catch with three races left to complete the series. Also, on the podium on Sunday was Sebastian Manson (Spectrum 015) who finished third in Race 1 and Kyan Davie (Spectrum 015) who finished second to Morris in Race 3.
With the final NIFF round at the end of May, Sunday's racing was a crucial last hit-out for those also competing in the national series with the final round in Christchurch 1 May 2022. Both the national and North Island Formula Ford Series have a $60,000 prize pool from the Tony Quinn Foundation with funding for travel and testing opportunities with TOYOTA GAZOO Racing NZ. The Giltrap Group North Island Formula Ford Series is also supported by Yokohama.