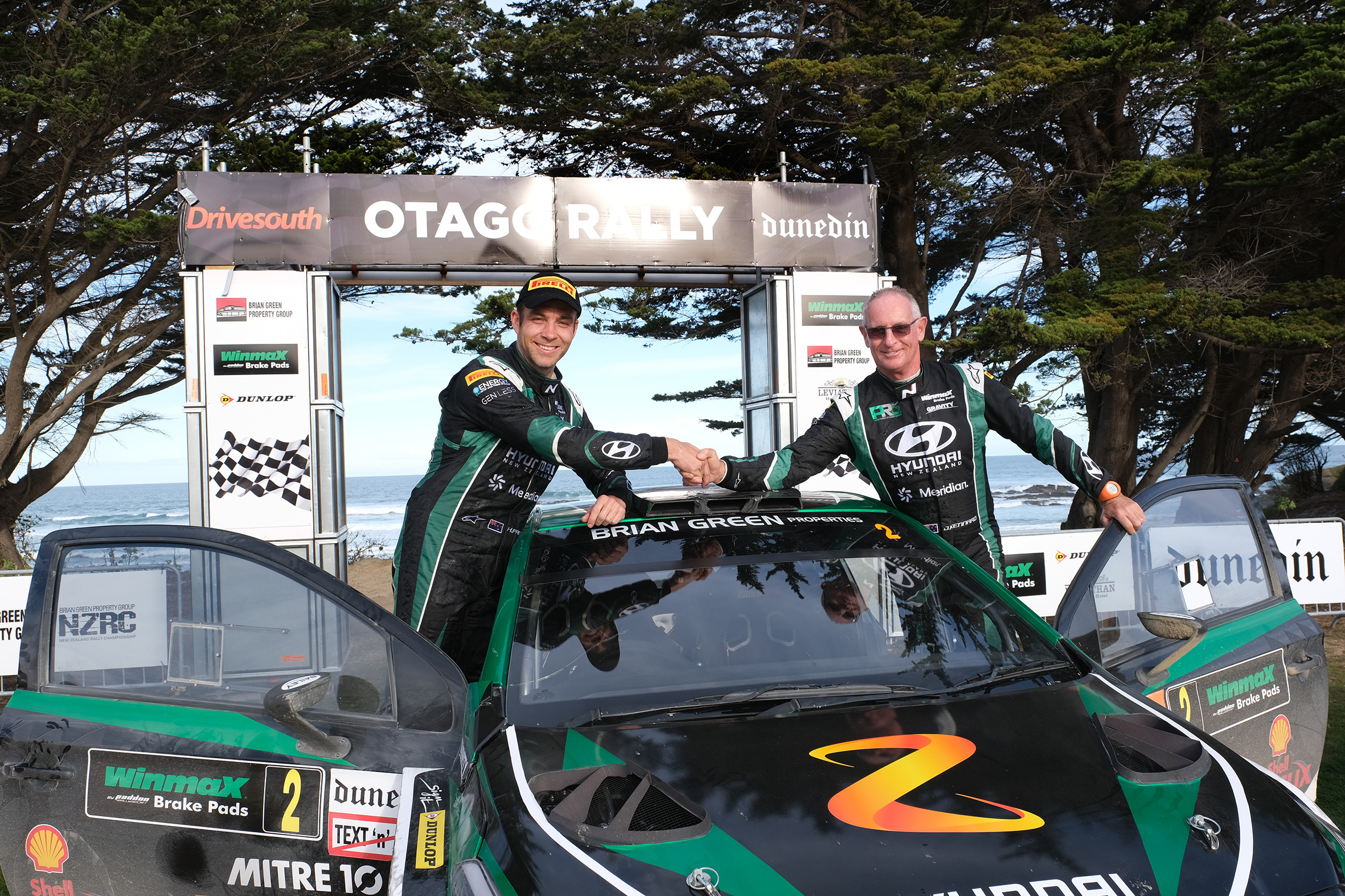 Paddon survives carnage to win Otago
International star Hayden Paddon won the Winmax Otago Rally on Sunday and took round honours in the Brian Green Property Group New Zealand Rally Championship opener.
Paddon largely avoided the carnage that befell the majority of the field as the two-day event on fast, flowing roads claimed victim after victim.
He survived a couple of punctures in his Hyundai NZ i20 AP4 to take victory by over seven minutes from Josh Marston.
Marston, the 2019 championship runner-up, was bothered by a couple of niggles on Saturday but kept his nose clean and showed improved pace in his RDL Holden Barina AP4 on Sunday.
Regan Ross completed the podium in his Virgin White Ford Fiesta R5 in his maiden national championship event in the car.
"We had a couple of issues with tyres this weekend but other than that we kept our noses clean and had a good run," Paddon said.
"The guys did a great job with the car and we're happy to leave here with a victory."
Marston warmed to the task as the event ran later.
"We had improved pace today and I felt much better in the car," Marston said.
"I wouldn't have thought a podium was possible this time yesterday but we kept it straight and survived a tough event."
Ross will head to Whangarei with a strong championship showing.
"I didn't have the outright speed but we kept it in the middle of the road," Ross said.
"The pace will come and this is a great result for everyone that has helped us to this point."
Experienced driver Todd Bawden was fourth in his Mitsubishi EVO 8 with Matt Summerfield fifth in the Andrew Simms Mitsubishi Mirage AP4 and Matt Adams sixth in the Filter Corp Mitsubishi EVO 9.
A small mistake on Saturday ruined Kingsley Jones' chances in the overall standings but he re-joined Sunday and put together a solid day in the Auckland Denture Clinic Skoda R5 to bank some day points.
The day was highlighted by a number of casualties. Dylan Turner, who had been second overnight, had a big crash in his LJ Hooker Audi S2, while Robbie Stokes (Stokes Motorsport Ford Fiesta AP4), Ben Hunt (Hydraulink Subaru), Jack Hawkeswood (Force Motorsport Mazda 2 AP4), Grant Blackberry (Mitsubishi EVO X) and Emma Gilmour (Vantage Suzuki) were forced out due to mechanical failure.
Gilmour had been very fast on both days before electrical failure curtailed her charge.
Phil Campbell ripped a wheel off his Roofing Store Ford Fiesta AP4 to ruin his weekend.
The vastly experienced Jeff Judd took honours in overall 2WD with Brent Taylor second and Dylan Thomson third.
Thomson won the FIA Group N 2WD category with a dominant performance as his rivals ran into trouble.
Judd won the Historic 2WD while Taylor took the Open 2WD win.
The championship heads north to the International Rally of Whangarei brought to you by Mark Cromie Motor Group in mid-May.