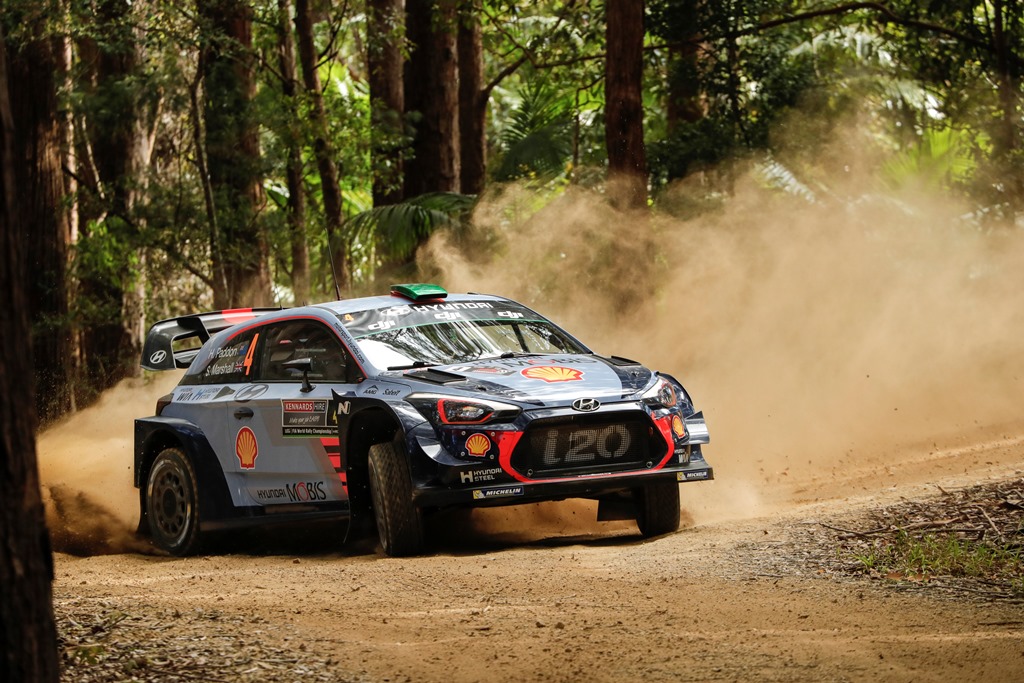 Paddon and Marshall aim to push hard in Australia
New Zealander Hayden Paddon and his British co-driver Seb Marshall will be pushing hard at this week's final round of the FIA World Rally Championship in Australia, striving to end the season on a good note.
"After a podium finish here last year, it would be good at a minimum to repeat that," says Paddon of the 15-18 November event taking place in the coastal New South Wales town of Coffs Harbour. "But with everything so close this year and a big championship battle going on, we will need all pieces of the puzzle to come together for us to achieve that, including the weather."
Paddon and Marshall get back in the #6 Hyundai i20 Coupe WRC after a five-week gap since their last WRC event in Wales. With no official test days for the long haul events, they'll be relying on knowledge gained through the season and their Hyundai Motorsport engineers to have the car set up correctly for the rugged, dusty forest tracks and sweeping shire roads ahead.
"Wales Rally GB seems like a long time ago that we were in the car, and with no test, that means shakedown on Thursday is quite important to get back in the groove of the car," Paddon says.
The pair will start Friday's 101.68 of competitive kilometres ninth on the road among the 12 WRC entries.
"The weather for the next few days is looking a bit touch and go at the moment with some rain in the forecast – we are not hoping for that as would make things very difficult from our road position, but we will be pushing hard no matter the conditions."
The route is the most heavily revised in several years with 16 new daytime stages, using different roads or sections of former roads in the reverse direction.
"Although we are writing notes for about 80 per cent of the rally, they are still quite familiar stages as most are reversed or a different configuration. But it does add the challenge of writing notes from scratch which I enjoy."
Paddon is looking forward to the challenges of the last event of a busy 2018 season. "There is a real mix in this rally, some of Friday and Saturday are nice flowing country farmland stages, a bit like New Zealand in places. And then the forest stages have quite a unique bulldust type surface that if wet, becomes like ice."
Being the closest rally to New Zealand, Paddon is once again supported by a big group of Kiwi rally fans. "It's great to have our own VIP group of more than 80 people travelling with us again this year, as well as the many other Kiwis crossing the ditch to enjoy some WRC action. Makes it feel like a home rally to me and the support is always appreciated."
Key facts for Rally Australia
Dates: 15-18 November 2018
Stages: 24
Competitive distance: 318.64km
Total distance: 1017.07km
WRC competitors: 12
Location: Coffs Harbour
A new-look Friday north of Coffs Harbour features two new stages Orara East and Coldwater, along with the familiar roads of Sherwood. All three are driven twice.
All Saturday's three bush road tests are new but many of the roads are borrowed from 2017's monster 49km Nambucca stage. The fan-favourite Raleigh raceway stage is retained and all four tests are used twice.
Friday and Saturday close with two runs through the asphalt Destination New South Wales test on the Coffs jetty, with dramatic sea views offering a picture postcard backdrop.
It's back north again for Sunday's finale, including the fan favourite Wedding Bells Power Stage with a longer, higher jump at the popular Forests NSW Rally Village.
Paddon maintains his focus on finishing the 2018 season on a strong note, but is still involved in discussions for 2019 and hopes to have some news before the end of the year.
Paddon and Hayden Paddon RallySport Global (HPRG) Ltd appreciate the support of their exclusive partners, Hyundai New Zealand, Pak'nSave, Winmax Brake Pads and Z Energy.
Media release: Relish Communications
Image: McKlein Images