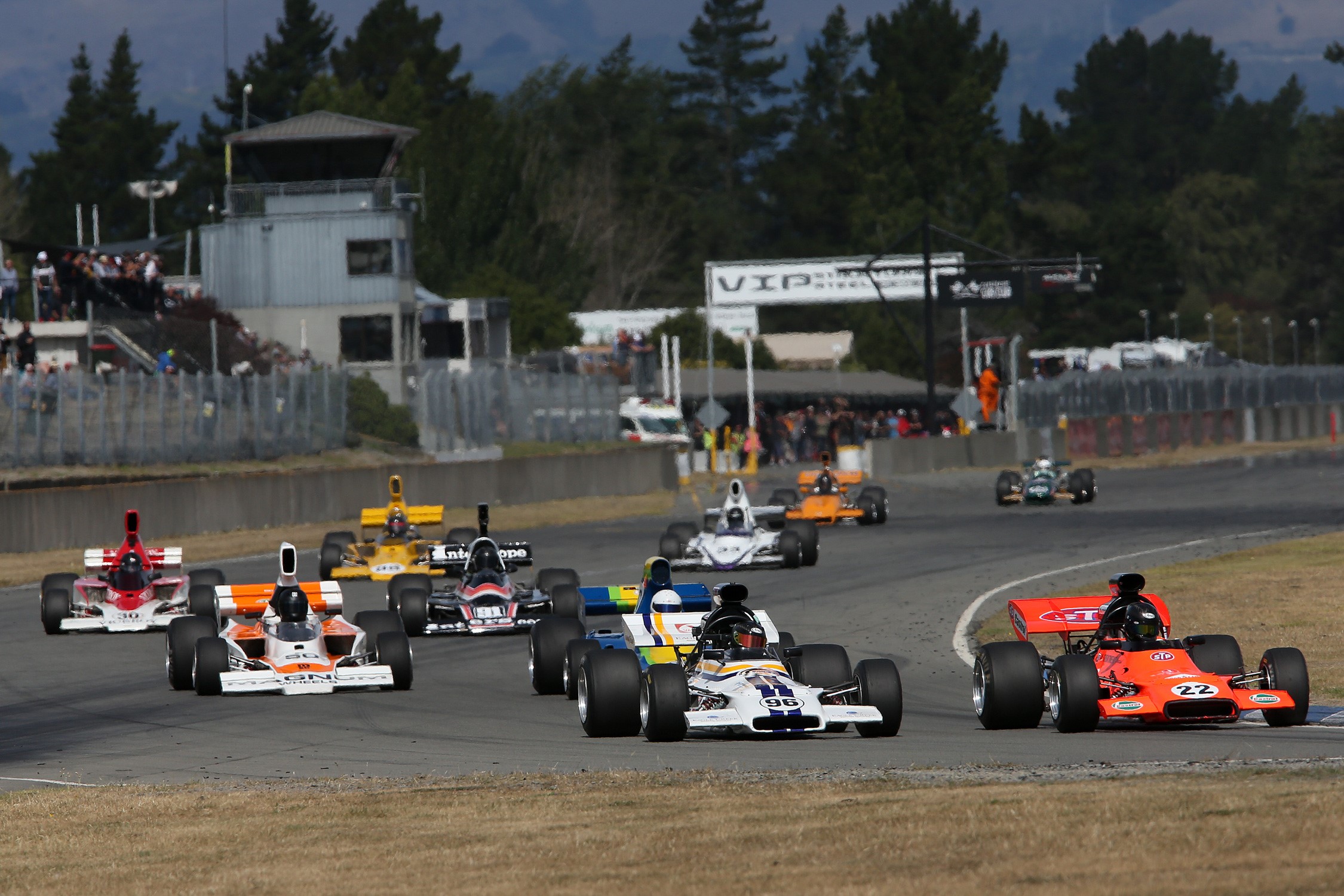 New Zealand's F5000 Race Car Series Celebrates 21st Season of Revival Competition
The SAS Autoparts MSC NZ F5000 Tasman Cup Revival series has reached a second-tier of maturity with the competition entering its 21st season, beginning this weekend at the MG Classic event being held at Manfeild Circuit Chris Amon 11-12 November.
A location familiar to the reverberation of the world-class engineering of cars from the late 1960's-1976, it was a formula Chris Amon himself raced to success during his career.
The season starts with 12 of those original cars taking to the circuit that now bears his name, for a weekend of three races. More cars will join the four-round tour as the season progresses.
Each participant brings a segment of history back to life – with one common theme: They look and sound exactly as they did when they first raced at Manfeild in the 1970's. Even the lap times are comparable.
Of note is the Manfeild lap record of 1m02.1sec, set on 11 January 1976 by Graeme Lawrence in a Lola T332 – a car now owned and used by Blenheim's Russell Greer.
A recent example is the time of 1m02.94, set by Michael Collins on 17 November 2019 in a McRae GM1.
"While the tyre technology is better now, it is pretty incredible that for weekend racers that do maybe four or five events a year – they're right up there (time wise)," explained Tony Jack, coordinator of the F5000 Association.
"Although the races used to be a lot longer the reliability of the cars has evolved over the years. The quality of the components has improved over time and with the love and attention these cars get they just keep going."
With the weather having a significant impact on the times that can be set, it won't be until the Saturday afternoon's opening six-lap race the record will be tested. There is a second six-lap race set for Sunday morning with an eight-lap race to be held in the afternoon.
On Friday there are three practice sessions ahead of Saturday morning's qualifying.
"Right from the start of this new (F5000) series we've been at the MG Classic event – and is one everyone very much looks forward to," added Jack.
Spectator access is via Feilding's South Street entrance to Manfeild. Friday is free entry with gate sales on the Saturday and Sunday.
Following the MG Classic event the series moves to Taupo for the Historic Grand Prix (18-21 January), before the journey south to Christchurch for the Skope Classic (2-4 February). The next destination is tentatively Australia for the Phillip Island Classic (7-10 March) – the trans-Tasman leg of the season.
Continuing to support the SAS Autoparts MSC NZ F5000 Tasman Cup Revival Series in its 21st season are SAS Autoparts, MSC, NZ Express Transport, Bonney's Specialised Bulk Transport, Mobil Lubricants, Avon Tyres, Webdesign, Exide Batteries and Pacifica Shipping – who sea freight the cars for the New Zealand events