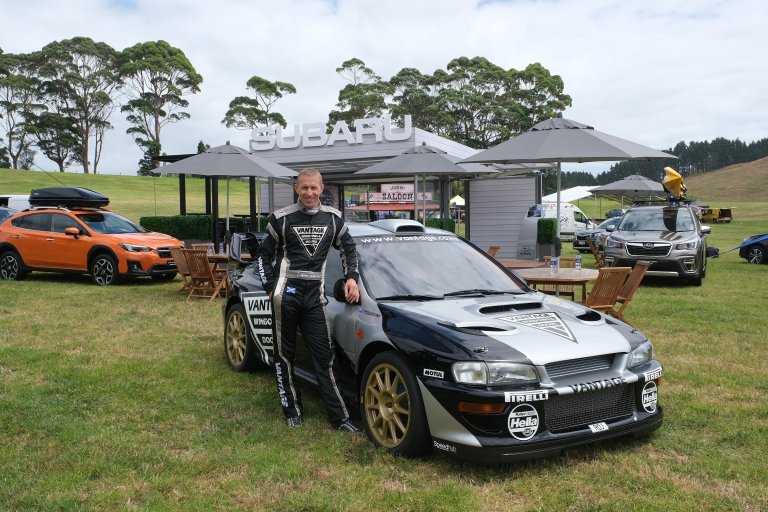 Millen, McRae showdown set for Leadfoot Festival
The 2019 Leadfoot Festival has seen the new SUV track welcome many people wanting to try out Subaru of New Zealand's three SUV models' capabilities today.
The off-road sessions at 10am and 2pm today and tomorrow, offer a chance to test the X-Mode technology of the XV, Forester and Outback in a steep environment right next to the event's pit area.
The on-driveway action saw Vantage Subaru WRX STI driver Alister McRae have what he described as a "tremendous morning and average afternoon." The Australia-based Scottish rally star is the back-to-back winner of the Leadfoot Festival and his super-quick first time of 49.5secs showed he is serious about taking the winner's trophy home again tomorrow.
However, his second run gave his rivals some cause for hope, as McRae had an uncharacteristic spin halfway up the 1.6km driveway, owned by Leadfoot Festival founders and organisers Rod and Shelly Millen.
"The hairpin is always a weird one to get around quickly. I thought I'd try touching the handbrake but the way we have the car set-up with the diffs, it was almost like rear-wheel-drive for a second and it spun me around. We now know that we are not going to be using that tomorrow," McRae says, referencing the top-10 shootout that decides the podium place-getters on Sunday afternoon.
He might have his work cut out for him, as Rod Millen pulled out a stunner on his final run today in his monstrously-powerful Pikes Peak Celica, clocking a 48.93secs. None of the final runs dropped below the 49sec mark last year and the commentators suggested it was a credit to Millen's "nana nap" this afternoon that he was able to achieve such a quick time.
Subaru brand ambassador Ben Hunt was enjoying driving his 2004 Subaru WRX STI that he built with is father to do club rallies in. Nicknamed the white pointer, it allowed him to enjoy "putting on a show in rally spec," while his New Zealand Rally Championship Subaru is undergoing a rebuild before this season begins.
Subaru looks forward to welcoming Subaru owners and guests to the new backyard entertaining-themed stand again tomorrow. Festival goers can pull up a bean bag and enjoy some shade watching the action unfold, while their kids play in the sand pit. The full Subaru model range is also on display.
Day two of the festival is bound to end in a thrilling shootout so make sure you head along to see the top drivers qualify for it and then try to lay down their fastest time on the run that matters.
ALL PHOTOS CREDIT GEOFF RIDDER.
Media release: Catherine Pattison, Subaru of New Zealand