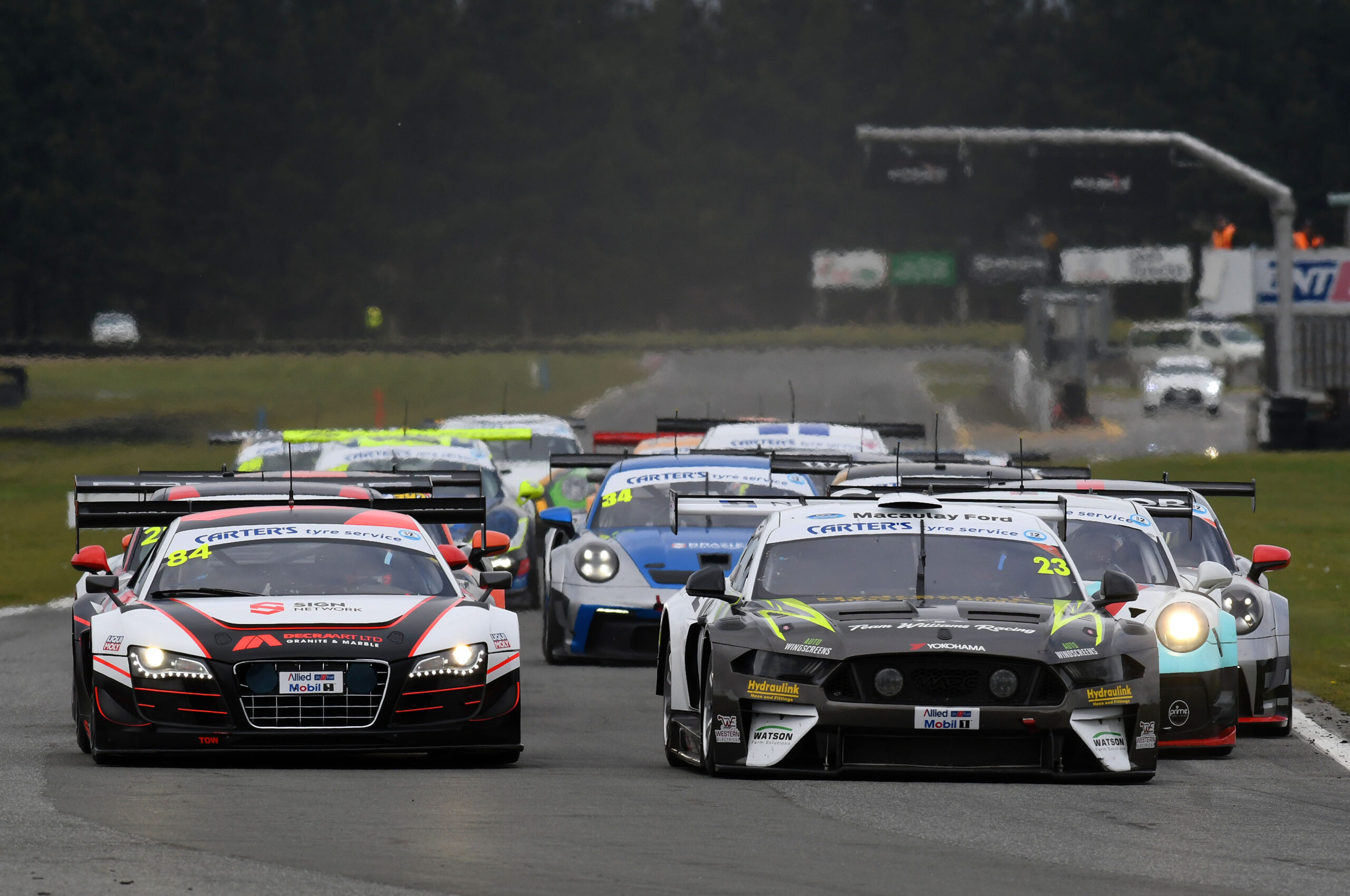 Maiden win for Michels while Gould takes two at South Island Endurance Series round in Teretonga
Jordan Michels (Marc II Mustang) has won the Class 2 & 3 One-Hour race while Rhys Gould (Hyundai i30N TCR) has again put in a flawless performance to win the separate Class 4 & 5 race at the second round of the 2023 Carter's Tyre Service One-Hour South Island Endurance Series in Invercargill on Saturday.
Competing at his home track, Michels took his maiden endurance win, leading from lights to flag after setting the fastest lap in qualifying.
"We've been doing this series for so long and have special memories at this track," commented Michels. "It's great to get my first South Island endurance win. I'm so grateful to Peter the owner and the team."
Second home was Adam Julian (Audi R8 GT3) backing up his third place at the opening round in Christchurch a fortnight ago, and provisionally claiming the NZ Endurance One Hour Class 2&3 title.
"I'm new to the track so happy with a good result," said Julian. "Andy (Neale) has been saying let the car do the work and let it flow and it's worked today. It's a great feeling which I'm starting to get used to."
Heremana Malmezac (Porsche GT3 Cup 991.2 MR) finished third ahead of Matt Whittaker (Porsche GT3 Cup 992) who won the opening round of the series has now has a one-point lead ahead of Julian in both the overall and Class 2 title chase with one round remaining.
Both races saw several early Safety Car periods which enabled drivers and teams to complete their compulsory pitstops. Michels held his composure and the lead, despite the field continuing to bunch up. While he easily pulled away, a battle ensued between Julian, Malmazec, Whittaker, Ayrton Hodson (Porsche GT3 Cup 991.1) and Steve Brooks (Porsche GT3 Cup 992) for the rest of the podium placings.
While Michels also took first place in Class 2 (GT Type), Steve Scoles (Ginetta G55) was first home in Class 3 (>3501cc). He also has a one-point lead over James Paterson (Audi R8 Turbo) in the Class 3 category.
Having won the opening Class 4 & 5 round in Christchurch, Rhys Gould again dominated the category also winning from pole position. Second was Warren Black (Audi RS3 LMS TCR) with Pel Arnott (Hyundai I30N TCR) claiming his second third-place in the series. Fourth place for Barry Moore (VW Golf TCR) places him second equal with Arnott, 18-points behind leader Gould in the overall and Class 4 standings.
"I'm pretty happy with that," commented Gould who also won Class 4 (2001-3500cc). "This time qualifying went very well. The couple of safety-car periods did put some pressure on us but the car hasn't missed a beat all weekend."
"Very happy for the M Developments team after having the engine out yesterday," said Black. "Great for the team who put in an awesome effort to get us here today. I had a great race trying to catch Rhys (Gould) but he kept shutting the door."
The Class 5 (0-2000cc) win went to Chris Wall (Honda Civic) ahead of Donovan Isted (Honda Civic) and James Mitchell (Honda Civic). Wall has a 10-point lead in Class 5 over Isted with Rhys Turner (Honda Civic) in third.
Sixth overall was Brett Sullivan/Ayrton Hodson, BMW Z4, giving them enough points to provisionally win the NZ Endurance One-Hour Class 4&5 title.
The final round of the 2023 Carter's Tyre Service South Island Endurance Series takes place at the Timaru International Raceway, Timaru, on Saturday 14 October 2023.