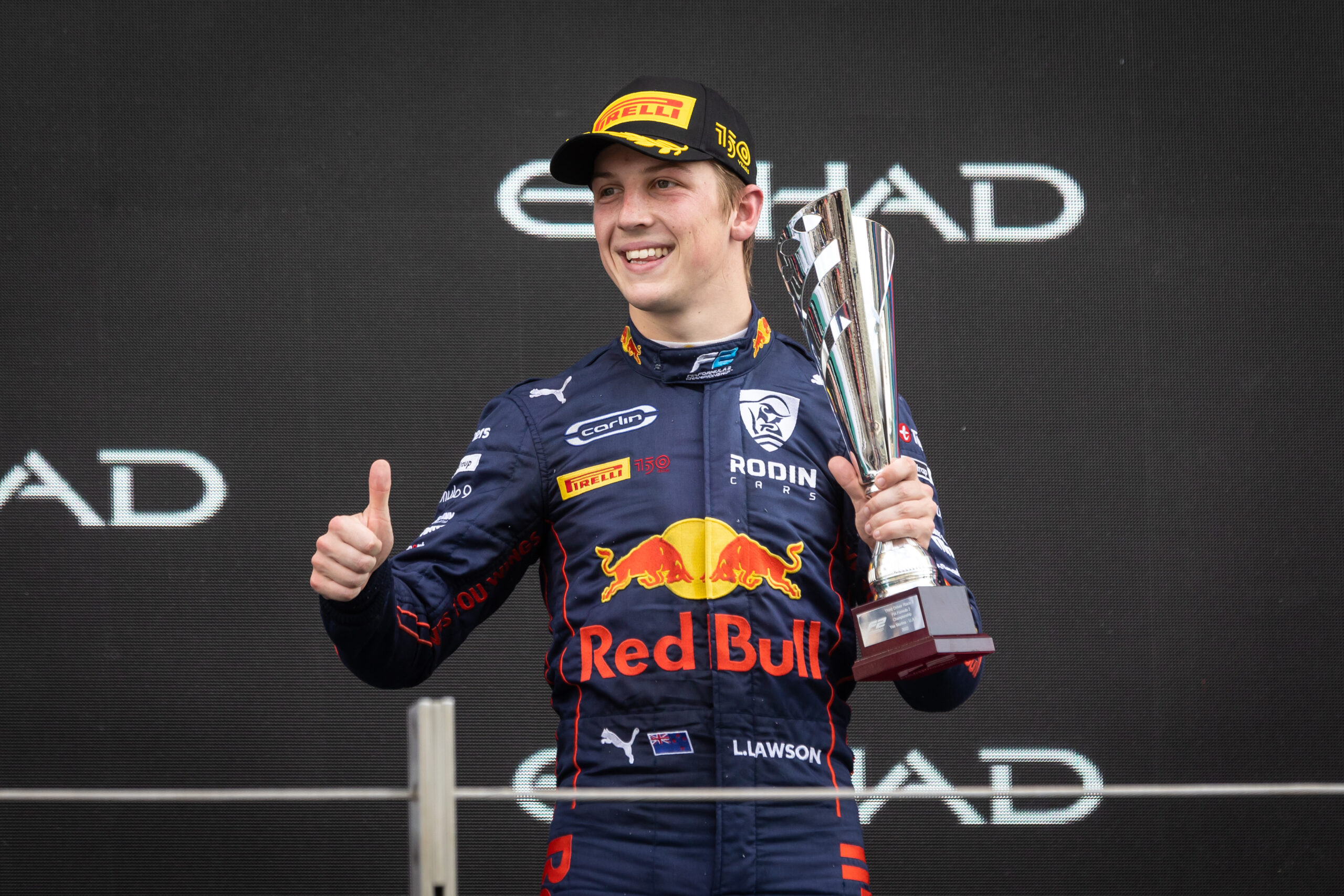 Lawson finishes season with a double podium
A double podium at the Formula 2 season finale in Abu Dhabi for Liam Lawson catapulted the Kiwi star from seventh to third in the championship.
After a dominant win in the Sprint race Lawson turned a P9 starting spot into a podium place in the longer Feature race, in turn lifting his British team Carlin to second in the Teams' championship.
"It's a nice way to end it," said Lawson of his final race in F2. "It has obviously been a pretty rocky season overall but to finish like this is really really nice for the team as well. I don't know where we finished in the Teams' standings but I think we're up there. So it's nice to repay them because the work they've done this year has been really good. It's unfortunate that we just didn't don't have the points to show for it. Happy with the weekend and nice to close the season like this."
Lawson started and finished the season with double podiums, the 20-year-old amassing four wins and ten podiums for the season. Some mechanical failures, a couple of unfortunate strategy calls and a string of slow pitstop performances blunted Lawson's title chase over the season, but he says the speed of the car was never in doubt.
"They've worked very, very hard this year and we've honestly had a great car," said Lawson after his Sprint race win. "I think displays like today, I would say aren't really surprising from the team, they've done a great job with the car all year."
But it was a quick trip to the pits for his compulsory tyre change in the final Feature race of the year what secured him a final podium for the year.
"The pitstop honestly! The start was good, I made up two or three spots, and then we were sort of in a train for the first couple of laps. I saw that it was starting to really bunch up at the front so as soon as the window opened I just wanted to try and get clear air, luckily everyone stayed out, I boxed and then came out and had good space. The team did a really good pitstop, I came in behind Dennis [Hauger] and came out inches in front of him. So I think that's what really made our race, if I got stuck behind that would have really cost us. This one is definitely down to them."
Lawson thought they lacked pace in the middle stint of the Feature race compared to the previous day's race when he got to the lead and cleared away to win by nearly eight seconds.
"It's hard to say, following is just really, really tough here. Yesterday I had clear air and the car was just completely on rails and was strong all the way through. Whereas today, like the moments where Felipe [Drugovich] said that he had that mistake he hit the rear lock and went wide, and I was on his gearbox for half a lap. I think these moments really hurt the tyre a lot when you're following really closely, then I'd fall back and be overheating and then it would come back again. I'd start to close then I'd get close and then have to fall back again. Following is really really tough, I think that's probably what it's mostly down to because the car was pretty good."
Lawson had three double podium rounds over the season, starting at Sakhir in Bahrain, with the other two coming at rounds when Lawson dovetailed F2 duties with Free Practice 1 in Formula 1 as part of his Reserve driver duties for Red Bull and Scuderia AlphTauri. In both cases, Spa and Abu Dhabi, Lawson won the Sprint race and finished third in the Feature.
Lawson's third place in the championship comes behind Brazilian winner Felipe Drugovich and Frenchman Theo Purchaire. Drugovich's MP Motorsport team, also a former team for Lawson, won the Team's title for the first time over Carlin and Pourchaire's ART Grand Prix team.