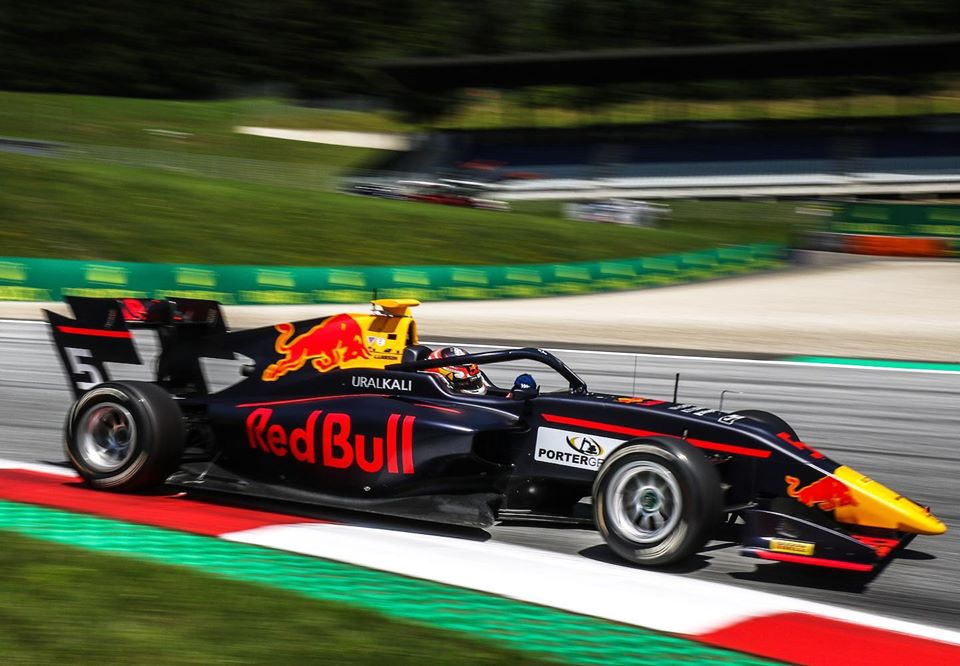 Late race clash denies Lawson potential win
A superb race-long battle between Liam Lawson and Jake Hughes robbed the young Kiwi star the chance of taking two wins in two weekends as FIA F3 concluded the double-header season opener at Austria's Red Bull Ring.
The pair traded the lead of the race five times before they touched wheels on lap 21 of 24 and wheel damage to both cars saw them retire.
"I'm disappointed, but we'll bounce back next week," asserted Lawson. "It's obviously a real shame."
"At that point of the race I wasn't pushing, I feel like we had it completely under control and I was just setting things up for the last couple of laps," said the Red Bull Junior driver.
"I didn't even mean to try and pass him again to be honest. He [Hughes] braked early, I braked at my normal spot coming into the corner. I was just going to drive round normally on the inside, I wasn't going to try anything, otherwise I would have carried more speed
"I was just going to drive next to him but I got on the inside kerb and because it's going downhill the car unloaded and snapped around
"When I did that the wheel slipped out of my hands, I couldn't grab it in time and when I lost the wheel the car went left and straight into the side of him. I was trying really hard to catch it and if I had kept hold of the wheel I would have been fine but I didn't and that was that."
The incident was reviewed by race officials and deemed a racing incidsent and no action was taken against either driver.
"Really frustrating," added Lawson. "We had good pace, the race was under control at this point. Very disappointing."
In the show-stopping race action Lawson took the lead with a brilliant three-car-wide move that catapulted the 18-year-old Kiwi from third into the race lead on lap 4.
The following lap Hughes, 26, took the lead back only for Lawson to regain the place on lap 11.
Lawson held onto the lead after a Safety car restart before Hughes once again got ahead on lap 20 but before the tour was over Lawson was back in front. The race ending incident happened on the following lap before another Safety Car restart saw young Frenchman Theo Pourchaire inherit his maiden race victory with a quick dash to the line.
In the first race of the weekend Lawson started 10th after a disappointing qualifying session but worked his way to 7th before a treacherously wet race was stopped after 14 of the scheduled 24 laps.
The race result was declared a lap prior when Lawson was in 8th.
"The rain was so heavy that it was impossible to pass," said Lawson. "As soon as you got off the racing line the car would aquaplane so it was difficult to move ahead."
Summing up his weekend in the Porter Group/Giltrap Group sponsored #5 Lawson said his Hitech GP team struggled to find the optimum setup at the Austrian circuit.
"We think it's more of a track problem for us, just like last weekend we struggled to turn on the tyre again for this weekend in Quali. We are confident that we can get the job done next weekend and have a stronger Quali. That is the goal we are working on, especially as passing round Budapest is difficult."
The Hungarian event will conclude three back-to-back weekends of competition before the drivers have a week off and then prepare for another three weekends of racing with two rounds at Silverstone (UK) and a weekend at Spain's Barcelona circuit.