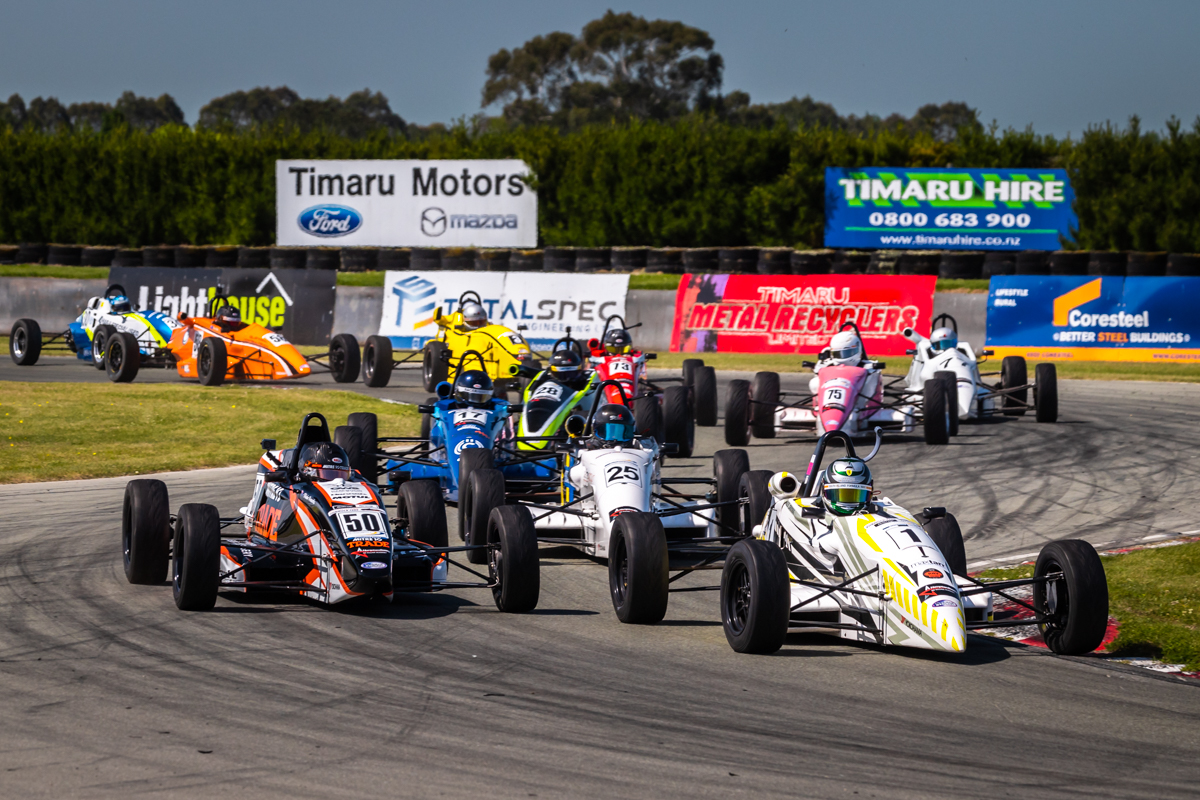 Knowles and Crosbie resume South Island F1600 title battle at Timaru this weekend
The battle resumes this weekend in Timaru for the 2022/23 Yokohama South Island Formula 1600 Championship title with a tight battle at the top between four contenders. Southland's Alex Crosbie has a slender 9-point lead over Christchurch's Blake Knowles with Daniel Brown and Dylan Petch still within striking distance. Behind them a mid-pack rivalry will continue with a number of rookie drivers fighting for top five honours with podium intentions as the season draws to an end.
The series resumes with three-races at the Timaru International Raceway on Saturday in the fourth round after a three-month break with the final two rounds in Invercargill and Christchurch over consecutive weekends, also in March. All top six drivers return to the grid after competing in the opening two national title rounds in the North Island in February.
Crosbie (Ray GR21), the current national champion, has been made to work for his series lead by Knowles (Van Diemen RF05) who has won five of the nine races so far this season.
"Blake (Knowles) was definitely on the pace," commented Crosbie. "Especially at Timaru and Teretonga. It was quite tough racing."
Also in the mix is Christchurch's Daniel Brown (Ray GR21) who, at the last round, set second fastest time in qualifying and stood on the podium in all three races. Brown finished second for the weekend and sits third overall, just sixty-points behind Crosbie.
Dylan Petch (Ray GR20) has a chance to break into the top three but may come under attack by rookie drivers Caleb Byers (Ray GR21) and Will Neale (Van Diemen Stealth). All three return to the series after competing in the NZ Formula Ford Championship at the NZ Grand Prix meeting at Hampton Downs and a week later in Taupo.
Neale stood on the podium for the first time this season at Teretonga in December having finished third in the opening race and leads the competitive Class 2 from Dominic Robertson (Swift SC94) and Thomas Flynn (Swift SC94).
On the line is a $230 cash prize for Driver of the Day from NAPA Auto Parts plus a $500 cash prize for fastest qualifier provided by the Hampton Downs NZ Racing Academy along with a. The award is part of the increased $66,000 prize pool from the Tony Quinn Foundation with funding for travel and testing opportunities with TOYOTA GAZOO Racing NZ.